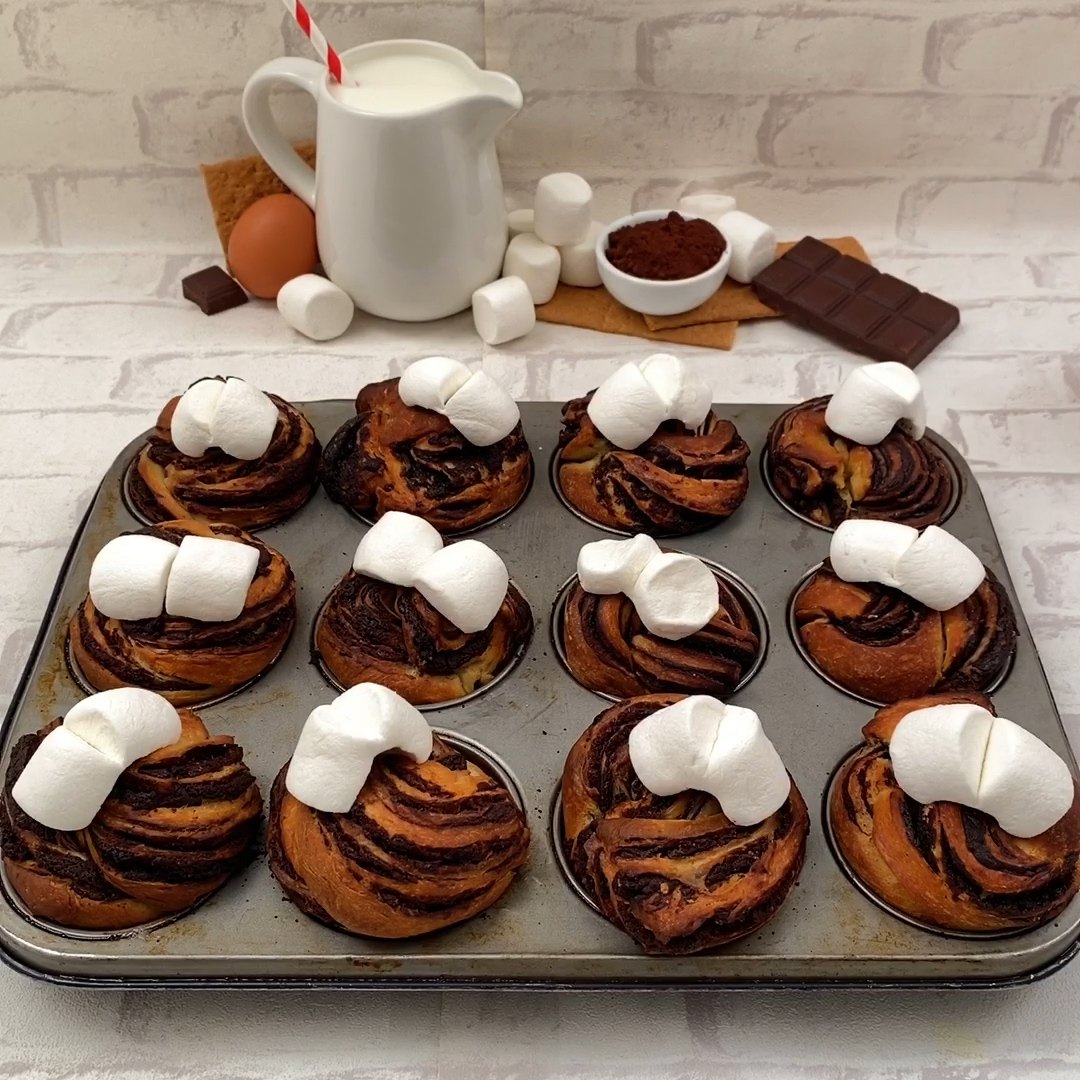 Twisty S'Mores Rolls
Like cinnamon rolls, but better! 😁
Total time: 60 minutes
Ingredients for 8 people
3 cups flour
1/4 cup warm milk
1/4 cup plus 2 tbsp sugar, divided
3 tsp yeast
4 eggs
1 1/2 tsp salt
3/4 cup plus 1 tbsp butter
1/2 cup cocoa powder
1/4 cup heavy whipping cream
1 cup chocolate chips
1/4 cup graham cracker crumbs
Marshmallows
---
Step 1/4
Mix together yeast, 1/4 cup of sugar, and warm milk. All the yeast mixture, flour, salt, and eggs to a stand mixture and mix for 4 minutes. Add 3/4 cup softened butter a few pieces at a time and mix until fully incorporated. Place the dough in greased bowl and cover with plastic. Let rest 1 hour. Fold the dough, then let chill overnight.
Step 2/4
In a saucepan over medium heat, mix heavy whipping cream, cocoa powder, and chocolate chips until smooth. Add 2 tbsp sugar and 1 tbsp butter, then mix. Gently mix in the graham cracker crumbs.
Step 3/4
Divide the dough into four equal parts. Place one piece on a floured surface, keeping the rest chilled. Roll the dough into a rectangle on a floured surface. Spread the filling over the dough, then roll the dough up into a long roll. Starting 1 inch from the end of the roll-up, cut the roll-up in half. Twist the two halves together. Cut it in thirds, then place each third into a greased muffin tin. Repeat with the other 3 parts of dough. Bake for 20 minutes at 350 °F.
Step 4/4
Open up a marshmallow and place on top of the cinnamon rolls and bake again for 5 minutes at 350 °F. Enjoy!