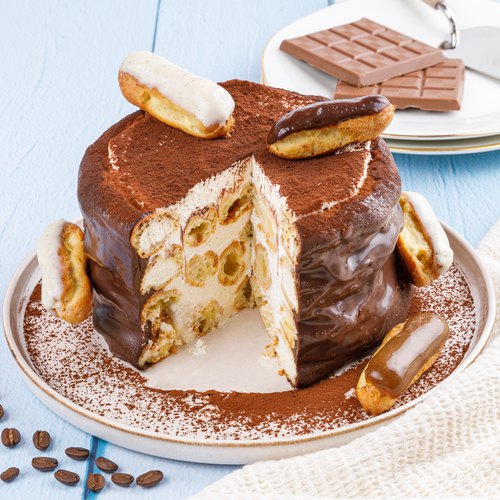 Cream Puff Crown
Cream Puff Crown! A perfectly creamy dessert for the whole family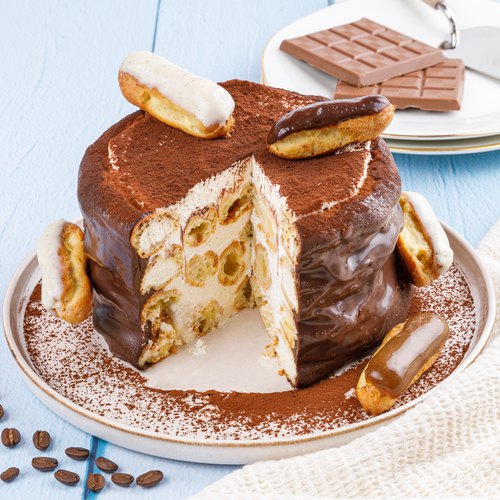 ---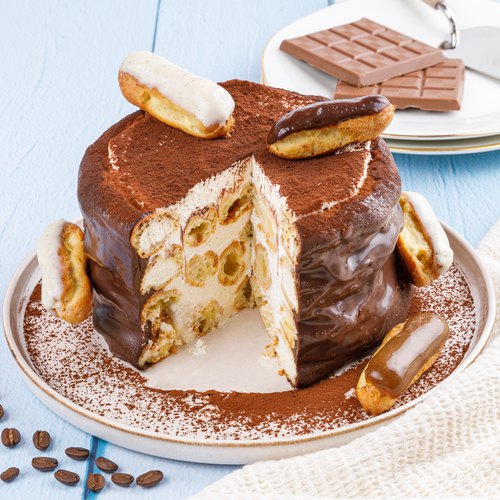 ---
Total time: 1 hour 25 minutes
Prep time: 1 hour , Cook time: 25 minutes
Ingredients for 2 people
0.9 cup of milk
1 pinch of salt
3/5 cup of butter
2.4 cups of flour
6 egg
2 cups of heavy cream
1 cup of sugar
3 1/2 tbsp of cacao powder
2 oz of milk chocolate
4 gelatin sheets
5.3 oz of mascarpone
1 tbsp of powdered sugar
1 vanilla bean
1/4 cup of espresso
---
Tools
Electric hand mixer
Skewers
Piping bag
---
Step 1/4
To make the choux pastry, pour 0.9 cups of milk, 0.8 cups of water, 0.25 teaspoon of sugar, and the butter in a saucepan and bring the mixture to a boil. Add flour and stir until a dough forms. Beat the dough in an electric mixer, then gradually add the eggs until smooth. Place the dough in a piping bag and cut off the tip. Pour some flour onto a plate, place the edges of a springform pan onto the plate, and place the pan onto a non-stick baking sheet to form two circles of flour. Pipe the choux pastry onto the circles to form two circles and repeat the process to obtain 4 circles. Pipe 12 eclairs onto another non-stick baking sheet and bake all the choux pastries for 25 minutes at 320 °F.
Step 2/4
Cut the vanilla pod in half lengthwise and scrape out the vanilla seeds. Heat 2 tbsp of milk and 1 cup of heavy cream in a saucepan, then add the gelatin sheets off the heat and stir to incorporate. Pour 3/4 of the mixture into a large container and the remainder into two separate smaller containers. Melt the milk chocolate, add the cacao powder and pour the mixture into the large container to make a chocolate glaze. Add the espresso to one of the small containers to make a coffee glaze and some vanilla seeds to the remaining container to make a vanilla glaze.
Step 3/4
Pour the chocolate glaze onto a baking sheet and spread it out. Stack the 4 circles of choux pastry, insert the skewers into the pastry to hold them together, and roll them in the chocolate glaze to coat them. Place the tower of choux pastry circles on a cooking rack set over a baking sheet. Create a strip of chocolate glaze, a strip of coffee glaze, and another of vanilla on a sheet of parchment paper. Skewer the eclairs in sets of 3 onto 3 skewers, then place one skewer on a line of coffee glaze, another on the coffee glaze, and the third on the vanilla glaze. Reserve the skewered eclairs on the cooking rack.
Step 4/4
Beat 1 cup of heavy cream and the mascarpone cheese into whipped cream and add the remaining vanilla seeds. Pour the whipped cream into a piping bag and cut the tip. Place the tower of choux circles on a plate, add a few plain eclairs at the bottom, then pipe a layer of whipped cream and cover with eclairs. Pipe the top with whipped cream up to the edges of the tower, spread it to cover the edges, and sprinkle the top with cacao powder. Place the eclairs with their chocolate, coffee, and vanilla glazes on top and around the edges of the tiramisu tower. It's ready!