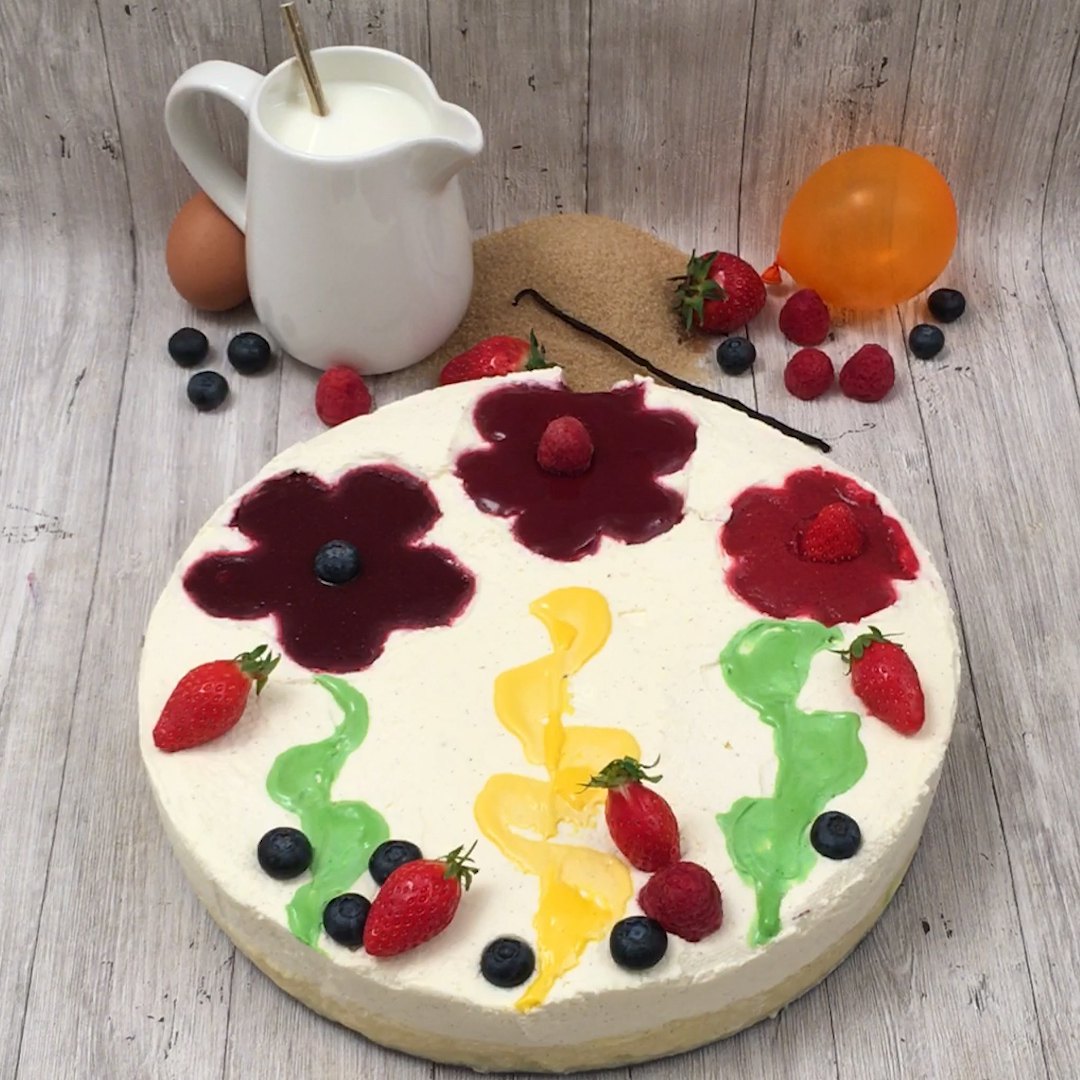 3 Flower Cake
Deliciously hypnotizing. 🌸🌺🌹
Made by you!
Ingredients
5 tbsp butter
4 cups milk
1 vanilla bean
6 egg yolks
1/4 cup sugar
3/4 cup flour
7 tbsp powdered sugar
3 1/2 fl oz lemon juice
3 candy laces
Whipped cream
Blueberry sauce
Raspberry sauce
Strawberry coulis
Strawberry
Raspberry
Blueberry
Green & yellow food coloring
Tools
3 plastic bottles of different sizes
1 springform pan
1. Cut the bottoms off of the 3 bottles. Combine the butter, milk and scraped vanilla bean in a saucepan over medium-low heat.
2. Mix the egg yolks, sugar, and flour and add to the saucepan. Pour the mixture into the springform pan and refrigerate for 3 hours. When cool, cover the cake with whipped cream. Push the bottle bottoms into the whipped cream and place back in the fridge for 1 hour.
3. Remove the bottoms of the bottles from the cake and fill the ipressions with the berry sauces. Add a berry to each corresponding sauce.
4. Mix the icing sugar with the lemon juice. Divide the mixture in half and add green dye to one half and yellow to the other. Dip a candy lace in the green mixture, lay in a zigzag under 1 of the berry flowers, then drag off the cake to paint a stem and repeat under each flower with the other color.
Similar recipes from Chefclub