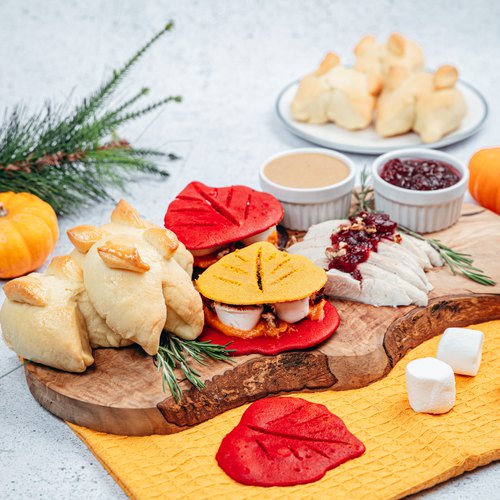 Cranberry & Turkey Rolls
Cranberry & Turkey Rolls! With a side of sweet potato s'mores 🦃🍠👪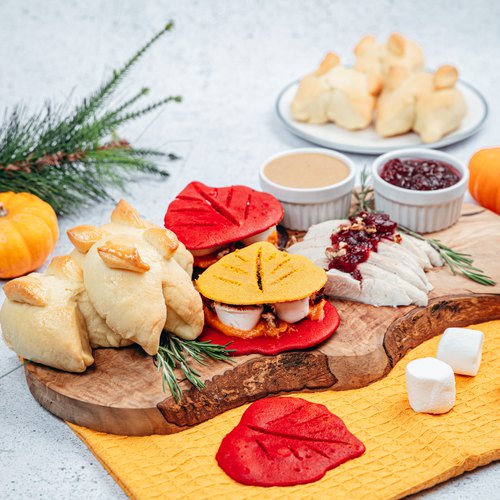 ---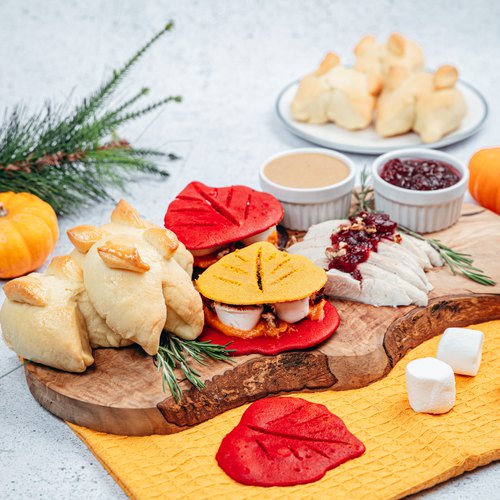 ---
Total time: 3 hours 35 minutes
Prep time: 1 hour , Cook time: 35 minutes, Rest time: 2 hours
Ingredients for 6 people
1 cup of milk
7 oz of butter
2 1/4 tsp of yeast
7 oz of egg whites
1 egg
7 oz of sugar
1/4 cup of butter
1 pinch of salt
1 tsp of salt
8 1/4 oz of flour
3 cups of flour
Red food coloring
1 cup of cooked turkey
Purple food coloring
1/4 cup of cranberry sauce
Orange food coloring
2 tbsp of sugar
1 cup of mashed sweet potatoes
24 marshmallows
1/2 cup of pecans
---
Tools
Cardboard
Blender
---
Step 1/3
1 cup of milk - 2 1/4 tsp of yeast - 1 egg - 1/4 cup of butter - 1 tsp of salt - 3 cups of flour - 1 cup of cooked turkey - 1/4 cup of cranberry sauce - 2 tbsp of sugar
Whisk the warm milk, yeast, and 1 tbsp of sugar together in the bowl of your stand mixer. Cover and allow to rest for 5 minutes. Add the rest of the sugar, egg, butter, salt, and 1 cup flour. With the dough hook mix on low speed for 30 seconds, then add the remaining flour. Beat on medium speed until the dough comes together and pulls away from the sides of the bowl. Allow the dough to rise in a greased bowl for 1-2 hours (cover with plastic wrap). Degas the dough and divide into 16 pieces. Create balls and cut a triangular shape at the bottom of each roll, then cut that triangle in half. Add the 2 pieces to the top of each roll to form the wings. Shape the two legs on either side of the cut out piece. Cover the turkey rolls with plastic wrap and allow to rise for 1 hour. Preheat oven to 350°F. Add about a tablespoon of the cranberry-turkey mix into the bottom center of each roll and fold the edges over to close. Bake for 20-25 minutes. Set aside.
Step 2/3
7 oz of butter - 7 oz of egg whites - 7 oz of sugar - 1 pinch of salt - 8 1/4 oz of flour - Red food coloring - Purple food coloring - Orange food coloring - 1 cup of mashed sweet potatoes - 24 marshmallows - 1/2 cup of pecans
Using a real leaf, trace the leaf shape three times onto a piece of cardboard. Cut out the leaf shapes to make a stencil. Add parchment paper to a baking sheet. Set your oven to 320°F. Melt the butter. Mix the remaining ingredients (except the food coloring) in a blender and add the melted butter into it. Blend and divide the batter between three small bowls. Add each color of food coloring to a bowl. Add a thin layer of each color onto the stencil over the parchment to form a leaf shape. Repeat with the remaining batter. Bake at 320°F for about 4-7 minutes. Remove from the oven and allow to cool. Add a spoonful of mashed sweet potatoes to half of the leaves. Toast three marshmallows for the other half of the leaves. Add them on top of the mashed sweet potatoes. Top with chopped pecans, then add another leaf on top.
Step 3/3
Serve the turkey-cranberry rolls with the sweet potato s'mores. Enjoy!