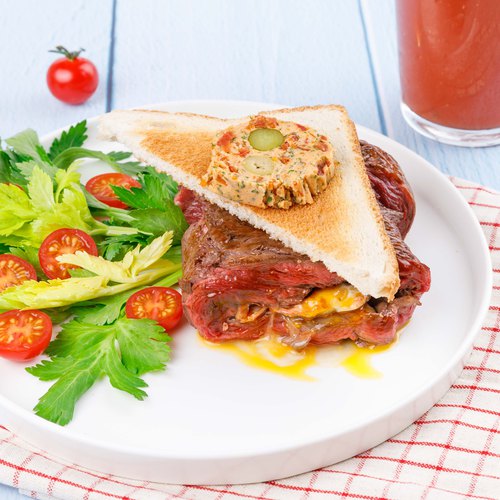 Bloody Great Steak & Eggs
Bloody Great Steak & Eggs! Everything is better with vodka 😉🍅🍹.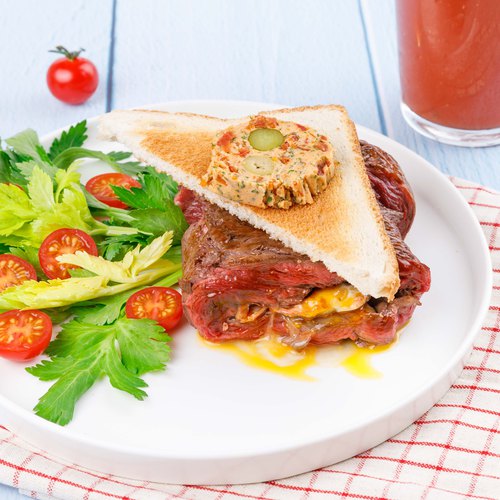 ---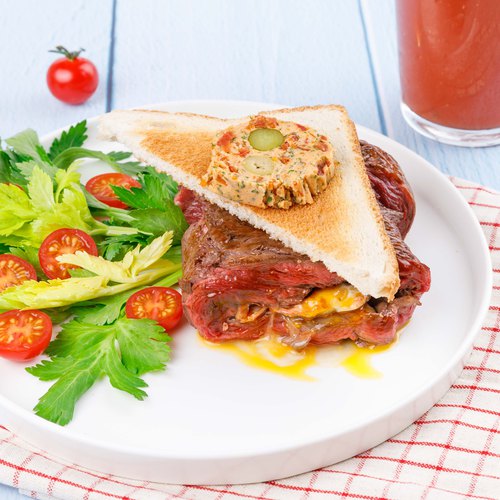 ---
Total time: 1 hour 30 minutes
Cook time: 1 hour 30 minutes
Ingredients for 4 people
1 1/2 cups of tomato juice
3 oz of vodka
4 pinches of worcestershire sauce
1/2 tsp of horseradish
Hot sauce
1 pinch of celery salt
2 pinches of black pepper
3 lbs of flank steak
1/2 cup of butter
1/4 cup of parsley
4 cornichons
4 pearl onions
4 green olives
1 tbsp of olive oil
4 egg
4 slices of bread
4 tbsp of sundried tomatoes
---
Tools
Cocktail shaker
Parchement paper
Kitchen twine
---
Step 1/4
Combine the vodka, tomato juice, Worcestershire sauce, hot sauce, horseradish, celery salt, and 1 pinch of black pepper in a cocktail shaker. Shake well to combine. Place the flank steak in a glass baking dish, then pour the Bloody Mary over the steak. Let the steak marinate for 30 minutes.
Step 2/4
In a mixing bowl, combine the softened butter, sun-dried tomatoes, parsley, and a pinch of black pepper until all ingredients are well incorporated and the mixture is smooth. Remove the mixture to a sheet of parchment paper and spread it out evenly in a rectangle about 3" wide. Place the cornichons, pearl onions and green olives in the middle of the butter. Roll the butter up into a log so that the pickles, onions, and olives are in the center of the butter. Refrigerate for at least 30 minutes.
Step 3/4
Once the steak has marinated, heat the griddle to 375°F. Add 1 tablespoon of olive oil to the griddle, cook the eggs sunny-side up, then remove from the griddle. Remove the steak from the marinade and add it to the hot griddle. Sear one side, then turn it. Add the sunny eggs to the top of the steak then cover with a glass baking dish and add a splash of water to steam and finish cooking the eggs and steak. Cook the steak and eggs to your desired temperature, then remove from the griddle to rest for 2-3 minutes. Toast the bread.
Step 4/4
Cut the steak and eggs into individual rounds. Cut the toast in half, then top each half with a pat of the tomato butter, then add 1-2 halves to the top of the steak rounds. Serve with celery, cherry tomatoes, additional pickles and/or olives. And more Bloody Mary and enjoy!