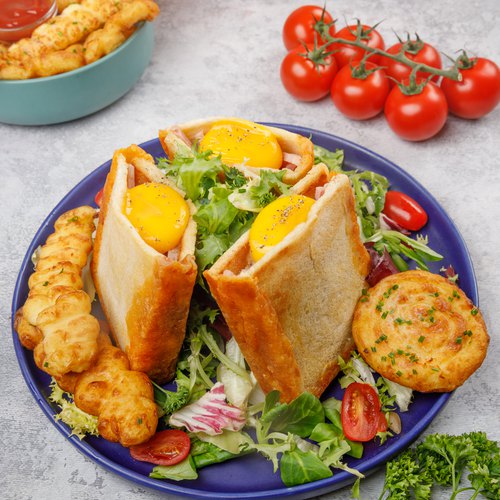 Pick This Pippin Hot Pocket!
Pick This Pippin Hot Pocket! It's not pocket science, this recipe is delicious 😉🥪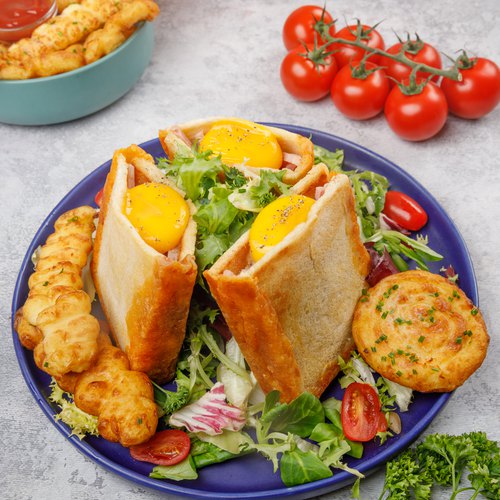 ---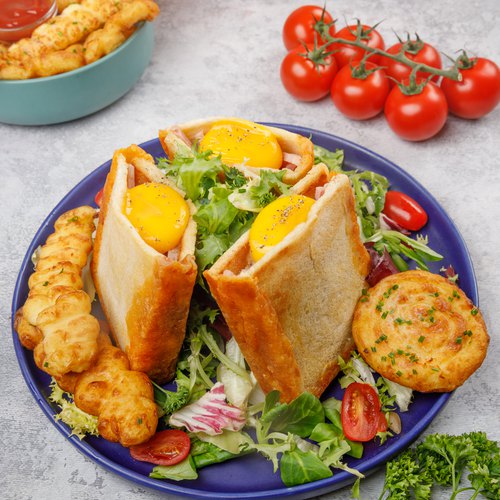 ---
Total time: 50 minutes
Prep time: 35 minutes, Cook time: 15 minutes
Ingredients for 3 people
1.1 pounds of potatoes
1 tbsp of sour cream
1 tsp of nutmeg
3 1/2 tbsp of butter
6 slices of bread
2 3/5 oz of cheddar
2 3/5 oz of emmental cheese
3 tbsp of caramelized onions
10 1/2 oz of ham
1 1/4 cups of bechamel sauce
3 egg
---
Tools
Freezer bag
Parchement paper
---
Step 1/4
Peel and cut the potatoes into pieces and cook them in 1 liter of salted water. Mash the potatoes and mix with the milk until smooth. Add the sour cream and the nutmeg then put it in a freezer bag.
Step 2/4
Find the bechamel sauce on the chefclub.tv website. Butter the plancha and place the sandwich bread slices. Set them aside. Mix the emmental and the cheddar, place 3 rectangles of the cheese mixture on the plancha then stick the sides of 2 slices of sandwich bread together. Repeat the action with the other 4 slices of bread.
Step 3/4
Place a rack on a baking sheet lined with parchment paper. Place the sandwich loaves in the interstices of the rack. Garnish with caramelized onions and diced ham. Pour the bechamel in each of the sandwich pockets. Place 1 egg on top and bake for 15 minutes at 350°F.
Step 4/4
Pipe the mashed potatoes on 2 spatulas (in a spiral shape) and fry them in hot oil. At the same time, pipe the rest of the mashed potatoes in hot oil. Drain the fries and serve with the sandwich pockets. Enjoy!