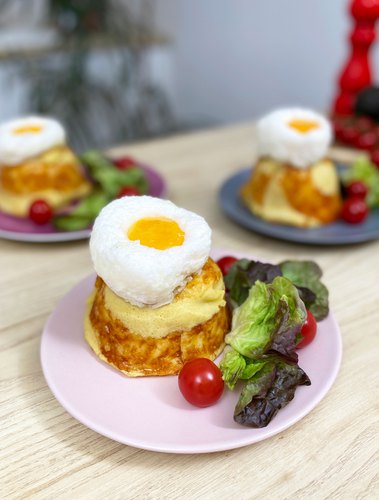 Mini-Crepe Tower
Mini-Crepe Tower! This classic treat has new life breathed into it! 😋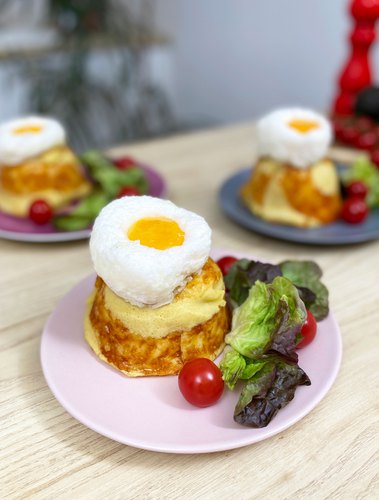 ---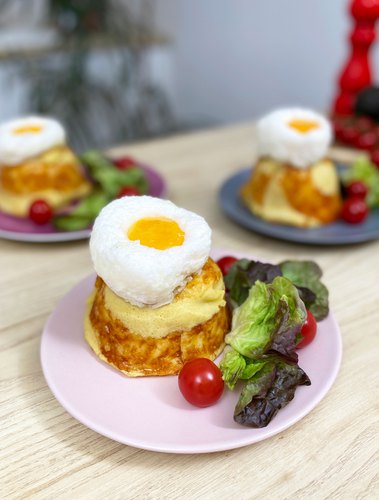 ---
Total time: 45 minutes
Prep time: 25 minutes, Cook time: 20 minutes
Ingredients for 3 people
6 egg
2 tbsp of olive oil
6 slices of ham
6 slices of edam
2 oz of cheddar
Butter
Salt & pepper
1 pinch of nutmeg
2 3/4 cups of milk
2.1 cups of flour
---
Tools
Aluminum foil
---
Step 1/4
Make a crepe batter with 2 cups of flour, 2 cups of milk and 3 eggs. In a saucepan, melt the butter, add 1 tbsp of flour, mix and pour in 0.6 cup of milk little by little until you obtain a béchamel. Season with salt, pepper and add a pinch of nutmeg.
Step 2/4
Mix the grated edam and cheddar, place in a spiral in the center of a frying pan, allow to melt for a few moments then pour a ladle of crepe batter and cook it. Repeat the process 3 times and cook 6 more crepes. Place the crepe upside down on a work surface, place a small bowl in the center and cut 6 slits around it.
Step 3/4
Using a glass, cut discs of ham, cheese and crepes. Place the pancake in the bowl, place a crepe disc, cover with a little béchamel, add a disc of ham and a disc of cheese. Repeat until you reach the top of the bowl then close with a crepe disc. Turn the bowls over on a baking sheet, leaving the bowls during cooking and bake for 20 minutes at 350°F.
Step 4/4
Fold a square of aluminum to make a ring shape. Separate the whites from the yolks of the 3 eggs and whisk the egg whites separately. Place the aluminum ring in a frying pan, pour a drizzle of olive oil and add the whipped egg white, place a yolk on top and cover while cooking. Repeat the process 3 times, serve them on the crepe cups (remove the ring). Serve and enjoy!