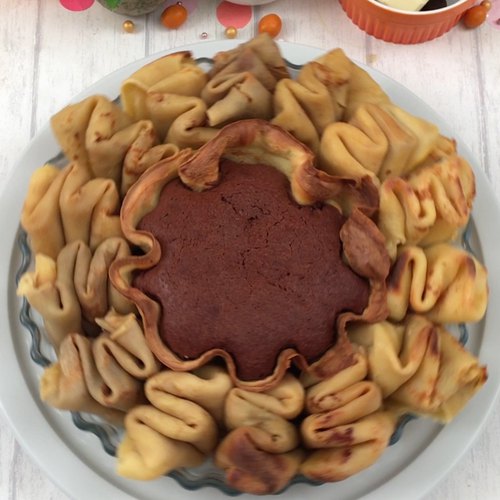 Crepe Party
With chocolate for all!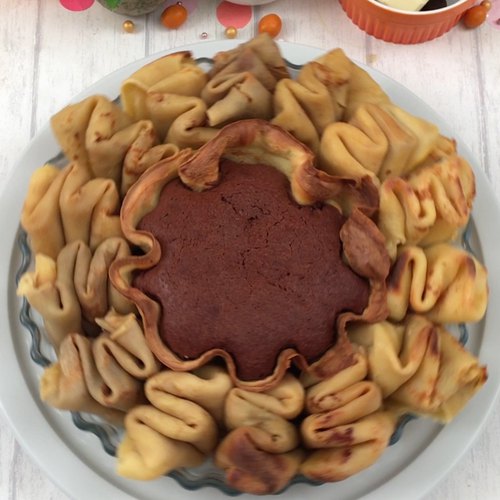 ---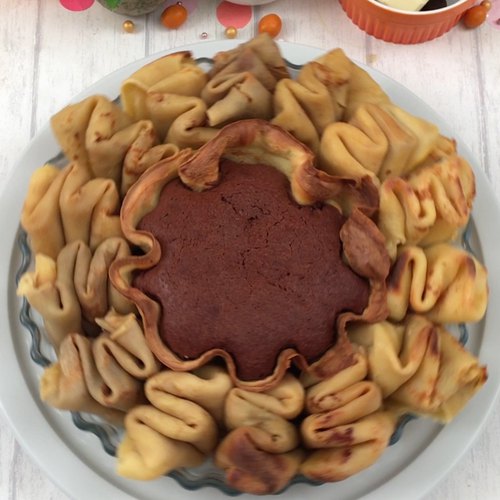 ---
Total time: 1 hour 30 minutes
Ingredients for 4 people
8 packets vanilla sugar
4 cups of flour
3 cups of milk
3/4 cup of butter
2/3 cup of dark chocolate
1/3 cup of sugar
6 eggs
2 1/3 tsp of baking powder
salt
---
Tools
Pie dish
---
Step 1/3
Whisk the eggs, vanilla sugar, a pinch of salt, and 3 cups flour. While stirring, add the milk then 1/2 cup of melted butter to obtain a crepe batter. Cook 17 crepes. Coat 4 crepes with chocolate hazelnut spread, 4 with chestnut cream, 4 with caramel sauce, and 4 with melted butter and vanilla sugar.
Step 2/3
Fold the crepes in half and then in half again lengthwise. Fold the crepes into accordion shape. Place an upside-down bowl in the middle of the pie dish and arrange the accordioned crepes around the bowl on their sides. Remove the bowl and replace it with the remaining crepe.
Step 3/3
Whisk together the melted dark chocolate with the remaining melted butter, remaining sugar, and 2 egg yolks. Add the remaining flour and the baking powder. Beat the egg whites until stiff and fold them into the batter. Pour the batter into the crepe in the center of the pie dish. Bake for 20 minutes at 350 °F. Remove from the oven and enjoy the crepes by dipping them in the chocolate fudge.