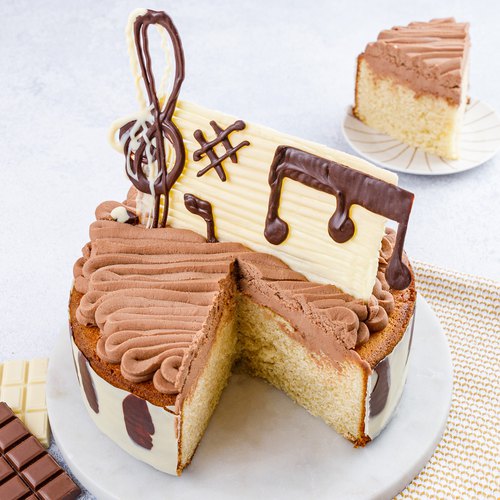 Perfect Melody Cake
Perfect Melody Cake! Get in treble with this dessert recipe 😏🎵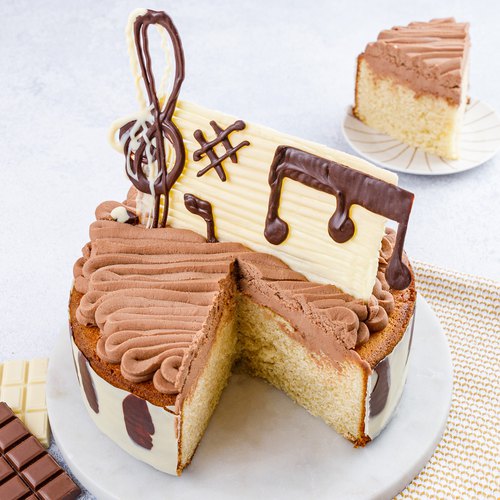 ---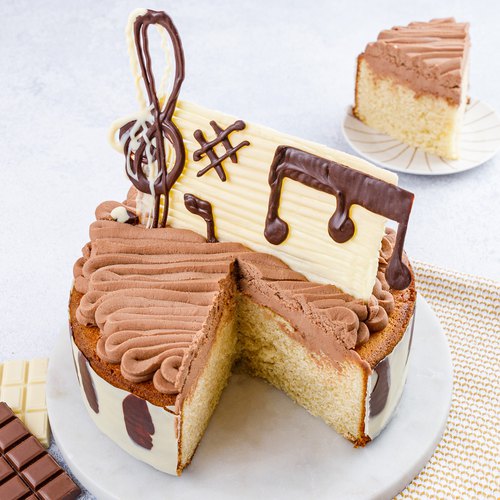 ---
Total time: 1 hour 55 minutes
Prep time: 45 minutes, Cook time: 20 minutes, Rest time: 50 minutes
Ingredients for 5 people
4.3 cups of flour
1 cup of butter
2 tbsp of baking powder
1 1/2 cups of sugar
6 egg
1.3 cups of milk
7 oz of dark chocolate
6 oz of white chocolate
3/5 cup of cream cheese
0.4 cup of heavy cream
3 tbsp of cocoa powder
---
Tools
Cake mold
Parchement paper
---
Step 1/4
Mix the flour, butter, yeast, sugar, eggs and milk until you have a smooth mixture. Pour the mixture into a cake tin and bake for 20 minutes at 350°F then let it cool.
Step 2/4
Melt the dark chocolate and place 2 rows of 6 forks with ends crossing each other on a wire rack over a baking sheet. Pour the melted dark chocolate over the ends of the forks. Place the ends of the forks with the melted chocolate on a strip of parchment paper, melt the white chocolate and pour it into a baking tray. Remove the forks from the baking paper, dip the side with the melted dark chocolate of the parchment paper into the melted white chocolate and set aside.
Step 3/4
Cut a notch in the center of the cake. Wrap the strip of chocolate parchment paper around the cake and refrigerate for 30 minutes. Pour the remaining dark chocolate and melted white chocolate each into a freezer bag and cut off the bottom corner. Join the freezer bags and trace chocolate treble clef on a plastic bag and refrigerate for 20 minutes. Pour a rectangle of melted white chocolate on a parchment paper, smooth it with a fork to obtain lines all over the rectangle. Trace musical notes with the rest of the melted dark chocolate and refrigerate for 20 minutes.
Step 4/4
Whisk the mascarpone, heavy cream and cocoa together and place the whipped cream in a piping bag. Pipe a dot of whipped cream onto the dark chocolate decorations and place them on the rectangle of white chocolate. Pipe the rest of the whipped cream on top of the cake, place the music score vertically and enjoy!