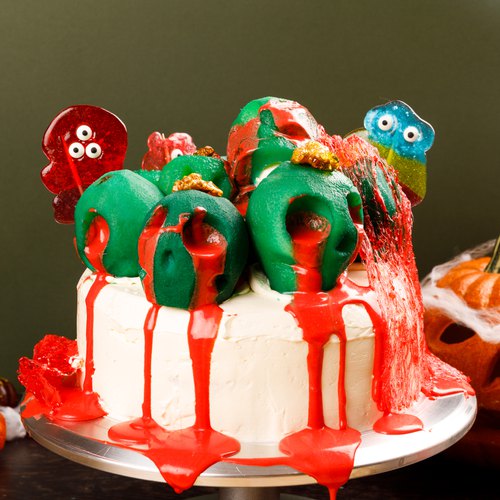 Halloween Skull Cake
Get ready for a peary scary surprise 💀🍐👻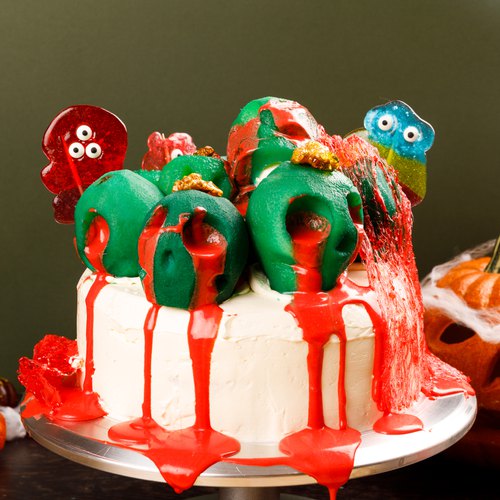 ---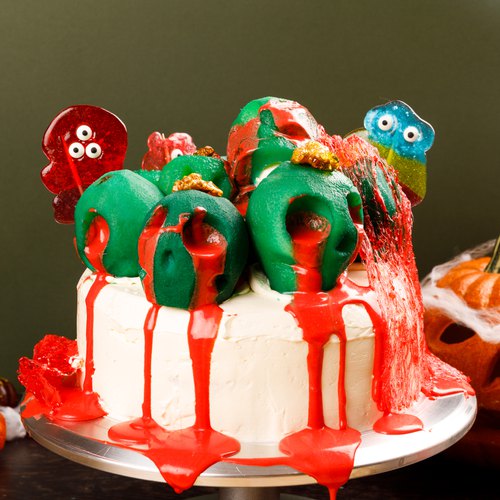 ---
Total time: 2 hours 15 minutes
Prep time: 1 hour , Cook time: 45 minutes, Rest time: 30 minutes
Ingredients for 12 people
4 1/2 cups of sugar
30 green hard candies
10 13 pears
1 box of red velvet cake mix
6 egg whites
1 cup of butter
3 tsp of vanilla extract
1 cup of cream cheese
2 cups of whipped cream
caramelized walnuts
red food coloring
9 colorful hard candies
edible googly eyes
---
Tools
Melon baller
Electric mixer
Skewers
Thermometer
Parchment paper
Ruler
Squeeze bottle
---
Step 1/4
Place 10 cups water, 2 cups sugar, and green hard candies in a large pot. Cut off the pointy ends of the pears, peel, and use a small melon baller to cut out indents for the eyes of the skull along with the nose and sides of the mouth. Put the pears in the water sugar mixture, bring to a slow boil, then reduce to medium-low heat and cook for 45 minutes.
Step 2/4
Prepare the red velvet cake batter according to box instructions, pour the batter into a parchment lined sheet tray, and bake according to box instructions. Meanwhile, bring 2 1/2 cups sugar and 1/2 cup water to a boil in a sauce pan until it reaches 249 °F. After, pour into bowl with egg whites and whisk on medium speed until the side of the bowl is room temperature. Then add in the butter, vanilla extract, cream cheese and whisk until combined.
Step 3/4
Let the pears cool for 30 minutes, then remove the center with a melon baller (see video). Fill with whipped cream and let chill. Next, cut out 3 circles of cake using a bowl, garnish the cream cheese frosting between layers, and frost the entire outside of the cake, smoothing the edges with a ruler if needed. Stack the pear skulls on top of the cake and place a caramelized walnut on top of each skull for a "brain". Mix 1 cup of frosting with red food coloring and 1/4 cup water. Place in a squeeze bottle and fill the skulls' eye sockets with this.
Step 4/4
Optional: make hard candy monsters by placing 3 skewers on a baking tray topped with 3 hard candies each. Place the tray on top of a pot of boiling water and let sit for about 5 minutes until the candies have melted. Decorate with edible google eyes and let cool. Add to your cake. For an extra creepy touch, add red spun sugar to the outside of the cake to create a cobweb effect. Enjoy!