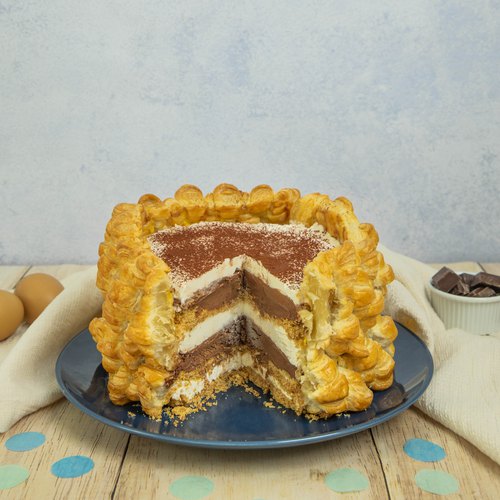 S'mores Croissant Tiramisu
Italian dessert meets America's favorite campfire treat 😍🍫🔥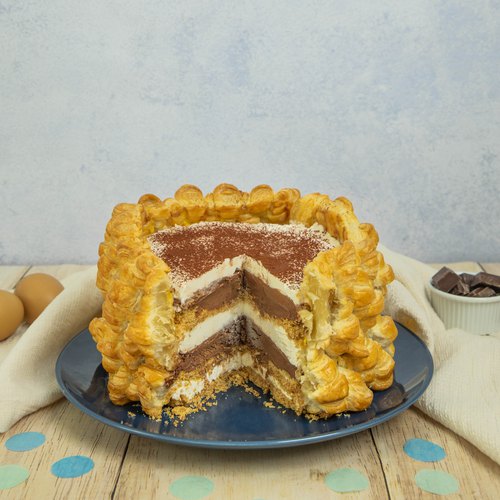 ---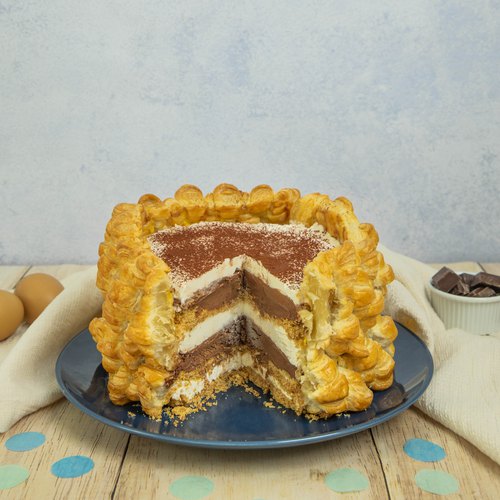 ---
Ingredients for 8 people
1 lb of milk chocolate
4 cups of heavy cream
1/3 cup of butter
1/3 cup of sugar
2 tbsp of vanilla extract
2 tbsp of marshmallow fluff
2 sheets of puff pastry
1 egg
cocoa powder
1 box of graham crackers
---
Tools
Plastic pags
Electric mixer
Deep springform pan
Parchment paper
---
Step 1/6
Melt the milk chocolate and place in a bowl. Heat 2 cups of the heavy cream until it reaches a simmer and then pour over the milk chocolate. Mix well and let chill.
Step 2/6
Place a large plastic bag in the graham cracker box and crumble into fine pieces using an electric mixer. Then mix in the butter and sugar. Set aside
Step 3/6
In a chilled mixing bowl, add 2 cups heavy cream and vanilla, then whip into soft peaks. Next add two heaping tablespoons of marshmallow fluff to a small microwave-proof bowl and heat for about 20-30 seconds until it is softened. Then add to the cream and continue to whip until there are stiff peaks. Add the whipped cream to a tipped pastry bag (or plastic bag) and refrigerate. Meanwhile, once the chocolate cream has completely cooled, whisk with an electric mixer until the mixture lightens in color and texture, about 5 minutes. Then add the ganache to a tipped pastry bag.
Step 4/6
In a deep springform pan begin to assemble the cake by pressing down a 1 cm layer of the graham cracker crumbles at the bottom. Top with a layer of chocolate ganache, then marshmallow whipped cream. Repeat this same process twice more and smooth off the top marshmallow whipped cream layer. Place the cake in the refrigerator for at least 1 hour.
Step 5/6
Meanwhile, line a large baking sheet with parchment paper and mark a rectangular area approximately as tall as the height of your springform pan and as long as its circumference. Then cut the puff pastry sheets into rectangles 1.75 inches wide and 4 inches tall. Cut each of these pieces in half diagonally, roll up into a mini croissant, and place on the baking sheet inside the rectangle. Brush with egg wash and bake for 15 - 20 minutes at 350 °F.
Step 6/6
Remove the cake from the refrigerator and remove from the pan. Wrap with the cooled mini croissants and sprinkle with cocoa powder. Serve and enjoy!