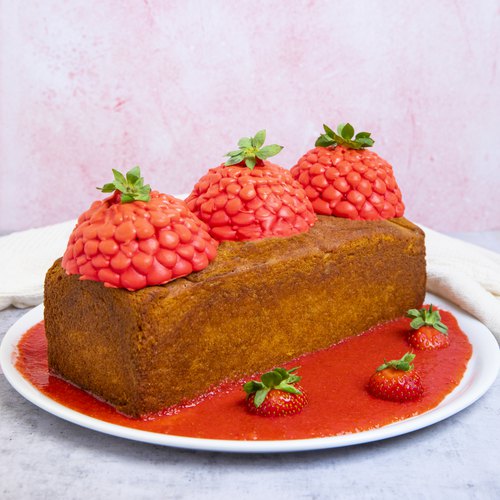 Very Berry Pound Cake
The perfect dessert to kick off summer ☀️🍓😍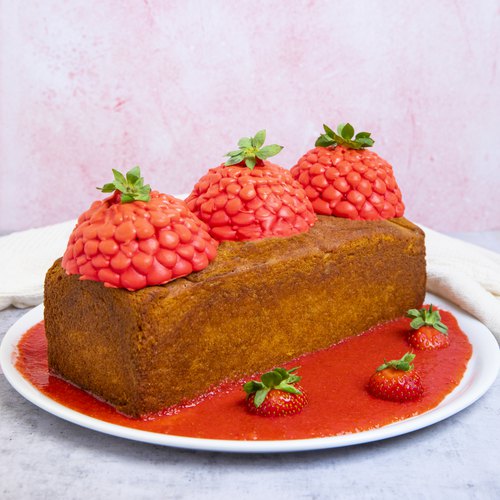 ---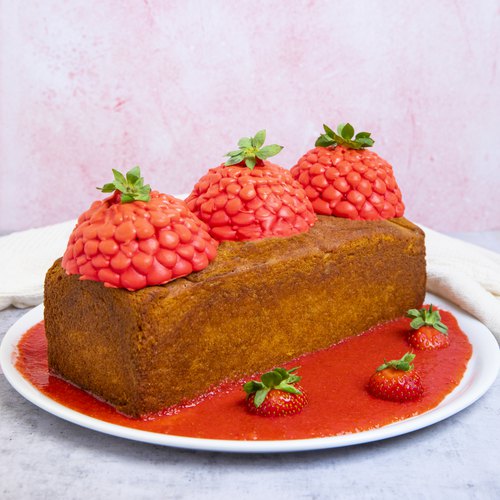 ---
Total time: 1 hour 30 minutes
Ingredients for 6 people
2 egg whites
2 cups of sugar, divided
1/2 cup + 1/3 cup powdered sugar
1 tsp of powder red food coloring
1 1/3 tbsp of honey
3 vanilla beans
1/4 tsp of salt
1 1/3 tbsp of lemon juice
2 tsp of lemon zest
8 eggs
1 1/3 cups of melted butter
3 1/4 cups of flour
1 1/4 tbsp of baking powder
2 cups of heavy cream
4 cups of strawberries
---
Tools
Piping bag
Small bowls
Parchment paper
Blender
Electric mixer
Loaf pan
Ice cream scooper
---
Step 1/4
In a large mixing bowl, mix the egg whites and 2 1/3 tbsp sugar with an electric mixer. Once the mixture is foamy, add another 2 1/3 tbsp sugar and mix until stiff peaks form. In a small bowl, mix 1/2 cup powdered sugar with powder red food coloring and then delicately fold this mix into the whipped egg whites with a spatula. Place in a piping bag and prepare a baking sheet with parchment paper and three small glass bowls. Turn the bowls upside down and pipe the meringue onto the bowls so that they resemble strawberries. Bake for 5 hours at 220 °F.
Step 2/4
Mix 1 1/3 cups sugar, honey, seeds of 1 vanilla bean, salt, lemon juice, lemon zest, and 8 eggs in a bowl over simmering water. Once the sugar has dissolved, add in the melted butter and remove from heat. Then mix in the flour and baking powder. Pour into a parchment lined loaf pan and bake for 10 minutes at 375 °F. Then lower the oven temperature to 325 °F and bake for 50 minutes. Prepare a simple syrup by heating 1/2 cup water, 1/3 cup sugar, and seeds of 1 vanilla bean in a saucepan. Pour the syrup over the cake when it is removed from the oven. Let cool.
Step 3/4
Mix 1/3 cup powdered sugar, heavy cream, and seeds of 1 vanilla bean with an electric mixer until stiff. Rinse the strawberries and puree them with a food processor. Fold 1 cup of the strawberry purée into the whipped cream and place into a piping bag.
Step 4/4
With an ice cream scoop, remove three scoops from the surface of the pound cake. Fill with whipped cream and place a whole strawberry in each hole. Cover with cake crumbs and more whipped cream. Fill each meringue dome with whipped cream and place on top of cake. Decorate with strawberry stems and serve on plate with remaining strawberry puree. Slice and enjoy!