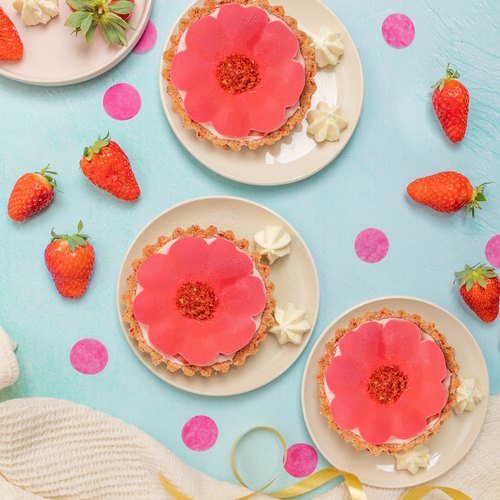 Strawberry Mini Pies
You're in for a berry delicious surprise 🍓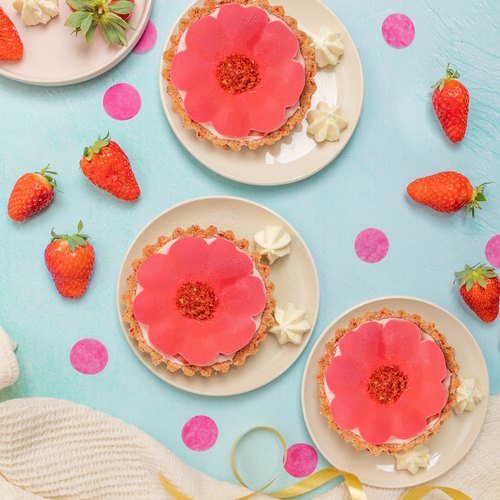 ---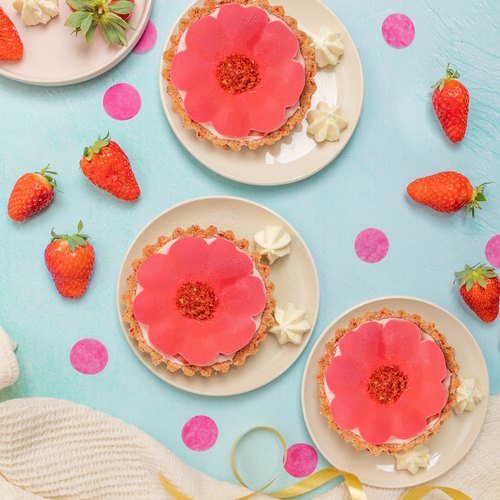 ---
Total time: 1 hour 45 minutes
Prep time: 45 minutes, Rest time: 1 hour
Ingredients for 3 people
1 white chocolate bar
2 tsp of red powdered food coloring
1 1/4 cups of freeze-dried strawberries
9 golden oreos
1/4 cup of melted butter
1 1/8 cups of cream cheese
1 cup of heavy whipping cream
1 1/4 tbsp of powdered sugar
22 strawberries
strawberry jam
---
Tools
Plastic bag
Plastic sheet protectors
Apple cutter
Mini tart tins
Electric mixer
---
Step 1/4
Dip the white chocolate bar in red powdered food coloring, place in a plastic bag, and microwave 2 times at 30 second intervals. Mix the white chocolate with the food coloring in the bag, cut off the bottom corner of the bag, and pipe three chocolate circles onto a plastic sheet protector. Cover with a second plastic sheet protector and place an apple cutter over each chocolate circle to make a flower imprint. Chill in the fridge for 30 minutes.
Step 2/4
Remove the pink white chocolate flowers from the fridge and pipe on a small circle of melted white chocolate to the center of each circle. Blend the freeze dried strawberries and sprinkle them into the center of each flower. Place in fridge.
Step 3/4
Meanwhile, mix the remaining red powdered food with water in a bowl. Separate a golden oreo in half, dunk the half with the frosting into the red water mix, and place frosting side up in a small tart tin. Repeat two times. Crush the remaining golden oreos in a blender and mix with the remaining freeze dried strawberries and melted butter. Blend again. Place 1 scoop of the mixture in each tart tin, press down well, and freeze 1 hour.
Step 4/4
Blend 8 strawberries into a puree. Using an electric mixer, mix the cream cheese, heavy whipping cream, and powdered sugar. Divide the whipped cream in half and add 1/3 cup of the strawberry puree to one. Add a spoonful of strawberry jam into the bottom of each tart and then cover with the strawberry whipped cream. Place 6 strawberry halves on top of each tart (open side up) and cover with the white chocolate flower. Place the tarts on a serving plate and decorate with remaining whipped cream and strawberries. Enjoy!