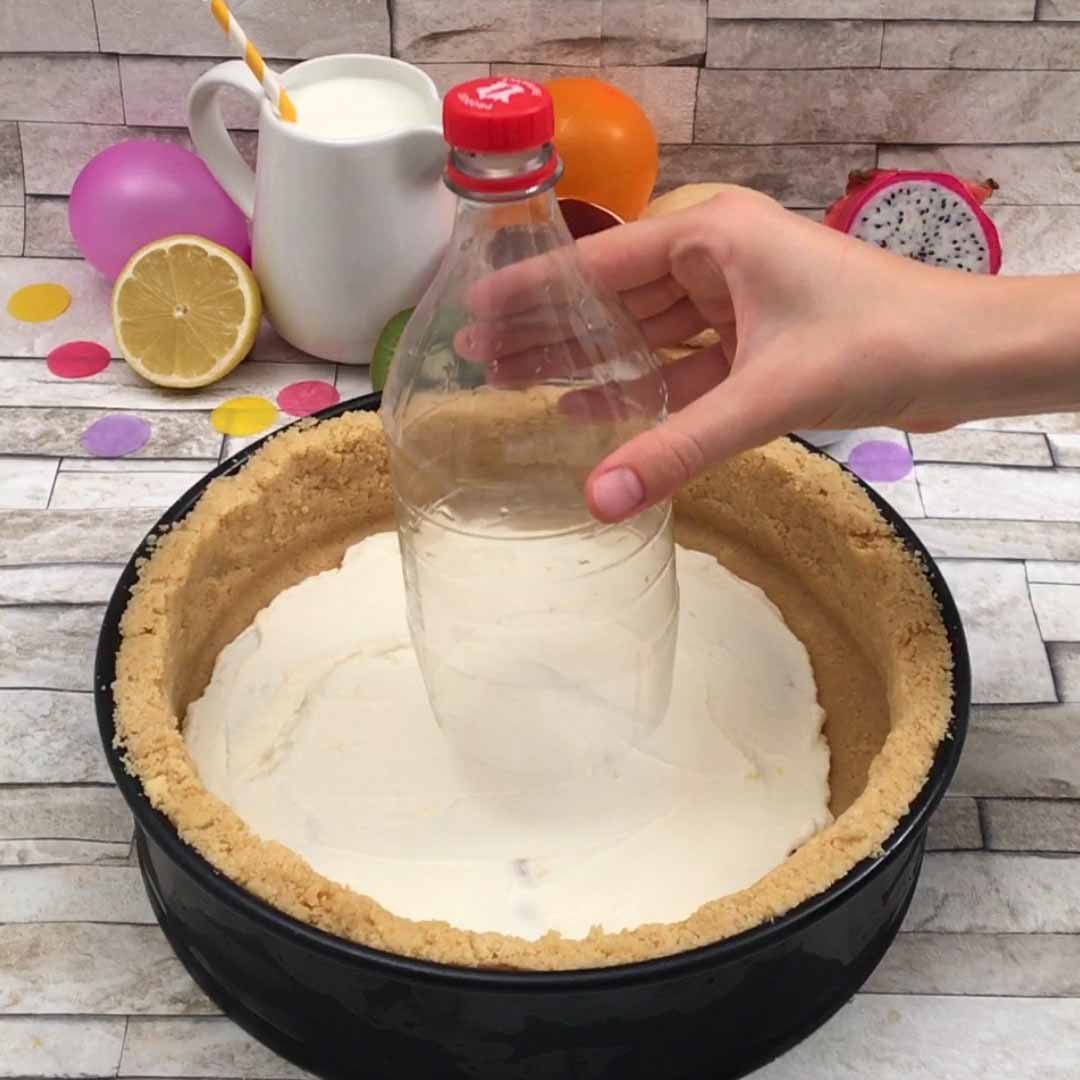 Overflowing Fruit Tart
A really playful dessert! 😝
Made by you!
Ingredients
Watermelon
Cantaloupe
Mango
Dragon fruit
Kiwis
Shortbread cookies
1/2 cup melted butter
2 cup mascarpone cheese
1/4 cup powdered sugar
2 tsp vanilla extrait
2 tbsp lemon juice
1 tbsp lemon zest
Strawberry coulis
Blueberries
Pomegranate seeds
Mint leaves
Tools
Measuring spoons
Cup
Springform pan
Parchment paper
Plastic soda bottle
1. Use different sized measuring spoons to make watermelon, cantaloupe, kiwi, and dragon fruit fruit balls. Set aside. Using a glass or a cup, crush the shortbread cookies to make about 2 cups of crumbs. Mix in melted butter. Transfer crumb mixture to a lined springform pan. Using the glass or cup, pack and form the crumb mixture into a crust. Set aside.
2. In a mixing bowl, whip together mascarpone cheese, powdered sugar, vanilla, lemon zest, and lemon juice until light and fluffy. Fill the cookie crust with half of the cheesecake mixture. Cut the bottom off of a plastic soda bottle and place the top part in the center of the cheesecake with the opening of the bottle facing up. Fill in the cookie crust with the rest of the cheesecake mixture surrounding the soda bottle. Chill until firm.
3. When the cheesecake is ready, remove the band of the springform pan. Pour Strawberry coulis into the soda bottle. Place the fruit balls and blueberries around the bottle on the cheesecake. Sprinkle pomegranate seeds and mint leaves on top of the fruit. When you are ready to enjoy, lift off the plastic soda bottle and let the strawberry coulis cover the cheesecake.
Similar recipes from Chefclub