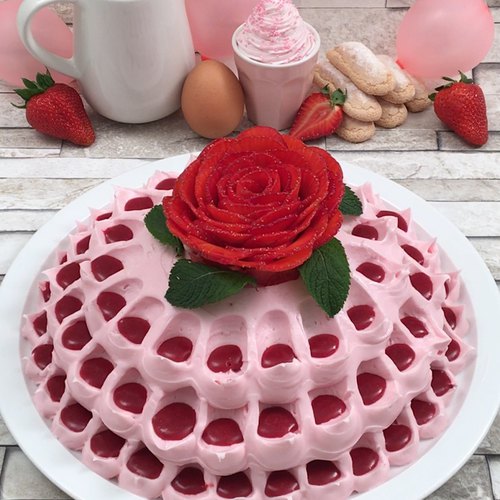 Strawberry Trifle
Sure to impress! 🍓🍓🍓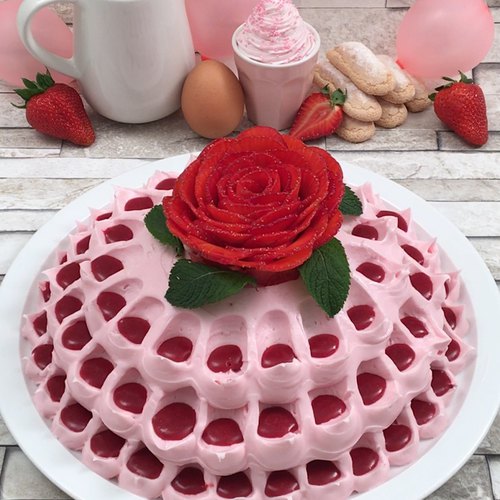 ---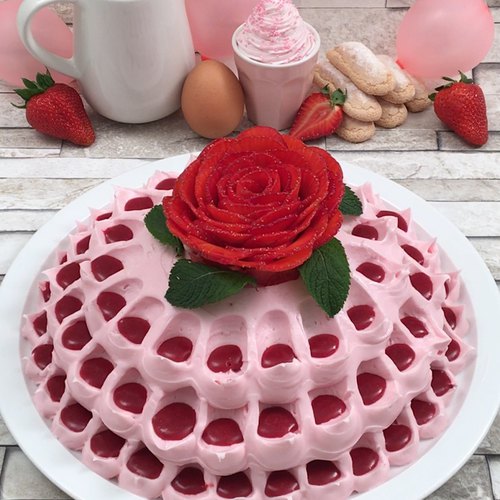 ---
Ingredients for 8 people
1 1/4 cups of strawberries
1 cup of sugar
1 cup of strawberry coulis or sauce, divided
14 lady finger cookies
1 cup of mascarpone
1 cup of powdered sugar
3 1/3 cups of heavy cream
mint
---
Tools
Bowl
Hand mixer
---
Step 1/4
Cut 7 slices of strawberries across the width and align them by slightly overlapping them. Roll the line on itself to form a flower. Enlarge the flower by adding about 20 more slices on top.
Step 2/4
Bring 3/4 cup of water to the boil with the sugar and 1/4 cup of strawberry coulis to obtain a syrup. Dip the lady fingers in this syrup and line the inside of the bowl with it. Whip the mascarpone, powdered sugar and heavy cream. Add 1/3 cup strawberry coulis to the whipped cream.
Step 3/4
Cover the lady fingers with a layer of whipped cream and place half of the remaining sliced strawberries on top. Cover again with whipped cream and place the remaining strawberries on top. Finish filling the bowl with the whipped cream and place it in the fridge for 1 hour.
Step 4/4
Unmold the cake by turning it over and cover it with the remaining whipped cream. Use a teaspoon to make small holes around the base of the cake in the whipped cream. Do the same on a second line on top and repeat until you have covered the cake with small holes, leaving only the top blank. Put remaining strawberry coulis in a freezer bag, and cut a small tip off, place a little bit in each hole.Then place strawberry rose on top of the cake. Decorate with mint leaves and enjoy.