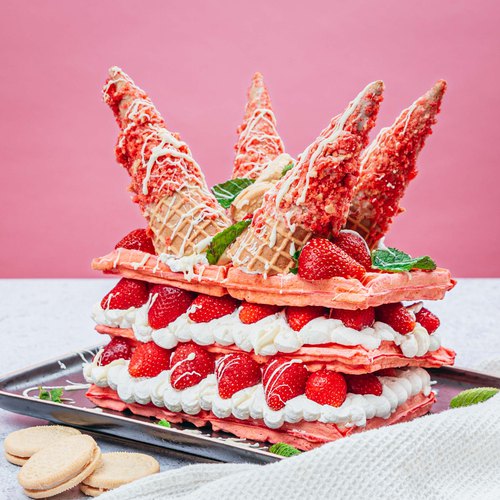 Waffle Strawberry Shortcake
Waffle Strawberry Shortcake! With jello & oreos 😋🍓🧇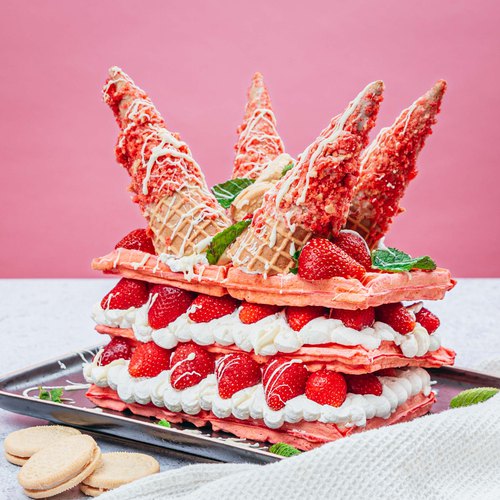 ---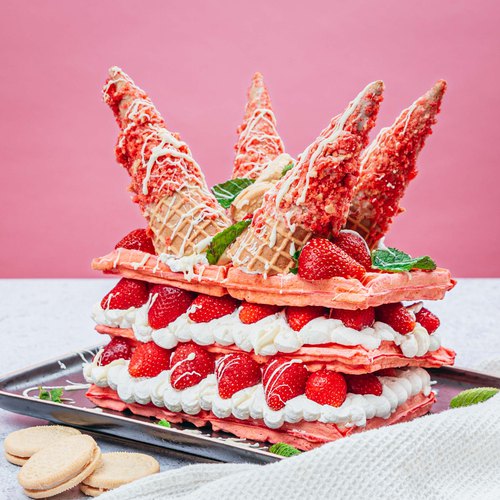 ---
Total time: 45 minutes
Prep time: 45 minutes
Ingredients for 6 people
4 cups of rice krispies
1 cup of freeze-dried strawberries
2 3/5 cups of milk
4 cups of flour
4 egg
2 tbsp of baking powder
2 tsp of salt
2 tbsp of vanilla extract
4 tbsp of sugar
1 cup of white chocolate
4 ice cream cones
2 containers of strawberries
1 pint of strawberry ice cream
5 mint leaves
1 package of strawberry jello
2 packages of golden oreos
Whipped cream
---
Tools
Waffle iron
Ziplock bag
---
Step 1/4
Pour the milk into a bowl along with the dried strawberries and rice krispies. Allow to rest for 20 minutes. Strain into another bowl and add flour, egg, baking powder, sugar, vanilla extract and selt. Mix to obtain a waffle batter. Heat the waffle iron up and grease using spray. Pour in the waffle batter and begin cooking your waffles in batches. You need 3 for each cake.
Step 2/4
Place the white chocolate into a microwave safe cup and microwave until melted. Crush the golden oreos, mix with the jello packet and a teaspoon of water. Dip the cones in the white chocolate and then roll in the oreo mixture. Set aside.
Step 3/4
Place the whipped cream in a ziplock bag. Cut 1 corner. Begin to stack your waffles with the whipped cream on the outside of each waffle, followed by the strawberries and finally a slice of strawberry ice cream in the middle. Repeat for the process for the second layer.
Step 4/4
Pipe whipped cream into the cones. Add sliced strawberries and additional whipped cream. Place on top of the waffle stack. Decorate with the mint, a few cookies and some white chocolate drizzle. Enjoy!