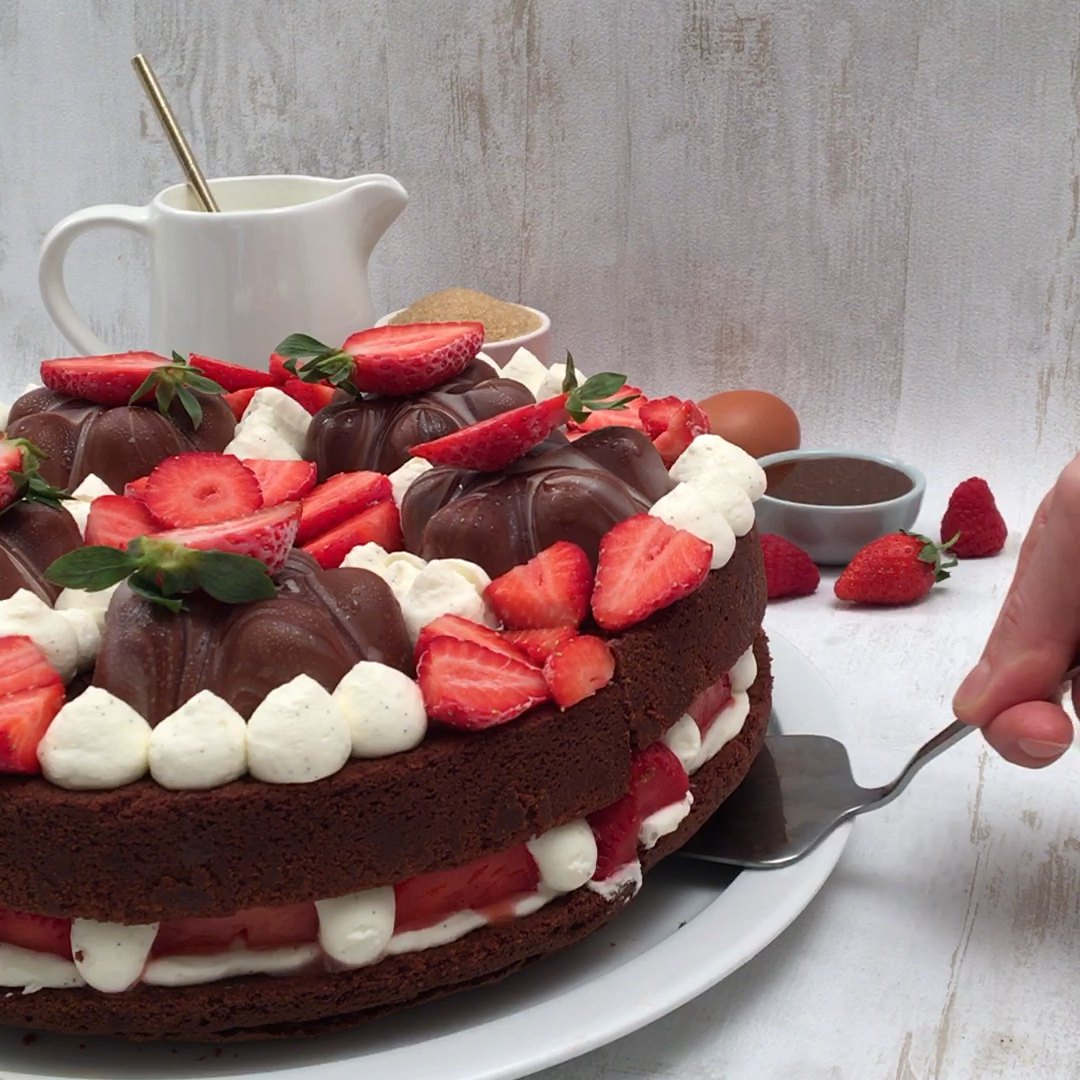 Chocolate Strawberry Surprise
Where the ice cream is also the decoration! 🍦🍓🍫
Made by you!
Ingredients
Vanilla ice cream
1 1/2 cup milk chocolate
1/3 cup white chocolate
2 3/4 cup dark chocolate
6 eggs
1 cup plus 2 tbsp butter
2 1/4 cup powdered sugar
2 cups flour
1 lb strawberries
Whipped cream
Tools
5 empty soda bottles
Toothpicks
Cake pan
Glass
1. Cut off the bottoms of the bottles and fill them with ice cream and freeze for 1 hour. Melt the milk chocolate in a bowl and pour over 1/3 cup of dark chocolate and the white chocolate. De-mold the ice cream from the bottle bottoms and stick a toothpick into each one. Use the toothpicks to dip the ice cream into the melted chocolate. Freeze again.
2. Place the remaining dark chocolate and butter in a bowl and melt in the microwave for 1 minute 30 minutes. Mix together the sugar and eggs, then pour into the melted chocolate and butter. Add the flour and pour into the pan. Bake in the oven for 35 minutes at 350 °F.
3. When the cake is baked, cut the cake into 2 layers, then layer 1 of the halves with whipped cream. Arrange strawberry halves on top of the whipped cream. Add more whipped cream around the strawberries, then cover it with the second half of the cake.
4. Use a glass to cut 5 circles out of the top of the cake. Arrange the remaining sliced strawberries around the discs. Spread the caramel in the circles and place the ice cream on top. Decorate with whipped cream and strawberries, cut into slices and enjoy.
Similar recipes from Chefclub