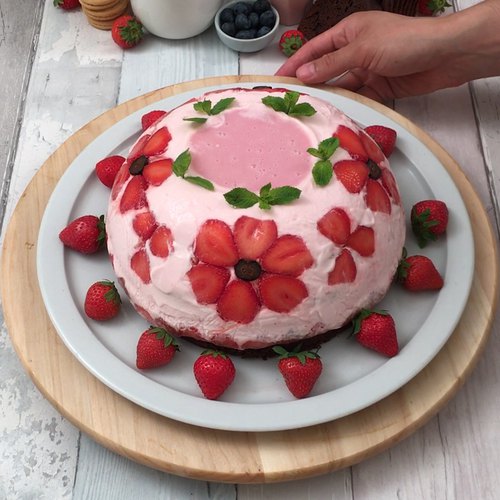 Strawberry Nesquik Dome
Strawberry milk's cool cousin! 🍓🥛🎂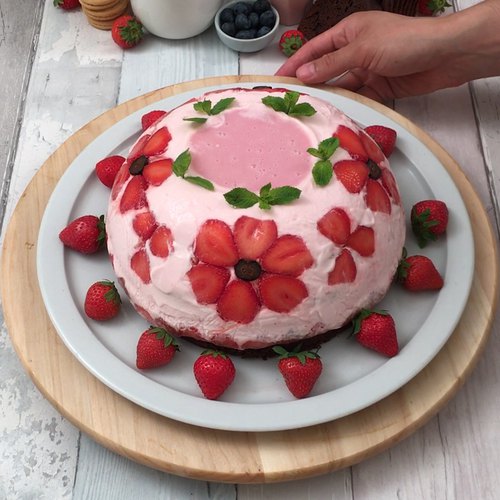 ---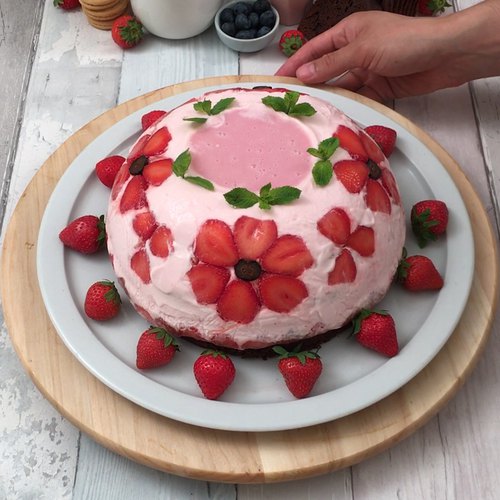 ---
Ingredients for 8 people
4 eggs
1 cup of sugar
1/2 cup of brown sugar
1 tsp of vanilla extract
1 cup of dark chocolate
1 1/2 sticks butter
1 cup of flour
1/4 cup of cocoa powder
1/2 tsp of instant coffee
strawberries
blueberries
2 cups of heavy whipping cream
2 cups of marcapone cheese
1/2 cup of plus 1/4 cup strawberry-flavor nesquik powder, divided
golden oreos
1 cup of condensed milk
---
Tools
Plastic wrap
---
Step 1/4
Make the brownies by melting the butter and chocolate together. Set aside. In a bowl, combine the eggs, sugars and vanilla. Add the chocolate and butter, mix well. Sift the dry ingredients into the wet ingredients and fold until combined. Pour into a pan lined with parchment paper and bake for 25 minutes at 350° F. Allow to cool in the pan.
Step 2/4
Make the strawberry cream by whipping the heavy cream to soft peaks. Add 1/2 cup of strawberry Nesquik and mascarpone. Whip until thick and smooth. Place in a piping bag and chill.
Step 3/4
Place the glass bowl on top of the brownie and cut a circle around the edge of the bowl. Line the same bowl with plastic wrap. Slice strawberries and blueberries and place along the inside of the bowl in a flower pattern. Freeze to set the fruit into place. Pipe a layer of cream into the bowl. Add a layer of Oreos on top. Pipe another layer of cream, followed by another layer of Oreos. Top with a layer of cream and add the brownie disc on top. Freeze for at least 4 hours.
Step 4/4
Mix together the strawberry Nesquik and condensed milk. Set aside. Place a large plate on top of the bowl and unmold it by turning it upside down. Place a hot ladle in the center of the dome to make an indentation. Pour the condensed milk into the center. Enjoy.