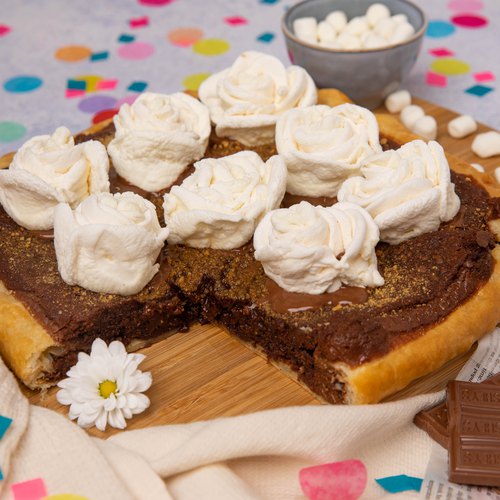 S'mores Pie
Made for chocolate lovers 😍🍫🔥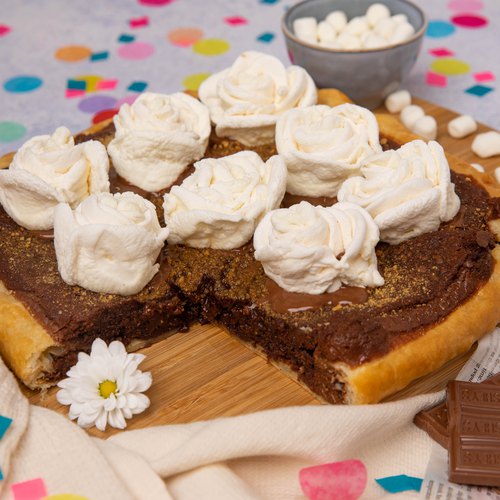 ---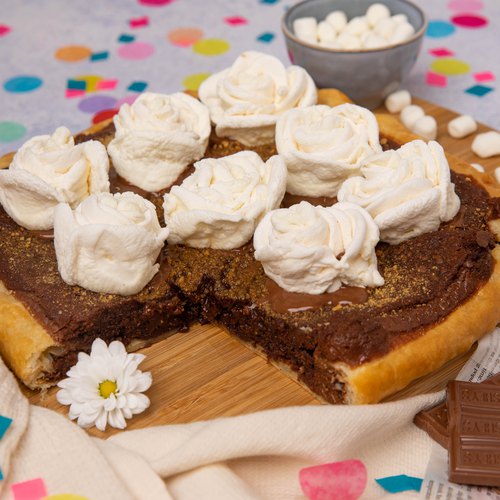 ---
Ingredients for 8 people
1 cup of dark chocolate
1 cup of butter
1 1/4 cups of sugar
4 eggs, divided
1/3 cup of flour
1 sheet of puff pastry
5 milk chocolate bars
1 cup of crumbled graham crackers
36 mini marshmallows
27 big marshmallows
cornstarch
1/2 cup of melted milk chocolate
---
Tools
Parchment paper
---
Step 1/4
Melt 1 cup dark chocolate with the butter in microwave or in a sauce pan. Let cool. Add the sugar to the 3 egg and whisk 30 seconds. Mix with the room temperature melted chocolate and then add in the flour.
Step 2/4
Place the round puff pastry sheet on a piece of parchment paper and sprinkle with a handful of crumbled graham crackers. Cut each chocolate bar vertically into three long strips. Arrange the chocolate strips in a square on the puff pastry sheet. Each side of the square should have three long strips of chocolate stacked one on top of the other. Then fold the puff pastry over the chocolate strips as seen in the video. Pour the brownie batter into the puff pastry, brush the edges with an egg wash (1 egg), and bake for 20 minutes at 350 °F.
Step 3/4
Prepare the marshmallow roses. For each rose you will need 4 mini marshmallows and 3 big ones. Using a rolling pin and cornstarch, roll out the mini marshmallows. Next slice two of the big marshmallows into thirds. Then slice two of the those pieces in half. For the last big marshmallow, slice in half. Then roll out all of them into flat disks. Roll the pieces up into a rose, beginning with the small pieces, as seen in the video. You will need to pinch the pieces sometimes to ensure they stick together. Continue until you have made 9 roses and set in freezer or fridge.
Step 4/4
Sprinkle the cake with the remaining graham cracker crumbles and pour 9 milk chocolate circles on top of the cake. Place a rose on top of each circle, serve, and enjoy!