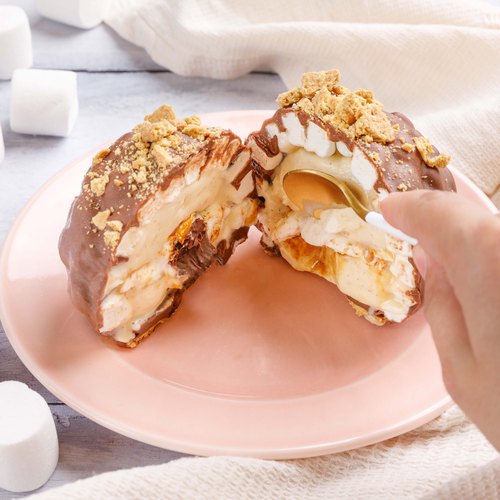 S'Mores Ice Cream Ball
Next-level Summer S'Mores :)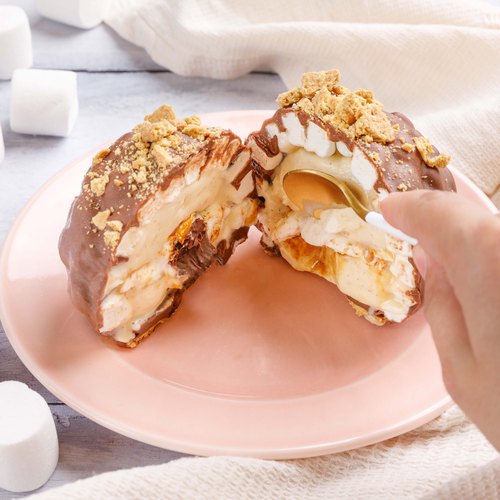 ---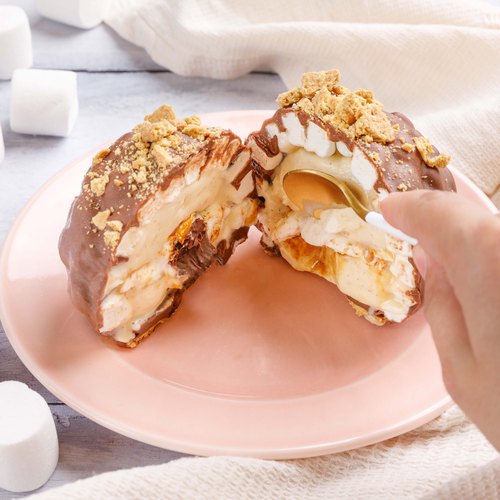 ---
Total time: 3 hours 15 minutes
Prep time: 15 minutes, Rest time: 3 hours
Ingredients for 3 people
7 scoops of chefclub vanilla ice cream
3 regular sized marshmallows
3 squares chocolate
mini marshmallows
2 cups of melted milk chocolate
4 graham cracker squares
---
Tools
Cling film
Small bowls
Blowtorch
Skewers
---
Step 1/3
Place a scoop of vanilla ice cream inside each cling film-lined small bowl and flatten. Make an incision in the regular sized marshmallows and slide in a square of chocolate to make the sandwich (make 3 total), then toast with a blowtorch using a skewer. Place the toasted marshmallows in the middle of the ice cream bowl, cover with another bowl of ice cream, and close tightly to form balls. Leave balls in the freezer for 1 hour.
Step 2/3
Stick the mini marshmallows all around the balls using the remaining scoop of ice cream as "glue". Put the balls back in the freezer for at least 2 hours.
Step 3/3
Prepare the melted chocolate (cool to use at room temperature) in a deep bowl. Prick each ball using a skewer. Dip each ball in the melted chocolate and drain well. Then place each ball on half of a graham cracker. Crush and sprinkle the remaining graham cracker pieces on top of the balls. Enjoy!