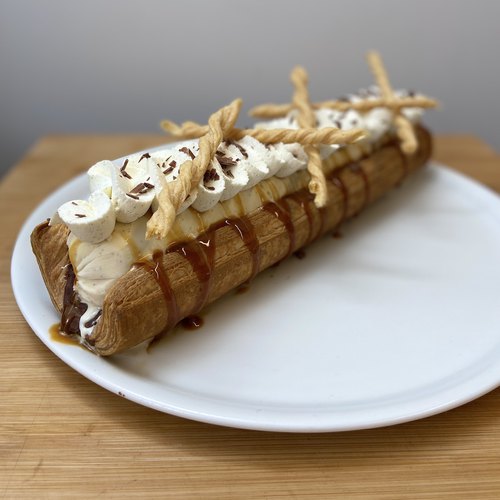 Fancy Vanilla Ice Cream Treat
An indulgent new way to eat your favorite dessert🍦😍🍫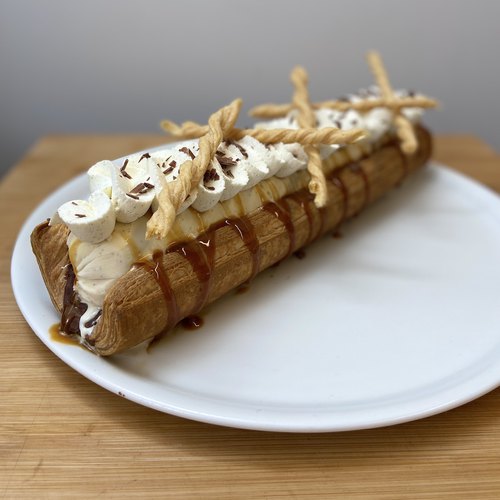 ---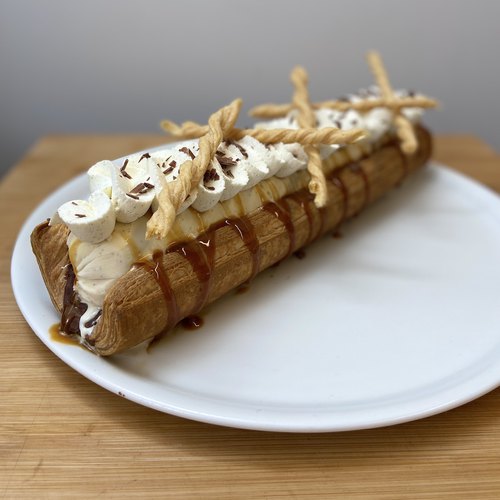 ---
Ingredients for 4 people
1 sheet of puff pastry
3 1/3 cups of ice cream
3/4 cup of milk chocolate
1/3 cup of caramel sauce
1 vanilla bean
3/4 cup of heavy cream
1/2 cup of mascarpone cream
1/3 cup of powdered sugar
---
Tools
Rolling pin
Plastic wrap
Peeler
---
Step 1/4
Cover the rolling pin with a rectangle of puff pastry to give it a rounded shape. Remove the excess dough. Cut the excess dough into 8 small strips and twist them. Place the twists and the roll on a baking tray covered with parchment paper and bake at 330 °F for 45 minutes.
Step 2/4
Spread a sheet of plastic wrap on the counter and place a line of 6 ice cream balls in the center. Wrap the balls in the plastic wrap and tie the ends. Then roll ice cream log on the counter to smooth the surface as seen in the video. Place in the freezer for 1 hour.
Step 3/4
Remove the rolling pin from the puff pastry and place the chocolate squares over the entire length of the still warm puff pastry. Smooth out the melted chocolate with a spoon and insert the ice cream log and drizzle with caramel sauce.
Step 4/4
Split the vanilla bean and scrape out its seeds. Whip the mascarpone, heavy cream, powdered sugar, and vanilla. Fill a piping bag with the whipped cream and decorate the ice cream treat with waves of whipped cream. Grate chocolate shavings with a peeler, add the pastry twists, cut into pieces, and enjoy!