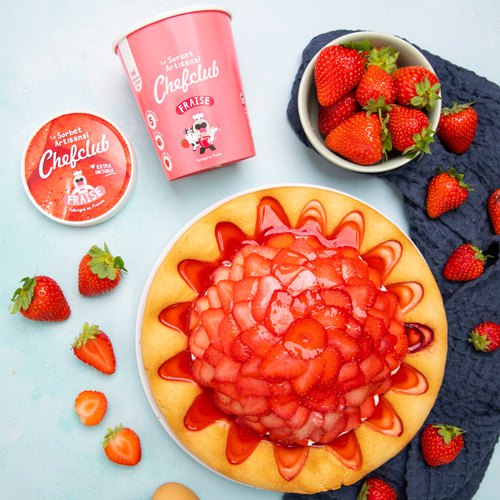 Strawberry Lava Pie
Filled with ice cream and exploding with flavor😍🍓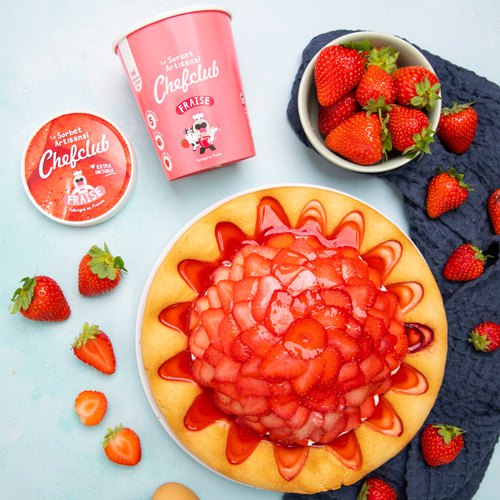 ---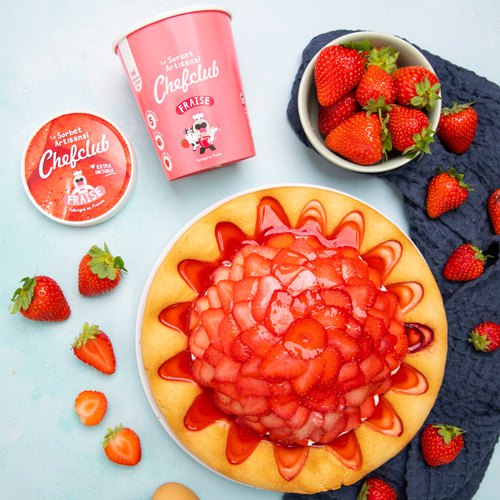 ---
Ingredients for 6 people
2 cups of flour
3/4 cup of butter
1 egg yolk
1/2 cup + 2 3/4 tbsp powdered sugar
1 pint of chefclub strawberry sorbet
30 strawberries
1 vanilla bean
2/3 cup of heavy cream
1/4 cup of mascarpone
1/2 cup of sugar
1/2 cup of almond powder
1 egg
salt
---
Tools
Springform pan
Rolling pin
Glass
Pie server
Electric mixer
---
Step 1/4
Prepare the shortcrust pastry: mix the flour, 1/2 cup butter, the egg yolk, 1/2 cup powdered sugar, and 1 1/4 cups water. Add a pinch of salt, then roll out the dough with a rolling pin, and make a disk that fits the bottom of your springform pan. Make a roll with the remaining dough and place it around the disk. Press down on the edges with the pie server and make 16 triangles around the edge of the pie as seen in the video. Prick the bottom of the pie and bake for 10 minutes at 350 °F.
Step 2/4
Turn the glass upside down, then turn the strawberry sorbet pint upside down and cut a circle in the bottom of the pint. Place the pint right side up on the upside down glass, pressing the circle onto the bottom of the glass so you can push the sorbet out slightly. Cut out two discs of ice cream and place in freezer.
Step 3/4
Cut 20 strawberries into thin strips. Line the bottom of a salad bowl with plastic wrap and arrange the strawberry strips in a circle, overlapping them slightly from the inside to the outside until you've covered the entire bowl. Slice the vanilla bean and scrape out the seeds. Then whip the heavy cream with the mascarpone, vanilla bean seeds, and remaining powdered sugar. Cover the strawberries with a layer of whipped cream. Add a disc of strawberry sorbet, cover with whipped cream, place the second disc, then cover the bowl with whipped cream to the brim and smooth the top. Place in the freezer for 15 minutes. Prepare a coulis with the remaining strawberries by placing them in a saucepan. Cover with water and add 1/4 cup sugar. Then simmer, stirring from time to time, until you have a smooth texture.
Step 4/4
Mix remaining butter, almond powder, remaining sugar, and egg. Pour into the pie and return to oven for 10 minutes. Once cooked, place the strawberry dome on the pie and let sit for 6 minutes at room temperature. Serve in portions and enjoy!