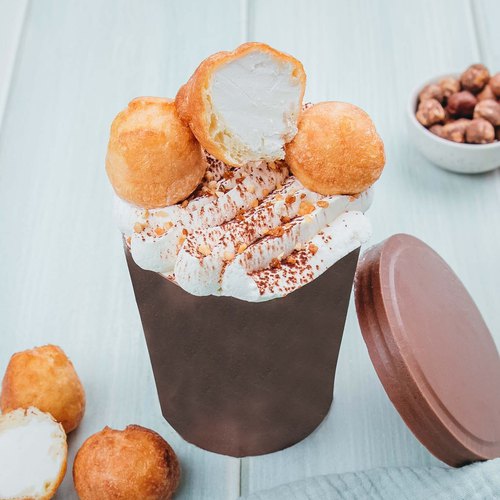 Cup Of Cream Puffs
Cup Of Cream Puffs! Even the cup is edible 😚🍫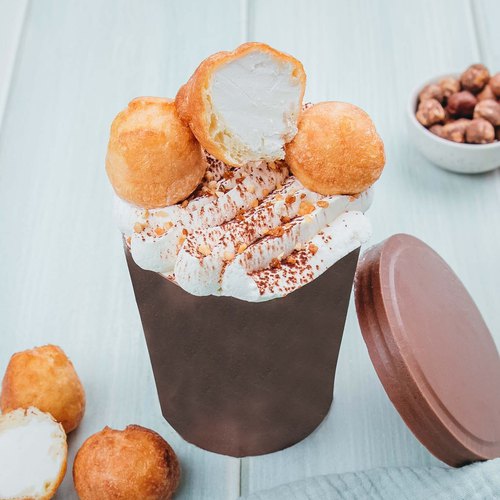 ---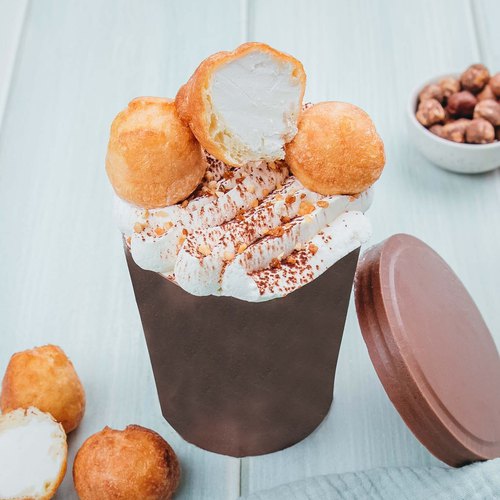 ---
Total time: 55 minutes
Cook time: 15 minutes, Rest time: 40 minutes
Ingredients for 1 person
Vanilla ice cream
4/5 cup of milk
3/4 cup of water
Sugar
3/5 cup of butter
2.4 cups of flour
5 egg
1 cup of heavy cream
1/2 cup of powdered sugar
Cacao powder
Sliced almonds
---
Tools
Piping bag
Electric mixer
---
Step 1/3
Place all the ice cream in a piping bag and set aside. Cover the inside of the empty ice cream container and lid with melted milk chocolate. Place the excess chocolate in a saucepan with heavy cream and stir well. Place the chocolate-covered container and lid in the freezer.
Step 2/3
Heat the milk, water, sugar and butter in a pan. Add flour and stir to make a dough. Beat in a mixer and gradually add the eggs. Pipe the batter into laddles and fry in hot oil until golden brown.
Step 3/3
Remove the chocolate from the freezer and unmold. Whip the heavy cream and powdered sugar together. Place in a pastry bag. Garnish each pastry with whipped cream and place them inside the chocolate container. Cover with more whipped cream, sprinkle with powdered chocolate, sliced almonds and add more melted chocolate. Place more pastries on top and add the chocolate lid. Serve and enjoy!