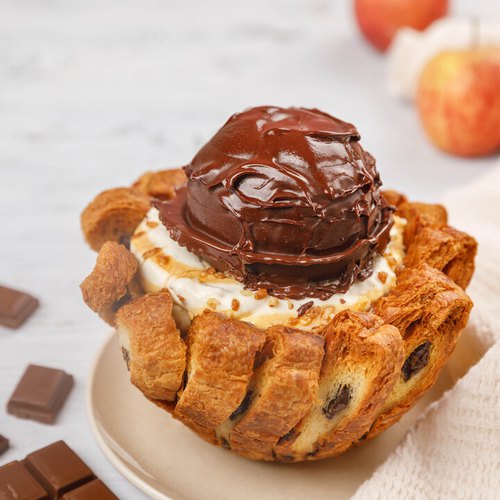 Chocolate Apple Basket
Chocolate Apple Basket! Indulge in this sweet & fruity treat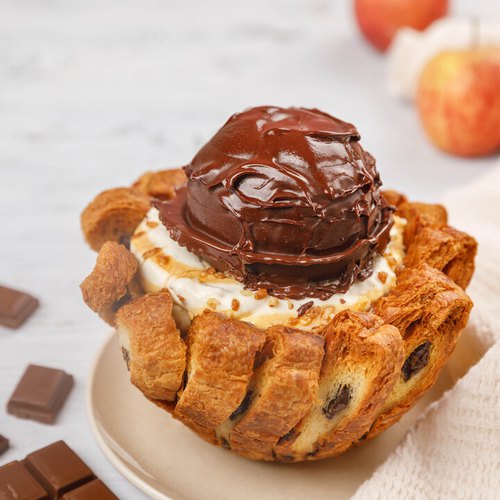 ---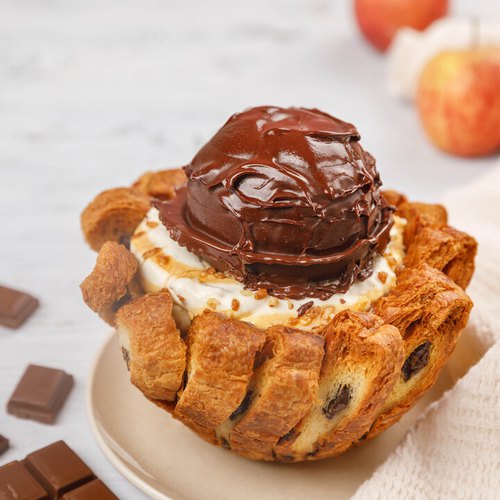 ---
Total time: 1 hour 15 minutes
Prep time: 40 minutes, Cook time: 5 minutes, Rest time: 30 minutes
Ingredients for 3 people
0.4 cup of milk
2 egg
2 tbsp of sugar
6 chocolate breads
7 oz of dark chocolate
4 apples
1 1/4 cups of heavy cream
4 tbsp of powdered sugar
5.3 oz of mascarpone
3 1/2 oz of caramel sauce
2 oz of sliced almonds
---
Tools
Skewers
---
Step 1/4
Mix the eggs and milk until smooth, set aside. To prepare applesauce, start by coring and cutting one apple into pieces. Place the apple pieces in a pan with butter, 1 tbsp of butter and 3 tbsp of water, then allow the mixture to simmer until it becomes a smooth sauce.
Step 2/4
Begin by making six cuts on the sides of the chocolate breads. Then, take three bowls and line them with the accordion-shaped breads. Soak the breads with the French toast preparation and sprinkle some powdered sugar on top. Place the bowls on a baking sheet and bake at 350°F for 5 minutes.
Step 3/4
Chill the apples in the refrigerator for 30 minutes. Melt the dark chocolate and then insert a kebab stick into each apple. Dip the apples into the melted chocolate and use a fork to create a decorative pattern by stretching the chocolate.
Step 4/4
Whisk the heavy cream, remaining powdered sugar, and mascarpone until stiff peaks form. Fill the chocolate bread cups with the applesauce and add 2 tablespoons of the whipped cream into each cup. Drizzle with caramel sauce, sprinkle with sliced almonds, top with the chocolate-coated apples, and enjoy!