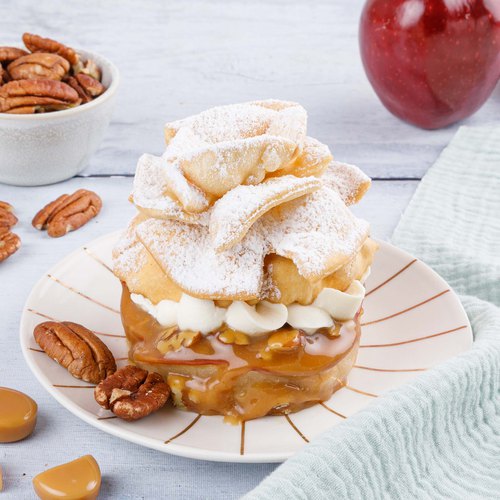 Drunken Apple Pie
Drunken Apple Pie! Take a shot at making this delicious sweet 🍎🍸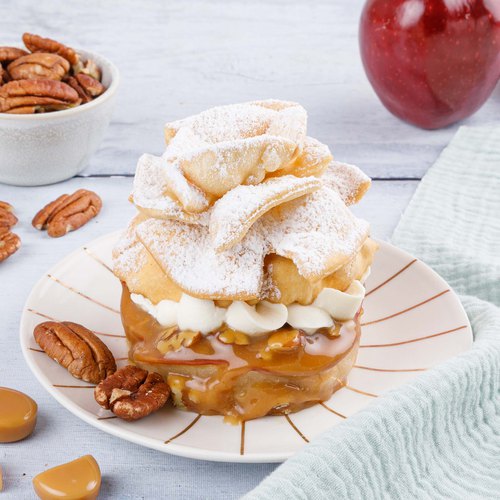 ---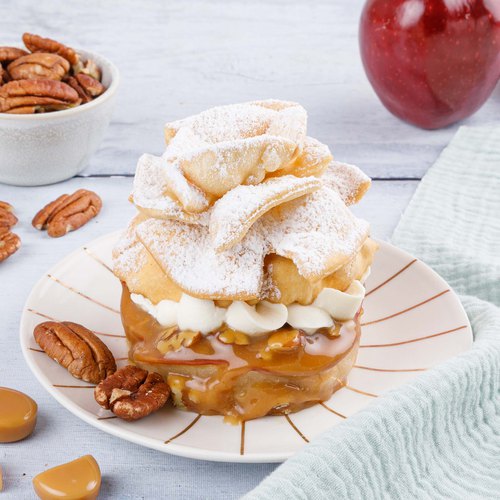 ---
Total time: 2 hours 45 minutes
Prep time: 40 minutes, Cook time: 20 minutes, Rest time: 1 hour 45 minutes
Ingredients for 3 people
4 egg
4 3/4 cups of flour
4 tbsp of vodka
1 cup of powdered sugar
3 apples
1 package of caramel candies
3 1/2 oz of pecans
4/5 cup of heavy cream
3 1/2 oz of mascarpone
3 scoops of vanilla ice cream
Oil
---
Tools
Skewers
Shot glass
---
Step 1/5
Pour the flour, 2 tbsp of vodka and 0.8 cup of powdered sugar into a bowl. Break the eggs and add them to the preparation, then mix everything to obtain a smooth dough. Allow to rest for 1 hour in the fridge.
Step 2/5
Slice one of an apple horizontally to get a thick slice, then scoop out the flesh of the apple and keep the circle of apple skin and place 1 shot glass in the center. Cut the remaining apples into quarters and make strips, then place them around the glass to form a rose. Pour 1 tbsp vodka into the shot glasses. Repeat the process to obtain 3 roses. Put butter in a hot frying pan, place the roses with the glass, then add the brown sugar. Remove the glasses and pour the vodka over the apples and cook for a few minutes. Place the apples on a plate and freeze for 30 minutes.
Step 3/5
Pass the dough through the rolling mill, then form 3 circles in the dough using glasses of different sizes and the cork of the vodka bottle. Overlap all the circles of dough, plant a skewer in the center of the circles and cut the dough into 4 starting from the skewer. Repeat the process to obtain 3 dough flowers. Dip the flowers in the frying oil and cook for a few minutes before draining them and placing them on a plate covered with sheets of paper towel. Sprinkle with powdered sugar.
Step 4/5
Pour the caramel candies into a hot pan, cut the pecans into small pieces before adding them to the pan and allow to melt. Place a rack over a dish, place the glazed apple roses on the rack, then cover the apple roses with the caramel. Refrigerate for 15 minutes.
Step 5/5
Whip the mascarpone, heavy cream and remaining powdered sugar into whipped cream. Place the whipped cream in a piping bag. Serve the roses on a plate, form balls of Chefclub vanilla ice cream and place each ball in the center of each rose. Cover the roses with whipped cream using the piping bag and arrange the flower beignets on top. Serve and enjoy!