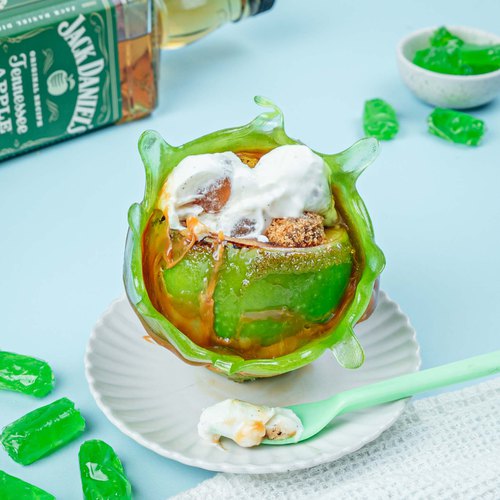 Crowns Up Caramel Apple
Crowns Up Caramel Apple! Your majesty is served 😁👑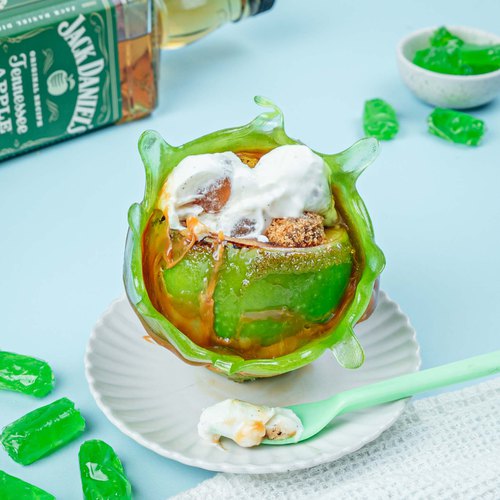 ---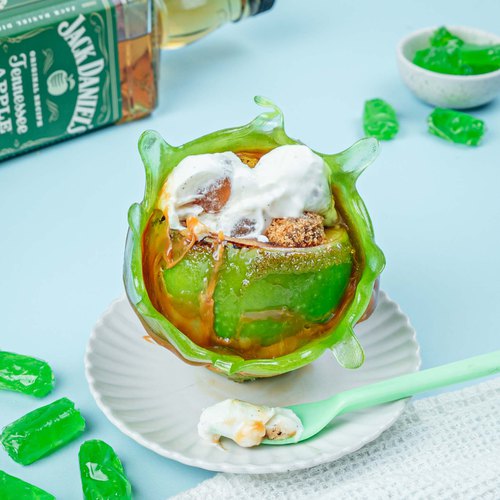 ---
Total time: 4 hours 15 minutes
Cook time: 15 minutes, Rest time: 4 hours
Ingredients for 3 people
3 apples
1 cup of jack daniel's
1 cup of brown sugar
2 cups of cream cheese
1 cup of heavy cream
Vanilla bean
3 tsp of butter
18 jolly ranchers
1/2 cup of werther's caramels
Graham crackers
---
Tools
Melon baller
parchment paper
Electric hand mixer
---
Step 1/4
Mix the heavy cream, cream cheese, and vanilla bean in the stand mixer. Mix until fluffy, about 5 minutes. Take and place in your springform pan lined with parchment paper. Set in the freezer to set for 1 hour.
Step 2/4
Cut off the tops of the apples. Scoop out 10 balls from each and place in the sauce pot. Add in the whiskey and cook until the liquid has almost reduced. About 8 minutes. Take the apple balls and push half into the cheese cake and the other half in the ground graham crackers with butter. Place both on a plate and refrigerate. Sprinkle the apples with brown sugar and heat to brulee.
Step 3/4
Take your jolly ranchers and place in a row on a sheet of parchment paper. Bake until melted. Allow to cool a few minutes and sculpt into a crown shape. Set aside to harden.
Step 4/4
Heat the caramel candies and then pour into each apple. Add the jolly rancher crown and the cheesecake balls. Serve and enjoy!