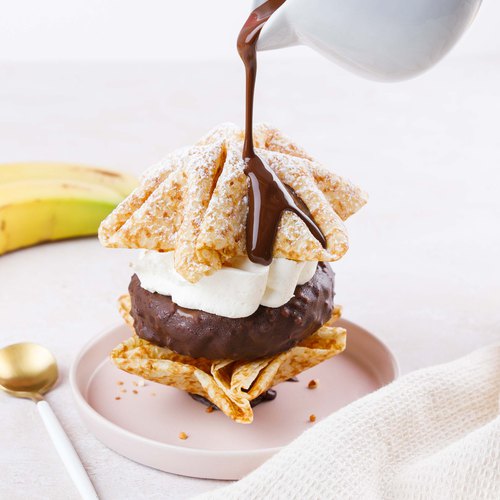 Starry Chocolate & Banana Crepes
Starry Chocolate & Banana Crepes! This recipe will bring you over the moon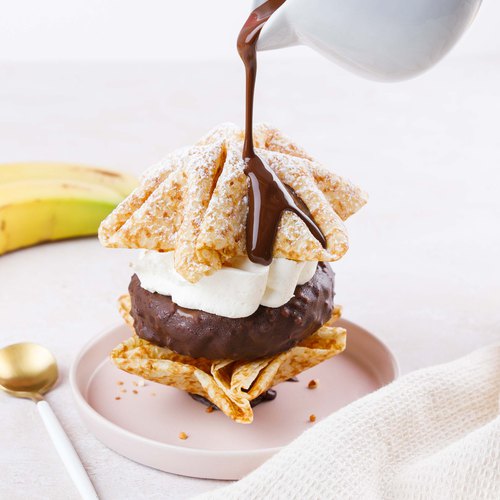 ---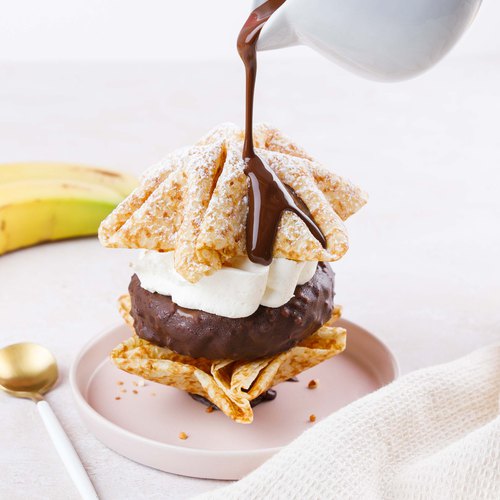 ---
Total time: 2 hours
Prep time: 40 minutes, Cook time: 20 minutes, Rest time: 1 hour
Ingredients for 3 people
6 stuffed crepes
2 tbsp of butter
2 tbsp of brown sugar
3 bananas
7 oz of dark chocolate
3 tbsp of hazelnut praline
5.3 oz of mascarpone
1 1/4 cups of heavy cream
4 tbsp of powdered sugar
Oil
---
Tools
Piping bag
---
Step 1/3
Unroll 6 filled crepes, remove the chocolate part, fold the edges towards the center, and fold the crepes until you obtain rectangles. Then, fold each end and stand them up vertically to form a star. Place the crepe stars on a baking sheet lined with parchment paper and bake for 20 minutes at 300°F.
Step 2/3
Slice a banana into long strips, roll them up into a spiral shape, then melt butter in a hot pan. Add brown sugar, followed by the banana spiral and cook each side until caramelized. Repeat this process twice and place the bananas in the freezer for an hour.
Step 3/3
Melt the dark chocolate, add the pralines, oil, and mix until a smooth. Coat the banana spirals with the chocolate mixture, then place them on the crepe stars. Whip the mascarpone, heavy cream, and powdered sugar until stiff peaks form. Transfer the whipped cream to a piping bag, cut the bottom corner, and pipe the whipped cream onto each chocolate-covered banana spiral. Sprinkle the remaining pralines on top. Place a crepe star on top of the whipped cream, sprinkle with powdered sugar, and enjoy!