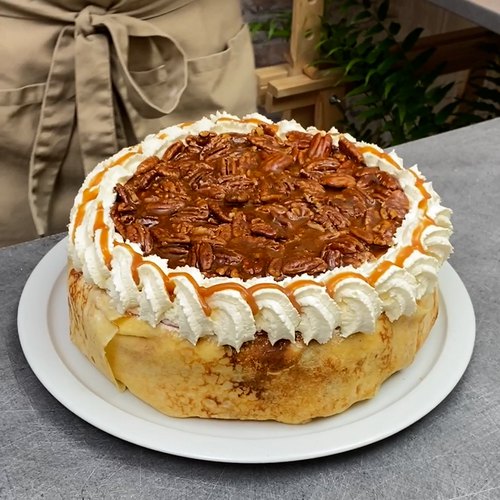 Giant Apple Pecan Crepe
Filled with a delicious sweet cream cheese spread 😋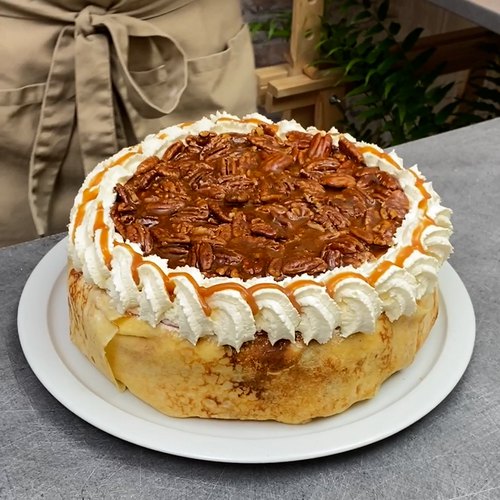 ---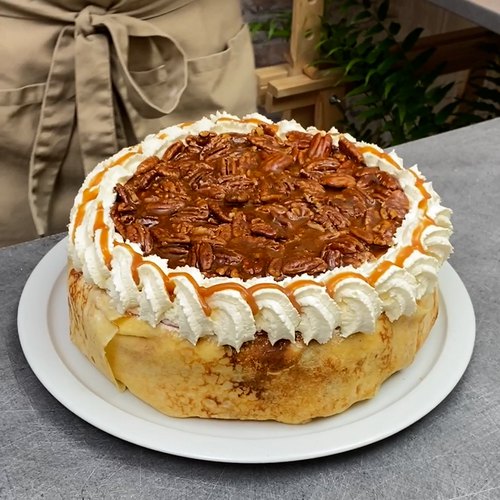 ---
Ingredients for 6 people
1 1/4 cups of cream cheese
3 cups of & 3/4 cup heavy whipping cream, divided
2/3 cup of powdered sugar
crepes
apples
1 cup of sugar
2 tbsp of butter
1 1/2 cups of pecans
caramel sauce
---
Tools
Ziploc bag
Empty plastic bottle
Springform pan
Knife
---
Step 1/4
Whip together the cream cheese, the heavy whipping cream, and the powdered sugar to form a whipped cream. Let chill.
Step 2/4
Line a cake pan with 6 crepe, letting them fall over the sides. Spread a layer of the cream cheese whipped cream on the bottom and cover with a crepe. Add a layer of the whipped cream, then a layer of diced apples, and then a layer of whipped cream. Top with a crepe and a layer of whipped cream. Spread the remaining crepes with whipped cream. Roll up 8 crepes and spiral them in the dish. Cover with whipped cream, the last crepe, then another layer of whipped cream. Close the cake with the overhanging crepes. Remove the springform pan and place on a serving platter. Form a flower with apple slices on top of the crepe cake.
Step 3/4
Melt half of the sugar in a saucepan over medium heat. Add the remaining of the sugar, heavy whipping cream, and butter. Beat until caramel forms, then add the pecans. Mix and spread in the bottom of the springform pan to form a disc. Let cool and harden.
Step 4/4
Cut a star out a star from the cap of a plastic bottle. Cut the bottle in half and keep only the neck. Cut out one of the bottom corners of the Ziploc bag and insert the bottle top into it to form a piping bag. Fill with the remaining whipped cream. Use the piping bag to pipe whipped cream around the edge of the cake. Place the pecan disc on top of the apples. Add a drizzle of caramel over the piped whipped cream. Cut into slices and enjoy.