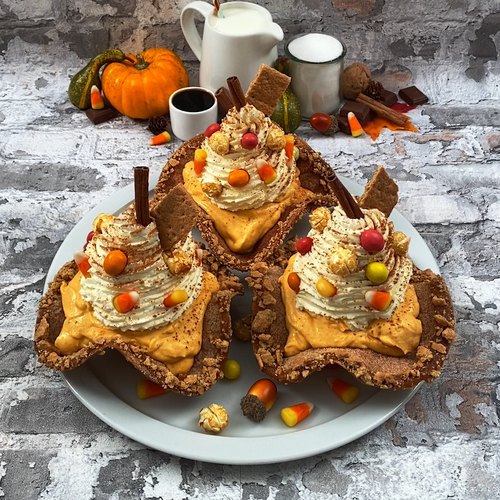 Pumpkin Pie Delight
All the cozy fall flavors in an edible bowl!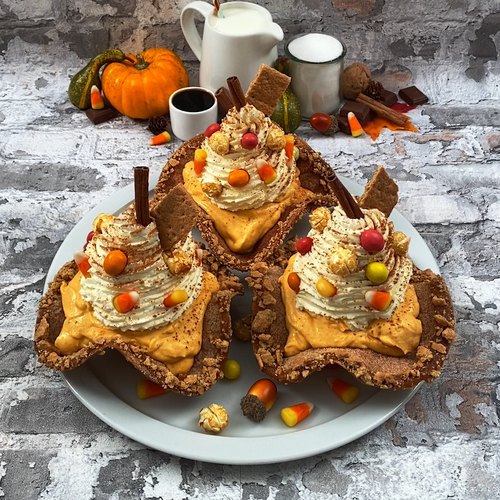 ---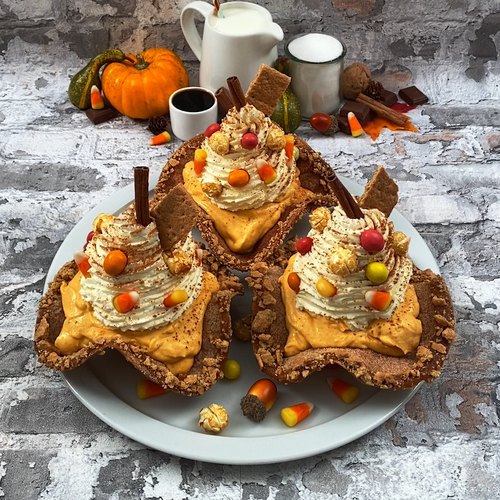 ---
Ingredients for 4 people
1 1/2 cups of cream cheese
1/2 cup of heavy whipping cream
1/3 cup of plus 2 tbsps sugar, divided
ground cinnamon
flour tortillas
butter, softened
graham crackers
2 cups of melted milk chocolate
1 cup of pumpkin puree
candy corn
cinnamon sticks
m&ms
caramel corn
whipped cream
---
Tools
Muffin tin
Balloons
Parchment paper
---
Step 1/4
Butter one side of the tortillas. Then dip the butter side in 1 tbsp of ground cinnamon and 2 tbsp of sugar. Place the tortillas between the muffin molds of an upside-down muffin tin. Bake for 12 minutes at 335 °F. When cool, dip the edges in caramel sauce and graham cracker crumbs.
Step 2/4
Blow up small balloons and tie a knot. Dip the balloons in melted milk chocolate. Place the balloons on a parchment-lined plate and let chill until solid. When solid, pop and remove the balloons.
Step 3/4
Whip the cream cheese and heavy whipping cream together. Add the sugar and pumpkin puree and beat until combined. Let chill for 6 hours.
Step 4/4
Place the chocolate balls in the center of the tortilla bowl. Fill the ball with caramel sauce. Cover the ball and fill the tortilla bowl with the pumpkin cheesecake. Top with whipped cream. Decorate with graham crackers, cinnamon sticks, ground cinnamon, M&Ms, candy corn, caramel corn, and any other favorite toppings. Enjoy!
Similar recipes from Chefclub
-
Our other recipes