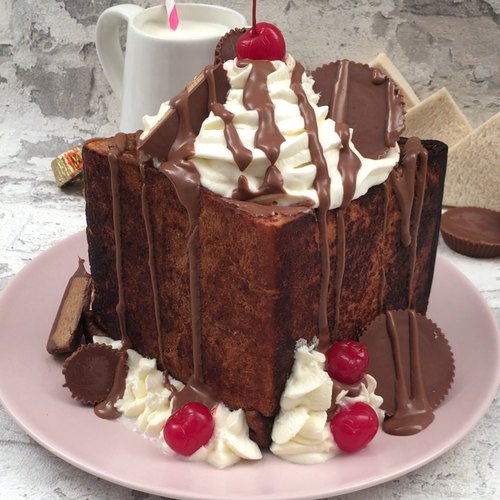 Reese's French Toast Cube
Think inside the box. 🎁🍫🥜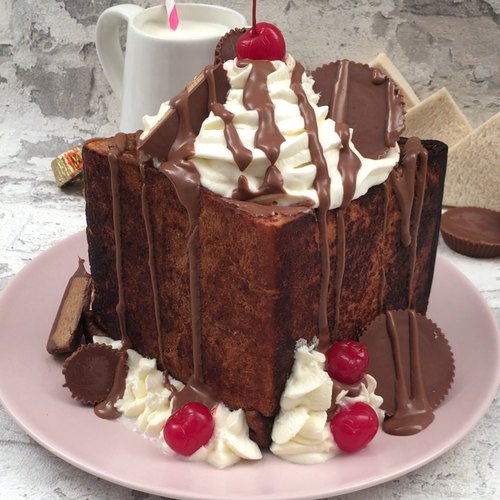 ---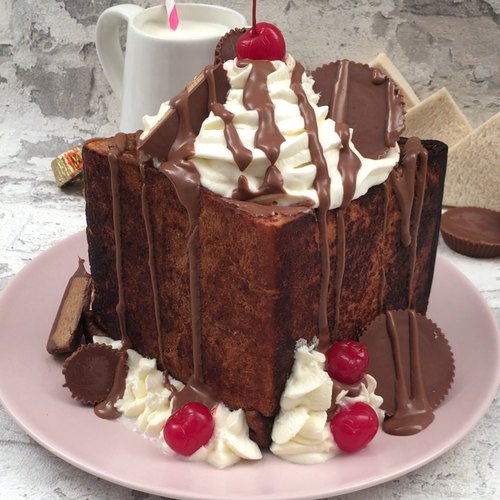 ---
Ingredients for 8 people
1 loaf of bread, unsliced
1 bag of reese's mini
10 reese's
1/2 cup of milk chocolate
4 eggs
1/4 cup of milk
4 tbsp of butter, melted
2 tbsp of sugar
1 tsp of cinnamon
whipped cream
maraschino cherries
melted milk chocolate for garnish
---
Tools
Toothpicks
---
Step 1/4
Cut the loaf of bread in half and remove the ends of the loaf. Set them aside. Remove a cube of bread from the center of each half-loaf, making sure not to cut through the bottom. Set the removed bread cube aside, and push down into the center to make the loaf hollow.
Step 2/4
Unwrap the Reese's minis and fill the holes with them. Melt 8 large Reese's and the milk chocolate together by microwaving them for 30 seconds. Stir the melted chocolate and pour it into the holes. Seal the holes with a slice of bread from the cube removed in step 1.
Step 3/4
Cover each half-loaf with the ends of the loaf, removed in step 1, and attach them by inserting toothpicks in the corners.
Step 4/4
Mix the eggs, milk, melted butter, sugar, and cinnamon. Thoroughly dip both bread cubes in the egg mixture and cook on a buttered pan. Remove the toothpicks from the loaves. Top them with whipped cream and garnish with Reese's, melted milk chocolate, and cherries. Slice and enjoy!
Similar recipes from Chefclub
-
Our other recipes