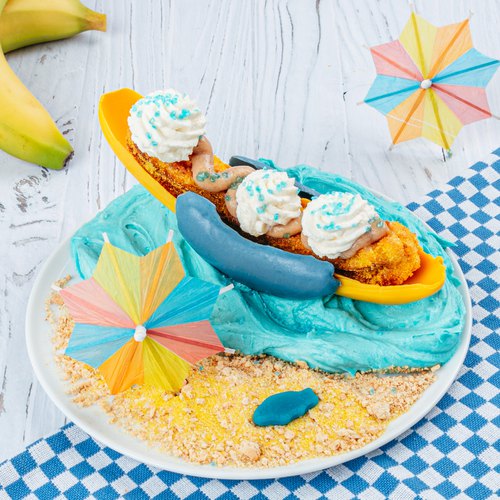 Seaside Banana Boat Churro
Seaside Banana Boat Churro! This dessert will make a splash 😉🍌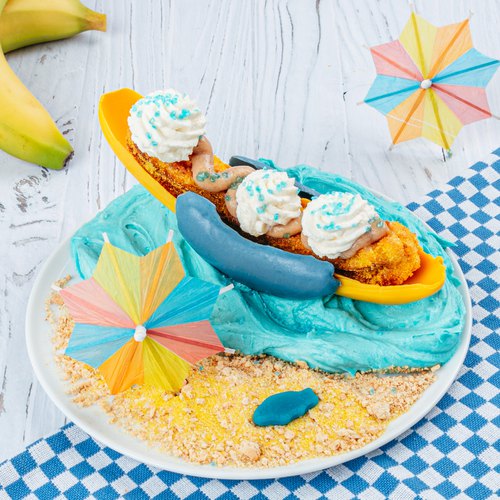 ---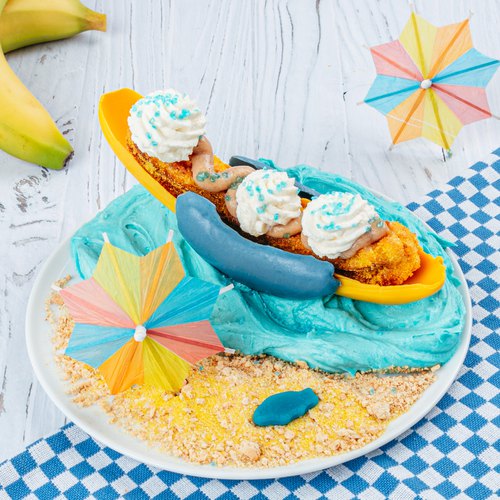 ---
Total time: 45 minutes
Prep time: 10 minutes, Cook time: 5 minutes, Rest time: 30 minutes
Ingredients for 3 people
3 small bananas
3 bananas
Egg
2 cups of white chocolate
1 cup of water
1 cup of flour
3/4 cup of butter
Sugar
1 1/2 tsp of blue rock sugar
4 tbsp of cinnamon
2 tbsp of blue food coloring
0.3 cup of yellow food coloring
1 1/2 cups of graham cracker crumbs
3 swedish fish
Salt
1 cup of buttercream frosting
1/2 cup of whipped cream
2 cups of oil
---
Tools
Piping bag
parchment paper
---
Step 1/4
In a pan add the water, butter, sugar and salt. Bring to a boil over medium-high heat. Add flour, reduce heat and stir constantly until smooth. Remove from heat and add eggs. Allow to cool and place in pipping bag. Pipe the churros on a piece of parchment paper. Coat with cinnamon and fry in hot oil until golden brown. Mix yellow food coloring powder with sugar. Coat the churros with the colored sugar and set aside.
Step 2/4
Coat the large banana with melted yellow chocolate and the mini banana with melted blue chocolate. Allow to set.
Step 3/4
Add crushed graham crackers to a plate and sprinkle with yellow sugar. Place the Swedish fish candy on top. Mix the buttercream with blue food coloring and spread on the plate.
Step 4/4
Unmold the yellow and blue chocolate shells. Create a banana boat with them and add the churro inside. Add mashed bananas on top, pipe the whipped cream and sprinkle with blue sugar. Serve and enjoy!