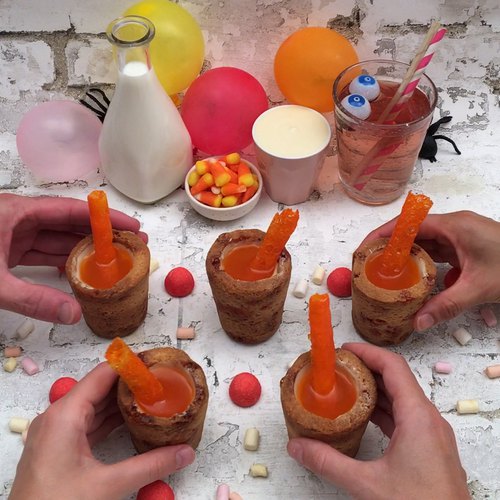 Candy Corn Cookie Shots
Love it or hate it, either way, drink it! 🍹🍪🧡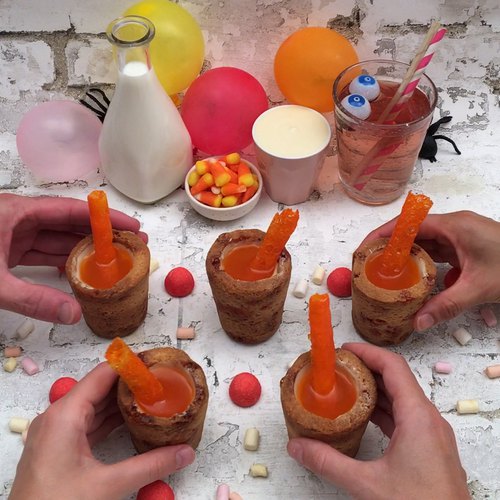 ---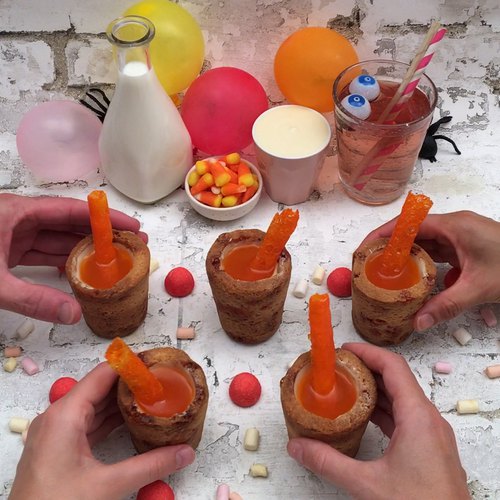 ---
Ingredients for 6 people
1 bag of candy corn
2 3/4 cups of flour
1 egg
1 1/2 cups of sugar
1 1/2 cups of butter
1 tsp of baking soda
vodka
white chocolate
1 tsp of salt
---
Tools
Parchment paper
---
Step 1/3
On a baking sheet with parchment paper, line up 7 or 8 candy corns in 6 rows. Bake for 5 minutes at 350 °F. Once out of the oven, use a pencil to roll the baked candy corn rows into straws.
Step 2/3
Mix the flour, egg, sugar, butter, salt, and baking soda together. Crush some candy corn and mix it into the dough. Roll the dough into 6 balls. Place each ball on a round sheet of parchment paper and into a large glass. Push a shot glass into the dough inside each large glass to shape it. Bake the dough inside the glasses for 25 minutes at 350 °F.
Step 3/3
Add candy corn to the vodka to flavor it. Once the cookie shots are out of the oven, line them with melted white chocolate and let cool. Then, pour the flavored vodka into the cookie shots, insert the baked candy corn straws, and enjoy!