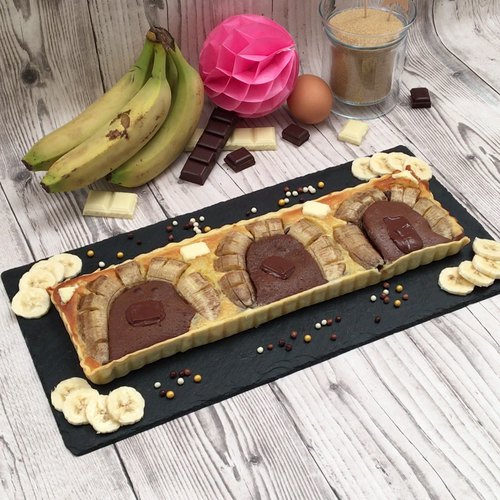 Banana Twist Tarte
We're bananas for this dessert. 🍫🍌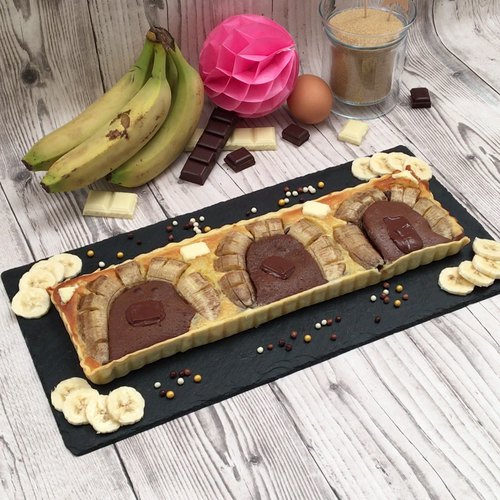 ---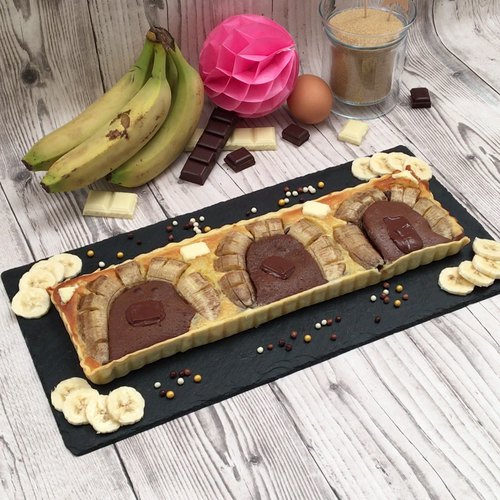 ---
Ingredients for 6 people
1 pie crust
3 bananas
6 eggs
2/3 cup of sugar
1/2 cup of butter
2/3 cup of flour
3.5 oz dark chocolate + 4 squares
3.5 oz white chocolate + 3 squares
---
Tools
Rectangular tart pan
---
Step 1/3
Lay the pie dough in the tart pan. Cut the bananas on the outside so that they can be folded without breaking. Arrange the 3 bananas side by side widthwise in the pan to form arches.
Step 2/3
Make 2 batters, each with 3 eggs, 1/3 cup sugar, 1/4 cup melted butter, and 1/3 cup flour, and add the melted white chocolate to one and the melted dark chocolate to the other. Pour the white chocolate batter around the outside of the bananas and the dark chocolate mixture in the inside.
Step 3/3
Place one square of dark chocolate in each dark chocolate compartment and one square of white chocolate in each white chocolate compartment. Bake for 20 minutes at 350 °F. Cut into pieces and enjoy!