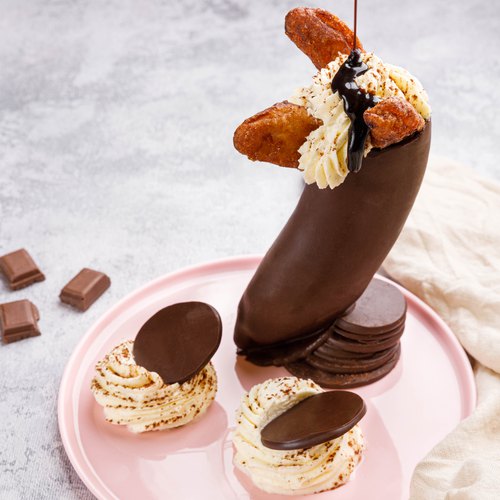 Banana & Chocolate Churros
Fried and ready for fun 🍌🍫😍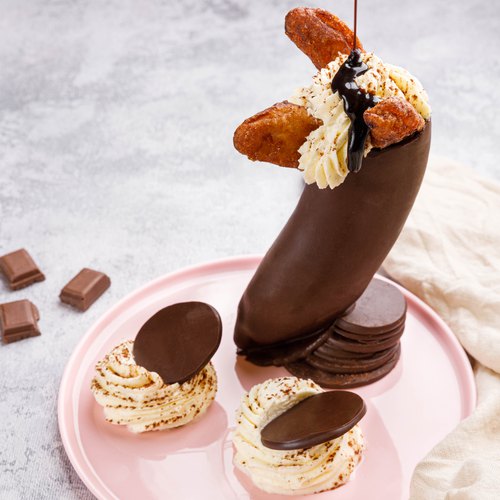 ---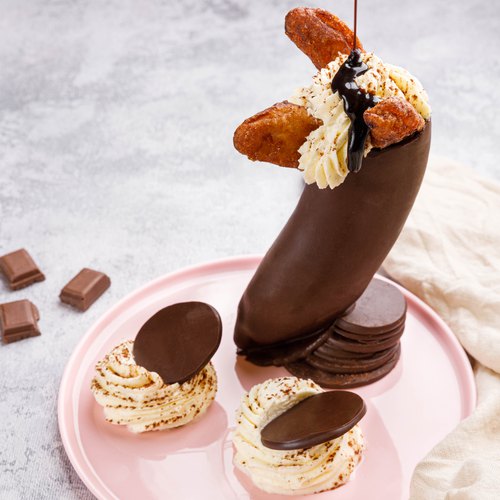 ---
Total time: 1 hour
Prep time: 25 minutes, Cook time: 5 minutes, Rest time: 30 minutes
Ingredients for 3 people
6 bananas
2 3/4 cups of dark chocolate
2 eggs
3 tbsp of sugar
2 cups of flour
1 tsp of baking powder
2 3/4 tbsp of sparkling water
1/2 cup of milk
sunflower oil
powdered sugar
1 1/2 cups of whipped cream
chocolate shavings
cocoa powder
---
Tools
Plastic wrap
Skewers
Parchment paper
---
Step 1/4
Wrap 3 bananas in plastic wrap, insert a skewer at the top of each one, and dip into melted dark chocolate. Set to hang between two glasses and let them set in the fridge for 30 minutes. With part of the remaining melted dark chocolate, pipe 12 circles onto a parchment lined baking sheet, cover with a second sheet of parchment paper, and press down to flatten. Set in the fridge.
Step 2/4
Prepare the donut batter by mixing the eggs, sugar, flour, baking powder, sparkling water, and milk. Next, make a cut lengthwise down a banana and with your thumb, separate into 3 long strips. Repeat twice more. Dip the strips into the donut batter and deep fry them in oil at 340 °F. Afterwards, coat all of the fried bananas in powdered sugar.
Step 3/4
Stack 4 chocolate circles on top of one another in a staggered position and attach together with remaining melted dark chocolate. Repeat twice and let set in the fridge. Remove the bananas from the chocolate shell and attach the shells to the chocolate stacks with the remaining melted chocolate.
Step 4/4
Garnish the bottom of each shell with whipped cream, then place 3 banana churros inside each shell. Top with more whipped cream, chocolate shavings, and cocoa powder. Serve and enjoy!