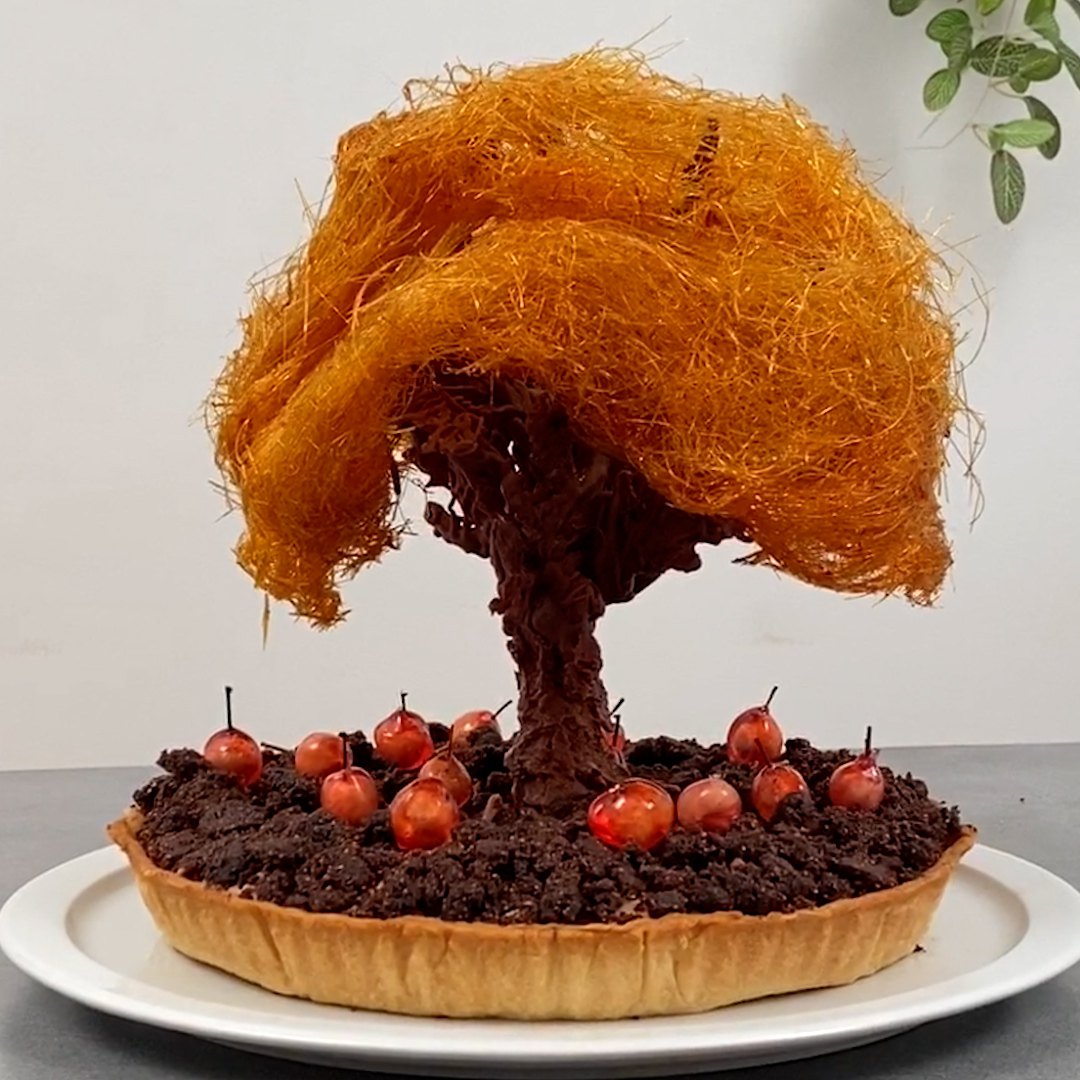 3D Chocolate Tree
Complete with *candied* apples and caramel leaves!🍫🌳🍁
---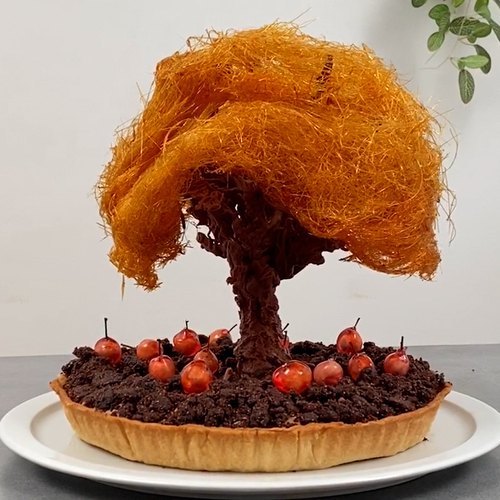 ---
Total time: 30 minutes
Ingredients for 4 people
3 1/2 milk chocolate
1 pie crust
Red hard candies
10 Hazelnuts
2 1/2 cups sugar
2 2/3 cups heavy whipping cream
1 tsp sea salt
1 stick of butter
1/2 cup cocoa powder
3/4 cups flour
1/2 raw cane sugar
2/3 cups hazelnut flour
Ice water
Parchment paper
1/4 cup melted dark chocolate
---
Tools
2 piping bags
Baking sheet
Pie dish
Skewers
Toothpicks
2 forks
---
Step 1/5
Fill a bowl with ice water. Fill a piping bag with 1 1/4 cups melted milk chocolate and use it to draw a tree on the surface of the ice water. When the tree has hardened, turn it 90° in the water, then draw more branches and thicken the trunk on the side. Repeat several times to obtain a 3D tree. Leave to rest in a cool place. Place the pie crust in the pie dish and prick it with a fork. Bake for 20 minutes at 350 °F. After baked and cooled, remove the crust from the pie dish. Use melted chocolate to glue the tree to the center of the pie crust.
Step 2/5
Melt the red candies in a saucepan. Place the hazelnuts on toothpicks and dip them into the melted candies. Use melted dark chocolate to make stems. Replace the toothpicks with a small stem of dark chocolate to create apples.
Step 3/5
Melt the sugar in 2/3 cup of water in a saucepan to form a caramel. Attach 2 forks horizontally at the same height to the workstation. Place some parchment paper on the floor under the forks. Dip the ends of the skewers into the caramel and then drizzle over the forks to create long, silky strands. Once there are enough caramel strands, shape it into a ball.
Step 4/5
Boil 2/3 cups of heavy whipping cream, then pour it over the rest of the milk chocolate to melt it. Add the remaining heavy cream to the mixture, then place in the fridge for 1 hour. Mix the butter, flour, cane sugar, cocoa powder, hazelnut powder, and sea salt until you obtain a shortbread texture. Place the shortbread on a lined baking sheet and bake for 15 minutes at 350 °F.
Step 5/5
Beat the cold chocolate cream until a whipped cream forms. Place this mixture in a piping bag. Fill the pie around the tree with the chocolate cream. Cover with the crumbled shortbread and let chill. Once chilled, place the hazelnuts on the crumbled shortbread, then place the ball of caramel strands on the tree to form the leaves. Cut into pieces and enjoy.