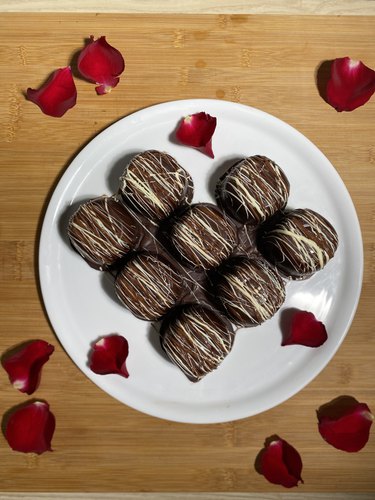 Chocolate Lovers Heart
How can you resist this romantic treat? 🍫🥰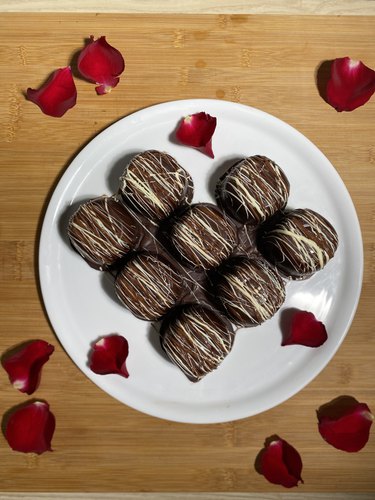 ---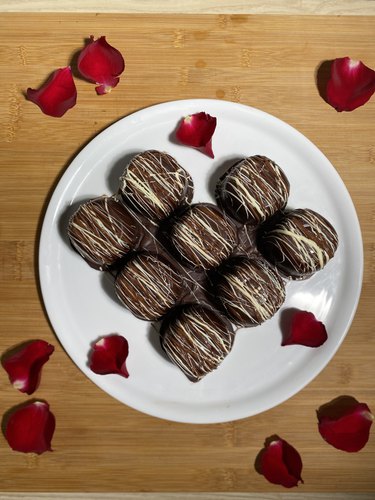 ---
Ingredients for 8 people
1 1/3 cups of yogurt
3 1/2 cups of dark chocolate
3/4 cup of milk
1/4 cup of white chocolate
1/4 cup of milk chocolate
caramel sauce
---
Tools
Yogurt containers
Cutting boards
Toothpicks
Cooling rack
Pasty brush
Plastic sheet protector
---
Step 1/4
Empty the yogurts into a salad bowl and set aside. Clean and dry the jars. Melt 1 1/3 cups dark chocolate and place a plastic sheet protector on top of a cutting board. Spread the chocolate out in a thin layer. Place the yogurt containers on top of the chocolate and use a toothpick to draw an outline around the yogurt containers. Set aside the containers and cover the chocolate with a second sheet protector. Cover with another cutting board and let cool in the fridge.
Step 2/4
Using a pastry brush, paint the inside of the yogurt cups with the remaining melted dark chocolate. Fill the jars with chocolate so that you coat the inside surface of the container evenly. Pour out any excess chocolate and place them upside down on a cooling rack. Chill for 1 hour.
Step 3/4
Boil the milk in a saucepan and then add it to 1 1/4 cups dark chocolate. Pour this mixture into the yogurt bowl and mix.
Step 4/4
Remove the chocolate from the yogurt containers and fill them with the chocolate yogurt preparation ¾ from the top. Place a tablespoon of caramel sauce in each jar and cover with the remaining preparation. Melt the remaining dark chocolate and use it as glue on the edges of the jars and on the lids to assemble and close them. Arrange the jars upside down to form a heart and fill the holes with the remaining melted dark chocolate. Decorate with thin drizzles of white and melted milk chocolate using a small spoon, serve, and enjoy.