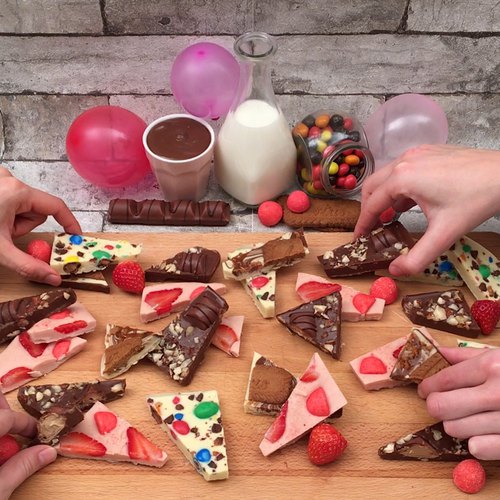 DIY Chocolate Party
Impossible to only eat one 🍫😍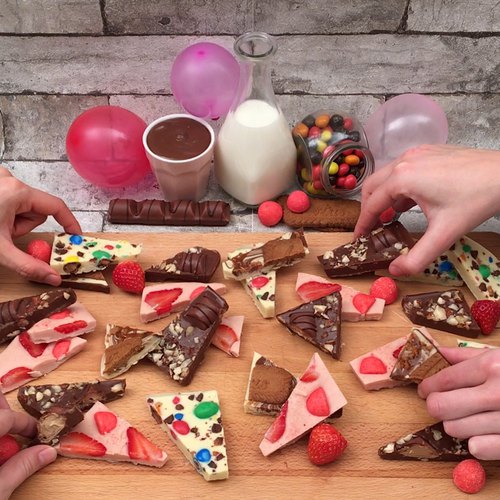 ---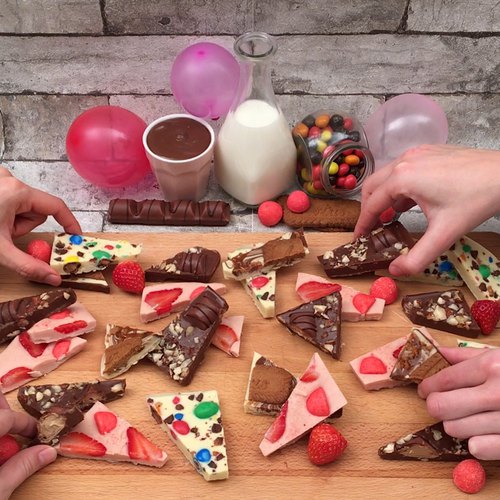 ---
Ingredients for 8 people
1 3/4 cups of white chocolate
3 cups of milk chocolate
6 mini chocolates
6 hazelnuts
16 m&m's
4 strawberries
10 strawberry gummies
4 speculoos cookies
1 tbsp of caramel sauce
pink food coloring
---
Tools
Milk cartons
Toothpick
---
Step 1/3
Cut off the left and right sides of the 2 two milk cartons keeping 1 1/2-inches of edge. Melt the milk and white chocolate. Divide the white chocolate in half and put pink coloring in one of the halves.
Step 2/3
Pour white chocolate into the bottom of one side of the cut milk cartons, milk chocolate into another, pink chocolate into the third, then white chocolate and milk chocolate on top into the last. Use a toothpick to draw shapes in the one with the 2 types of chocolate.
Step 3/3
Arrange the mini chocolates and the crushed hazelnuts in the milk chocolate; 14 M&M's and the last 2 M&M's crumbled in the white chocolate; the strawberries cut in 2, 8 strawberry gummies and the last 2 shredded in the pink chocolate; then 3 speculoos cut in 2, the last crumbled and the caramel sauce in the 2 chocolates. Place in a cool place for 2 hours, remove from the mold and enjoy.