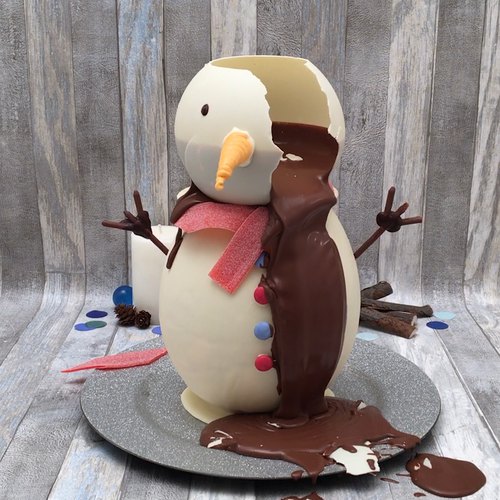 Chocolate Snowman
Let's run and we'll have some fun before I melt away! ⛄️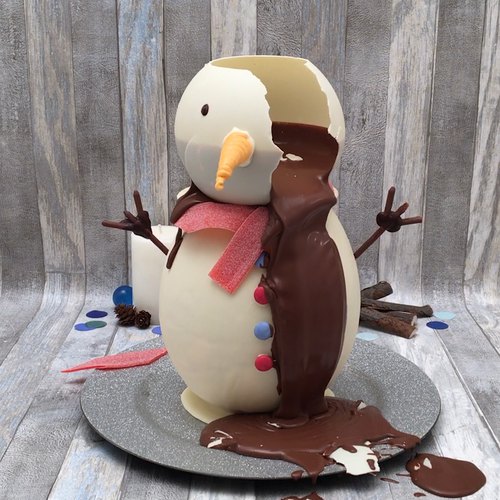 ---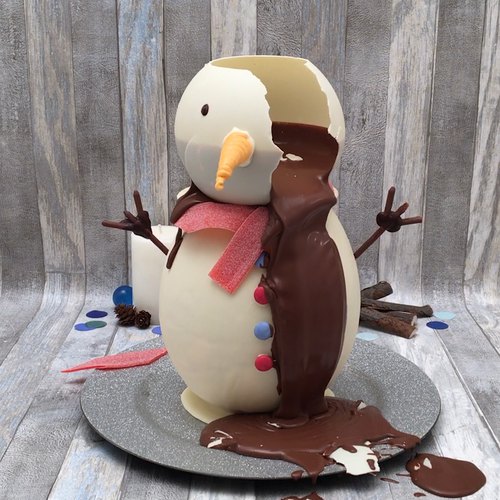 ---
Ingredients for 8 people
4 1/2 lbs of white chocolate
4 cups of dark chocolate
marshmallows
madeleines
m&ms
1 1/2 cups of milk
1 1/2 cups of heavy cream
caramel
pocky sticks
string candy
---
Tools
Balloons
Parchment paper
---
Step 1/4
Make the chocolate filling and the melted dark and white chocolate. For the chocolate filling, heat 1 1/2 cups heavy cream with 1 1/2 cups milk and stir in 1 1/2 cups of dark chocolate. Mix and let cool. Melt the white chocolate and dark chocolate separately.
Step 2/4
Blow up 2 balloons, making one larger than the other. Tie them, and cover them thoroughly with the melted white chocolate. Place them on a tray with parchment paper and refrigerate for 15 minutes. Cover them with another layer of melted white chocolate and refrigerate for another 15 minutes.
Step 3/4
On another tray with parchment paper, pour and spread 2 circles with the melted dark chocolate, one small and one large. Refrigerate for 15 minutes. Cut 2 pieces of parchment paper into long rectangles, and spread melted dark chocolate over one. Cover the chocolate with the other piece of parchment paper, and wrap and tape the chocolate around a jar to shape it. Refrigerate for 15 minutes.
Step 4/4
Pop and remove the balloons from the white chocolate molds and fill the larger mold with marshmallows, madeleines, and M&Ms. Place the smaller white chocolate mold on top, and form the snowman's nose with the caramel. Use melted white or dark chocolate to adhere the caramel nose, Pocky stick arms, and M&M buttons to the snowman. Use melted dark chocolate to draw the eyes and use string candy for a scarf. Fill the snowman's head with the chocolate filling and place the large chocolate circle, rounded chocolate (removed from jar), and small chocolate circle on top as a hat. Smash and enjoy!