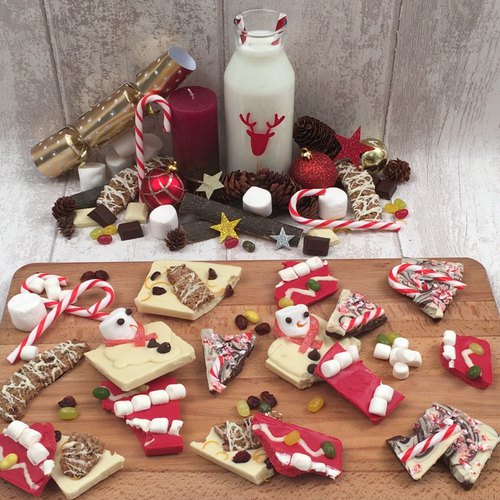 DIY Holiday Chocolate Bars
It's fun to be festive! ❄️❤️🎄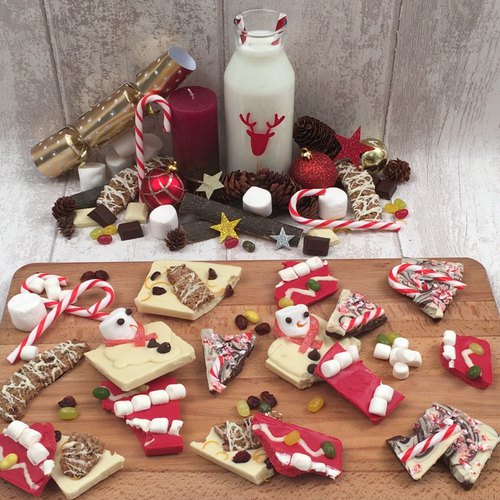 ---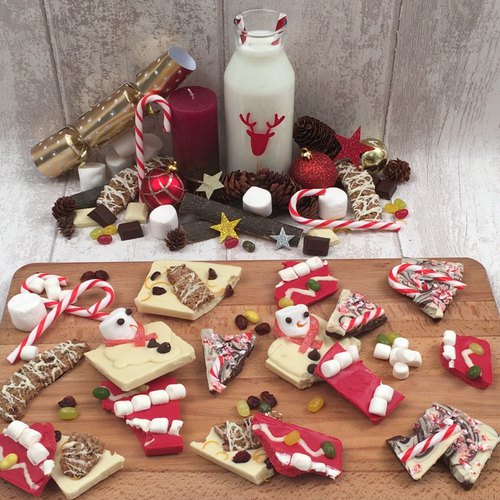 ---
Ingredients for 8 people
6 cups of white chocolate
1 cup of dark chocolate
red food coloring
candy canes
white chocolate cranberry dunkers
dried cranberries
orange zest
mini-marshmallows
marshmallows
jelly beans
sour belts
1/8 cup of chocolate chips
chocolate sprinkles
carrot
crushed candy cane
---
Tools
Milk carton
Toothpick
---
Step 1/4
Cut the sides off of 2 milk carton to create 4 trays. Melt the white chocolate and pour into 4 separate bowls. Add red food coloring to one of the bowls. Pour white chocolate into 2 of the trays and red chocolate into 1 tray. Melt the dark chocolate and pour into the remaining tray. Pour white chocolate on top of the dark chocolate and use a toothpick to swirl.
Step 2/4
Lay a couple of candy canes in the swirled chocolate tray and sprinkle with crushed candy cane. Break the dunkers into large pieces and lay them inside one of the white chocolate trays. Sprinkle with dried cranberries and orange zest. Use mini-marshmallows, melted white chocolate, and jelly beans to decorate the red chocolate tray like a holiday sweater.
Step 3/4
In the other white chocolate tray, create snowmen with large marshmallows. Add 2-3 marshmallows to the tray and chill the trays for 30 minutes. Remove the snowmen tray from the refrigerator and add more melted white chocolate to create the snowmen's bodies. Add sour belt scarves and chocolate chip buttons. Insert chocolate sprinkles and small pieces of carrot into the marshmallows as eyes and noses.
Step 4/4
Chill the trays for 15 more minutes. Remove them from the refrigerator and unmold the chocolate bars from the trays. Break and enjoy!