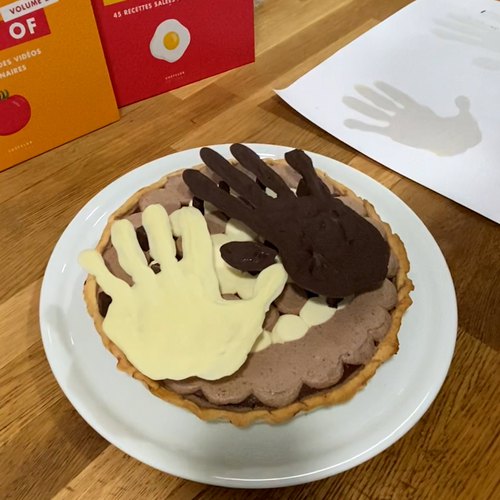 Pudding Pie
Give a hand to the chef for this perfect chocolate treat! 👏👩‍🍳🍫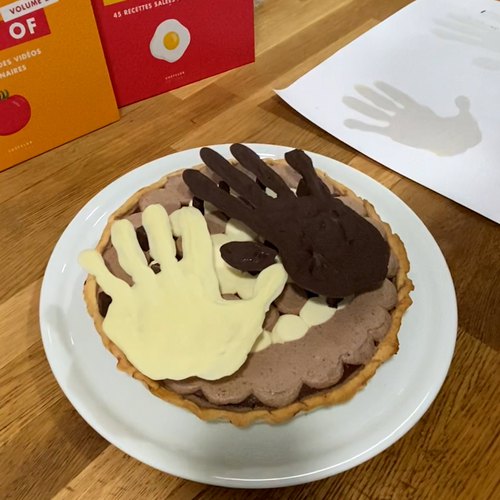 ---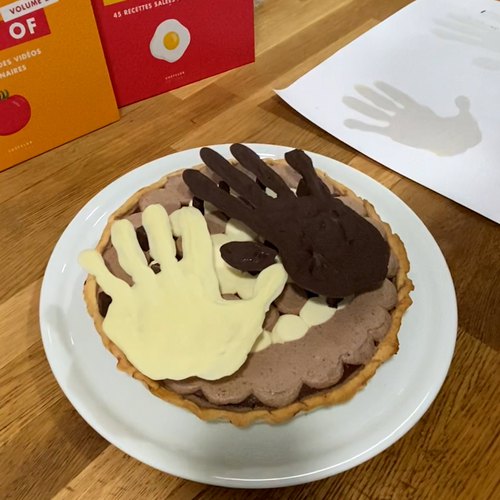 ---
Ingredients for -1 people
2 cups of melted dark chocolate
melted white chocolate
vanilla pudding
chocolate pudding
pie crust
1 1/3 sticks melted butter
1 2/3 tsp of vanilla sugar
6 eggs
3/4 cup of sugar
1 1/4 cups of flour
8 oz of mascarpone cheese
1 cup of powdered sugar
2 cups of heavy whipping cream
---
Tools
Cardstock
Parchment paper
Pie plate
Ziploc bags
---
Step 1/5
Pour 1/2 cup of melted dark chocolate on parchment paper and the melted white chocolate on another sheet.With freshly washed hands, press a hand on on the dark chocolate and make a chocolate handprint on the sheet of cardstock. Repeat with white chocolate. Let chill.
Step 2/5
Whip the mascarpone, powdered sugar, and heavy whipping cream into a whipped cream. Divide the whipped cream in 2 and add vanilla pudding in one half and the chocolate pudding flavor in the other half. Chill.
Step 3/5
Mix the remaining melted dark chocolate and melted butter. Add vanilla flavored sugar and sugar, then eggs, and finally four. Place the pie crust in the dish and pour in the mixture. Bake for 25 minutes at 350 °F.
Step 4/5
Place each whipped cream in the Ziploc bags and cut off a bottom corner of each bag to make piping bags. Draw a dot of chocolate whipped cream in the center of the pie. Draw a circle of vanilla-flavored whipped cream dots around this dot. Draw a new circle of chocolate whipped cream dots around the first circle. Repeat until the tart is covered. Place the sheet of plastic-coated paper on the tart and press lightly to flatten the whipped cream dots.
Step 5/5
Place 6 pieces of dark chocolate in the pie to place the dark chocolate hand on top. Plant 6 other pieces and place the white chocolate hand on top. Cut into pieces and enjoy!