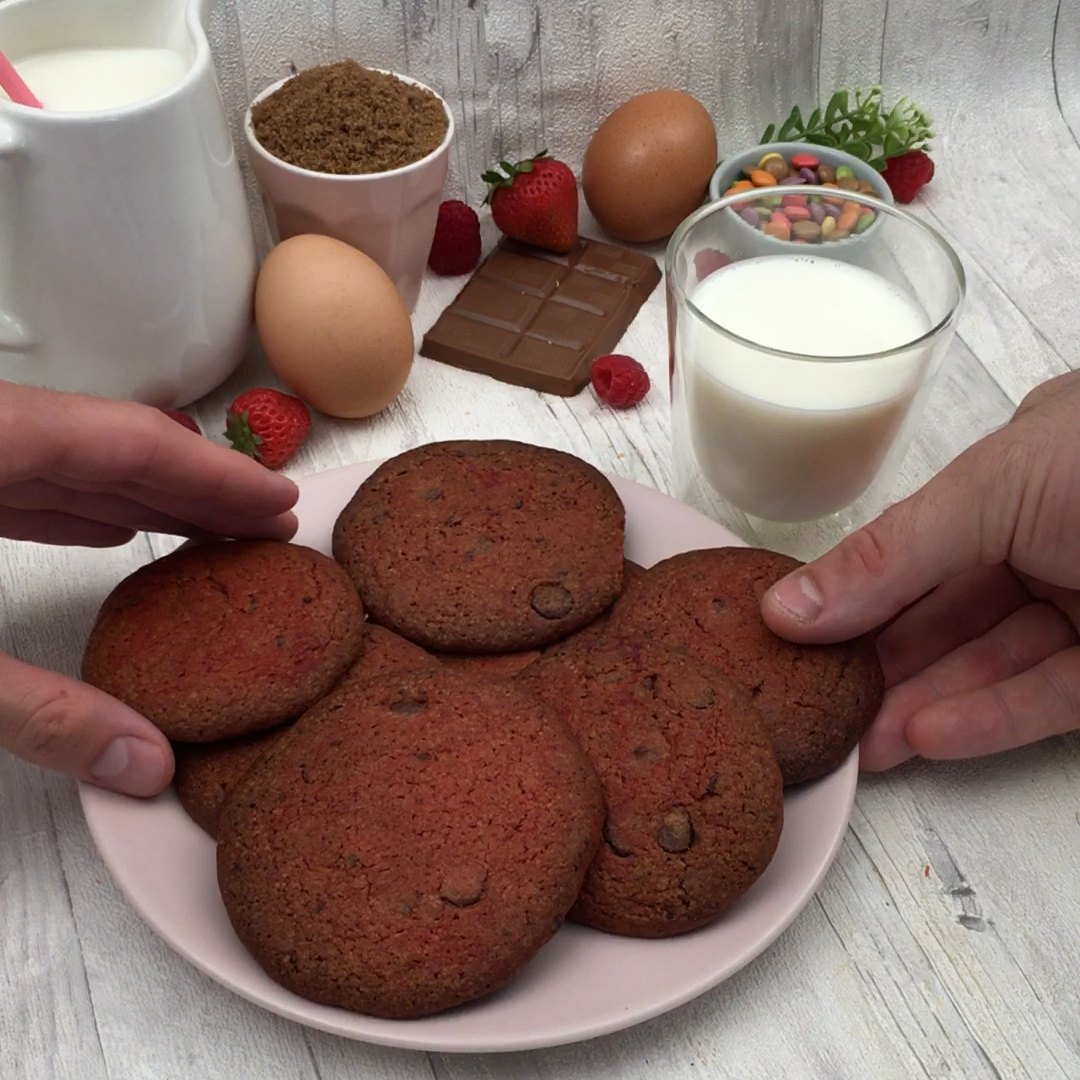 The only way to finish up a jar of peanut butter
These hacks for almost empty jars and containers will change your life. 😱
Total time: 25 minutes
Ingredients for 2 people
1 container Philadelphia ® cream cheese, half empty
1/4 cup heavy cream
2 tbsp sugar
1 vanilla bean
2 spiced cookies
1 tbsp butter
Raspberry sauce
Raspberries
Mint
1 pint container Häagen-Dazs, half empty
2 egg yolks
Brown sugar
1 jar peanut butter, half empty
Vanilla ice cream
Reese's ® minis
Reese's ®
Crushed peanuts
1 container Nesquik ®, nearly empty
1/2 cup flour
1/2 cup sugar
1 tbsp sunflower oil
1/2 cup milk
2 eggs
Whipped cream
Sprinkles
1 cup flour
1/2 cup sugar
1 egg
1/4 milk
1 tbsp butter
1 1/2 tsp baking powder
1/2 cup sugar
3 oz cherry Jell-O ®
2 1/2 cups flour
1 cup sugar
1 cup chocolate chips
1 egg
5 tbsp butter
---
Tools
1 loaf pan
Kitchen torch
Empty peanut butter jars
Baking tray
Parchment paper
---
Step 1/6
Scoop the cream cheese out of the container, mix with cream, sugar, and vanilla, and spoon the mixture back into the container. Crumble spiced cookies and mix with butter. Top the cream cheese with the cookie crumble and freeze for 45 minutes. When it's well chilled, flip over to demold, drizzle with raspberry sauce, garnish with raspberries and mint, and enjoy!
Step 2/6
Microwave the Häagen-Dazs container for 30 seconds, add egg yolks, close, and shake to combine. Divide mixture between 4 mini Häagen-Dazs containers, place them in the loaf pan filled halfway with water, and bake for 1 hour at 340 ºF. Once set, sprinkle the top with brown sugar, torch until caramelized, and enjoy cracking the top with your spoon!
Step 3/6
To the half-empty jar of peanut butter add a few scoops of ice cream and some Reese's ® minis. Stir to combine and freeze for 30 minutes. Remove from freezer, garnish with crushed peanuts and a full-size Reese's ® peanut butter cup, and enjoy!
Step 4/6
To the Nesquik ® container add flour, sugar, sunflower oil, milk, and eggs. Close the container and shake well to combine. Microwave for 4 minutes with the lid off, top with whipped cream and sprinkles, and enjoy!
Step 5/6
To an empty peanut butter jar add flour, sugar, egg, milk, butter, and baking powder. Close the jar and shake well to combine. Pour batter into a pan and cook pancakes. Top with crunchy peanut butter and enjoy!
Step 6/6
Combine Jell-O ®, flour, sugar, chocolate chips, egg, and butter and spoon the cookie dough to an empty peanut butter jar. Squeeze the jar to extrude the dough and slice off perfectly sized cookies onto a parchment paper lined baking tray. Bake for 12 minutes at 340 ºF and enjoy with a big glass of milk!