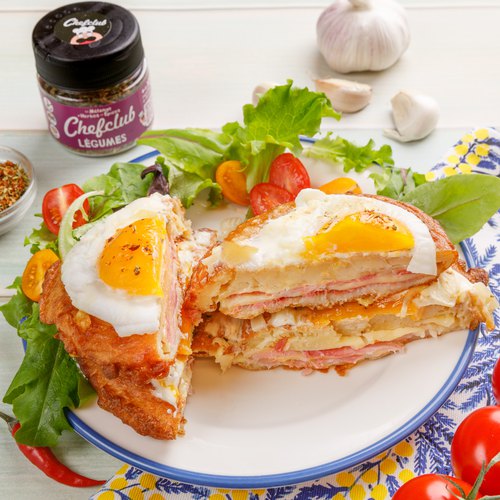 Fried Pancake Breakfast Sandwich
Breakfast is the most important meal of the day 🥞🍳🧀🥞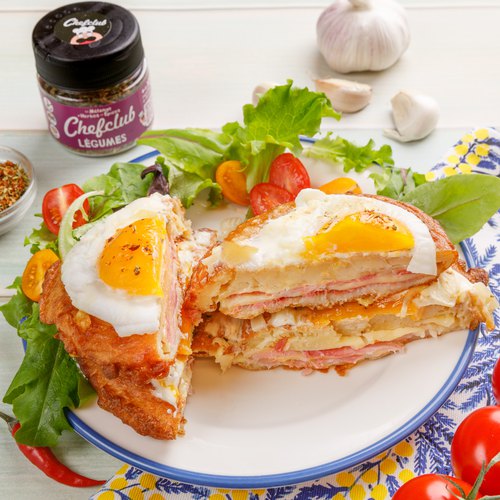 ---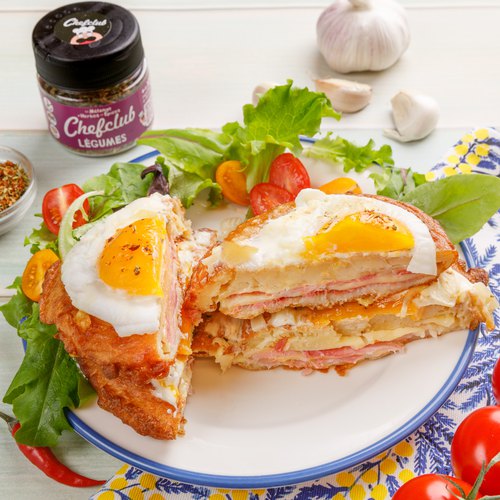 ---
Total time: 40 minutes
Prep time: 35 minutes, Cook time: 5 minutes
Ingredients for 3 people
1 3/4 cups of flour
2 cups of milk
3 tbsp of butter
1 tsp of salt
2 tsp of baking powder
14 eggs
2 tbsp of chefclub vegetable seasoning
2 tbsp of chives
1 1/4 cups of grated swiss cheese
6 slices of swiss cheese
3 slices of ham
hot oil
---
Tools
Slotted spoon
---
Step 1/5
To make the béchamel sauce: melt 2/3 tbsp butter in a saucepan, then add 1 1/4 tbsp flour and gradually pour in 3/4 cup milk while continuing to mix until you obtain a homogeneous sauce.
Step 2/5
For the pancake batter: Mix 2 eggs and the salt in a bowl, then add in the remaining melted butter. Add and mix in the baking powder and remaining flour, then gradually pour in the remaining milk to avoid lumps.
Step 3/5
Butter a baking tray and pour the eggs onto the buttered tray. Sprinkle with vegetable seasoning, chives, and grated Swiss cheese, then bake for 5 minutes at 350 °F.
Step 4/5
Place 2 slices of Swiss cheese side by side, place a slice of ham on top, and cut into 2 circles using a glass. Repeat the action 2 times. Dip the slotted spoon in a pan of hot oil and hold near the surface. Pour the pancake batter over the spoon, let it fry on the surface, then place the ham circle on top and cover it with more pancake batter. Let the two batters fuse together and dip the pancake completely into the oil. Repeat 5 times.
Step 5/5
Using a glass, cut out a circle from the cooked egg tray, add a little béchamel sauce in the center of the pancake, place the egg on top, and cover with the second pancake. Next, place a spoonful of béchamel sauce on top and finish with another egg. Repeat the action twice. Serve with a salad and enjoy!