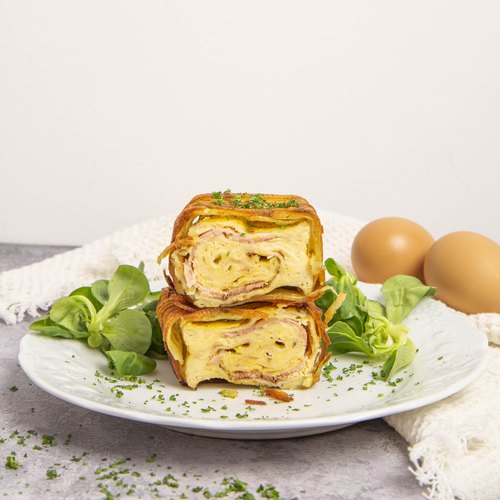 Stuffed Omelet
With a yummy surprise inside 🤫🍳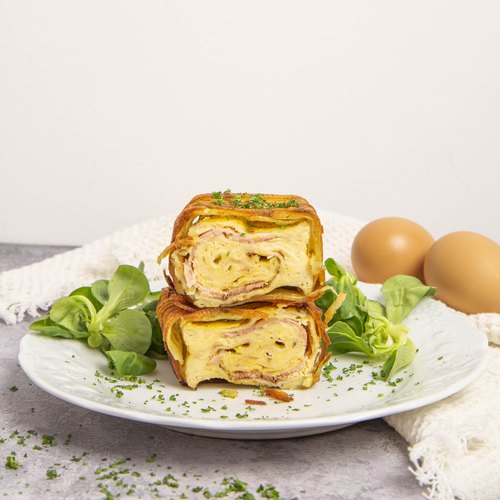 ---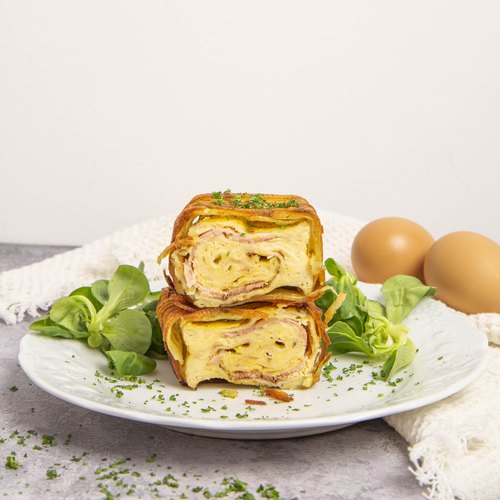 ---
Ingredients for 3 people
1 1/4 cups + 2 tbsp flour
11 eggs
2 1/4 cups of milk
1 tbsp of olive oil
1 tbsp of sugar
1 3/4 tbsp of butter
3 slices of ham
2/3 cup of grated swiss cheese
2 potatoes
vegetable oil
parsley
---
Tools
Foil
Small cardboard boxes
Parchment paper
Skewers
---
Step 1/4
Make 3 foil containers by forming the foil to the shape of a small rectangular box as seen in the video. Fill with parchment paper and wrap with another layer of foil to secure it. Pierce with wooden skewers and set aside.
Step 2/4
Make 3 crepes by mixing together 1 1/4 cups flour, 2 eggs, 1 1/4 cups milk, olive oil, sugar, and melted butter. Cook in frying pan and set aside.
Step 3/4
Prepare the bechamel sauce: Melt 1 3/4 tbsp butter in a saucepan. Add 2 tbsp flour and mix well. Pour 1 cup milk in gradually and mix until the sauce thickens. Spread the sauce out on the center of the 3 crepes and add a slice of ham and grated Swiss cheese to each one. Roll up the crepes and place them into the foil rectangles, piercing it with the skewer.
Step 4/4
Mix 9 eggs with, salt, pepper, and omelet seasoning. Fill each rectangle with eggs, place them in a stewpot, fill with about 1-2 inches water, and cook covered on medium high heat for about 10 minutes. Cut the potatoes and peel them into long thin ribbons. Cut the ribbons into thin pieces, remove the omelets from their container, and wrap with the potato ribbons. Fry in vegetable oil at 300 °F until golden brown. Serve with a salad and sprinkle with parsley. Enjoy!