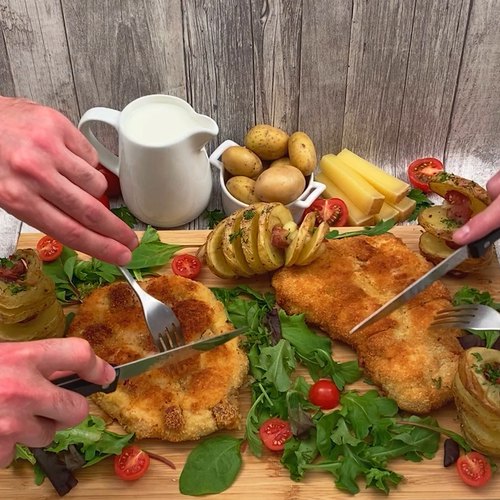 Woven Cordon Bleu
A new *twist* on meat and potatoes! 🍗🧀🥔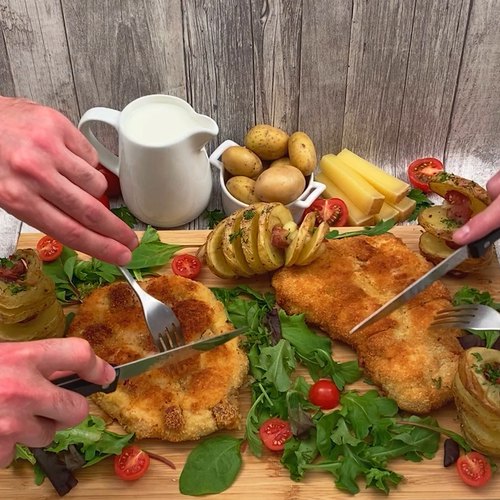 ---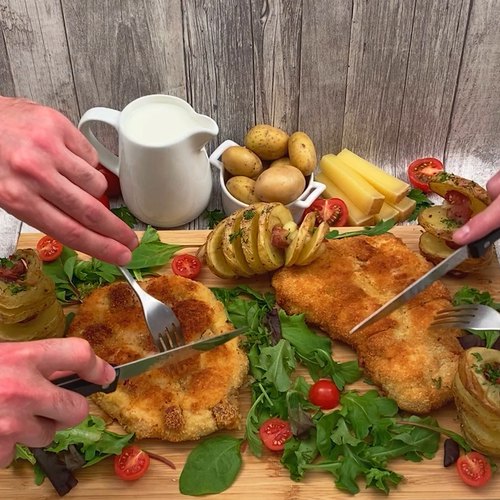 ---
Ingredients for 4 people
8 oz of swiss cheese
14 slices of proscuitto
2 turkey breasts, flattened
4 potatoes, cooked
olive oil
3 eggs, beaten
salt & pepper
breadcrumbs, for breading
flour, for breading
vegetable oil
---
Tools
Skewers
Parchment paper
Apple corer
---
Step 1/4
Cut the Swiss cheese into 6 sticks and roll them inside slices of proscuitto. Form small parallel notches along the length of the turkey breasts to form 3 rows of notches in each. Weave the proscuitto/Swiss cheese sticks through the rows of notches.
Step 2/4
Insert skewers into the potatoes lengthwise. Cut around the potatoes to create a swirl effect. Remove the skewers and core the pototoes where the skewer was with the help of an apple corer.
Step 3/4
Mash the cores of the potatoes and form the mashed potatoes into 4 long logs. Roll the potato logs inside slices of proscuitto then place them in the core of the spiraled potatoes. Place the potatoes on a parchment-lined baking sheet, drizzle with olive oil and sprinkle with salt and pepper. Bake for 15 minutes at 350 °F.
Step 4/4
Bread the turkey breasts by dipping them in flour then beaten eggs and finally, breadcrumbs. Fry in vegetable oil until golden brown and the turkey is cooked through. Enjoy with the baked potatoes.
Similar recipes from Chefclub
-
Our other recipes