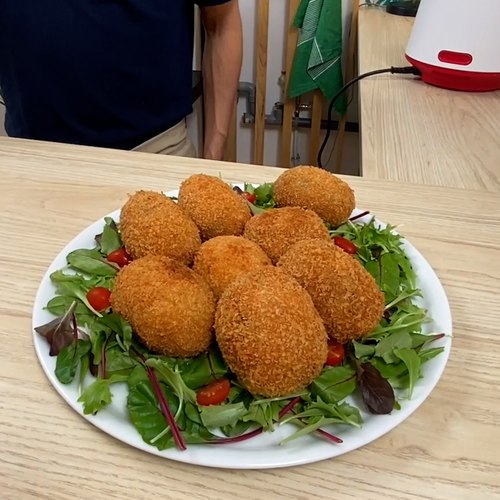 Deep Fried Cheesy Baked Potatoes
The perfect comfort food appetizer 😍🥔🧀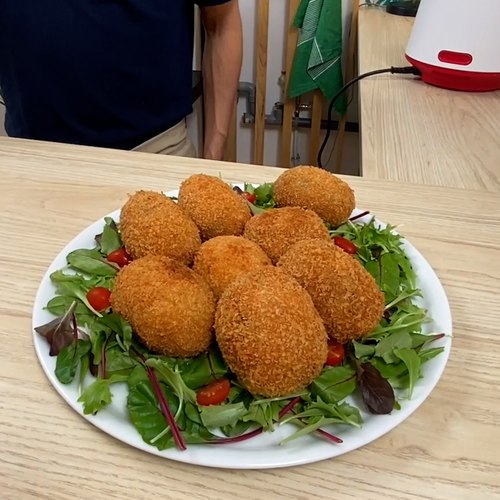 ---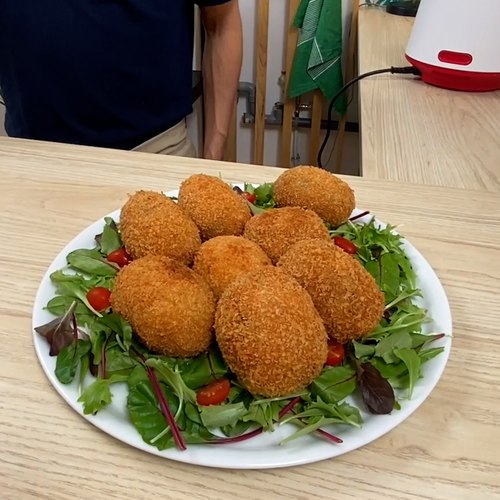 ---
Ingredients for 4 people
10 potatoes
1/3 cup of sour cream
2 tsp of butter
4 slices of ham
20 oz of swiss cheese
1/2 tsp of cornstarch
1/2 tsp of nutmeg
150 ml of white wine
1 2/3 cups of flour
5 eggs
1 2/3 cups of breadcrumbs
salt & pepper
chives
---
Tools
Foil
Parchement paper
Cheese grater
Fondue machine tefal
---
Step 1/3
Spread a long sheet of aluminum foil, place the potatoes on top, and fold over to coat. Place on a baking sheet and bake for 45 min at 375 °F. Remove from the oven.
Step 2/3
Make a cut along the length of each potato, spread the two pieces apart and scoop out the flesh with a spoon without breaking the skin. Mix the potato whites with the cream, chives, and melted butter. Season with salt and pepper. Roll up the slices of ham, dice them into cubes, and add them to the mashed potatoes. Stuff the potatoes and close them. Arrange them on a baking tray covered with baking paper and place in the fridge for 1 hour.
Step 3/3
Bread the stuffed potatoes by coating them with flour, beaten eggs, and breadcrumbs. Fry them in hot oil until golden brown and then drain on paper towels. Grate the cheeses in the fondue machine and melt. Add the cornstarch, nutmeg, and white wine. Mix until the fondue is smooth. Serve the deep fried potatoes with a salad and enjoy by dipping them in the melted cheese!