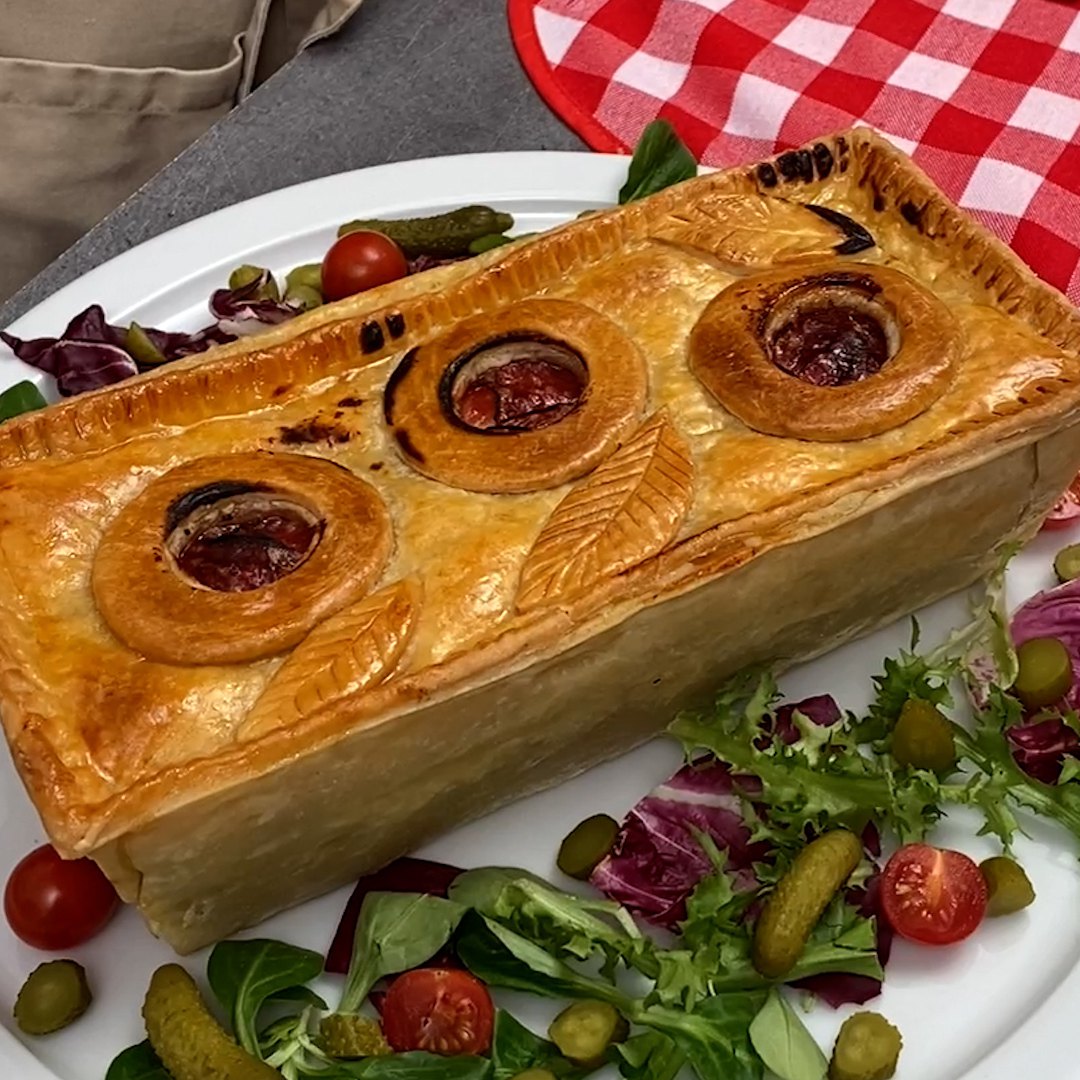 Hearty Winter Pie
Staying cozy with this meat and cheese stuffed goodness ❤️🧀
Total time: 45 minutes
Ingredients for 6 people
1 onion
1 1/2 cups diced bacon
Rectangular pie dough
24 slices salami
1.5 slices ham
1 lb potatoes
8 slices cheese
2 sausages
1 egg yolk
1.7 fl oz Genepi liqueur
Butter
Flour
---
Tools
Loaf pan
---
Step 1/4
Mince the onion and fry it in a frying pan with a drizzle of olive oil. Then add the bacon to grill. Butter and lightly flour the inside of the loaf pan. Cut out the pie dough and place it in the loaf pan so that it is perfectly covered. Next, cook the potatoes in salted water.
Step 2/4
Place 1 layer of 12 salami slices at the bottom of the dish on top of the dough. Place the ham on top and then a layer of sliced potatoes. Spread half of the bacon and onions on top and cover with half of the cheese slices. Place the sausages on top and the rest of the potatoes slices around them. Cover with the rest of the bacon and onions and then top with the remaining cheese slices. Finish with the remaining salami slices.
Step 3/4
Roll the rest of the dough into a large rectangle and cut a rectangle the size of the dish to close the pie. Weld the pie cover well to the rest of the dough by making marks with a fork.
Step 4/4
Cut 3 rings and 3 leave shapes from the dough scraps. Brush the surface of the pie with egg yolk and place the rings and leaves on top. Remove the dough from the center of the rings so you can see the pie filling. Then brush the rings with egg yolk and bake for 45 minutes at 350°F. Remove the pie from the loaf pan. Pour the Genepi liqueur in the holes of the rings and then light them on fire. Cut the pie into parts and enjoy!