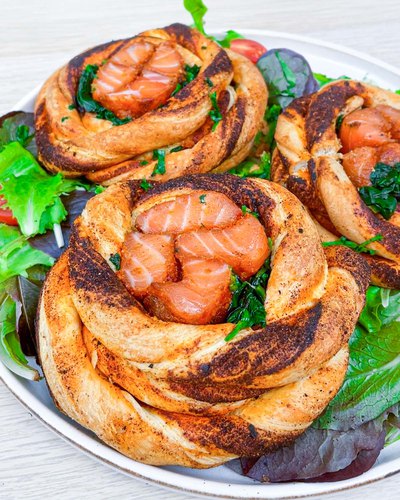 Salmon & Anise Puff Pastry
Salmon & Anise Puff Pastry! With a yummy side dish of guacamole 😘🥑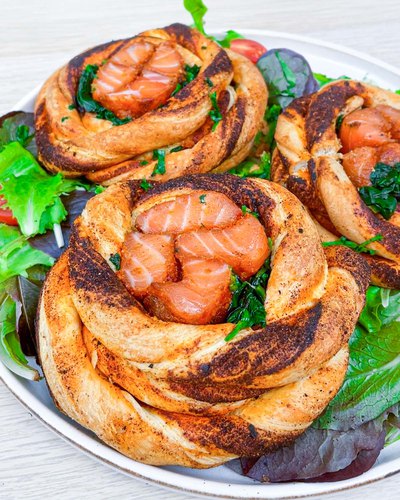 ---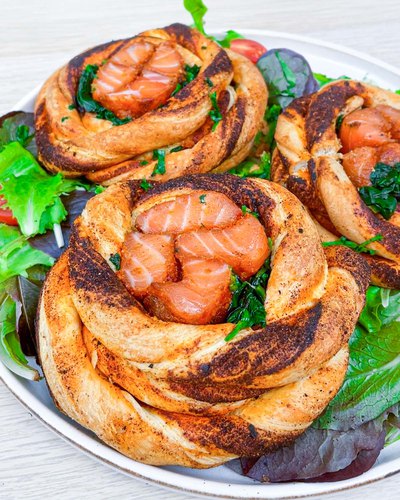 ---
Total time: 1 hour 25 minutes
Prep time: 35 minutes, Cook time: 20 minutes, Rest time: 30 minutes
Ingredients for 3 people
2 salmon fillets
2 3/4 tbsp of anise-flavoured spirit
Chefclub guacamole mix
1 puff pastry
1 egg yolk
1 cup of spinach
4 tbsp of heavy cream
Parsley
Cherry tomatoes
Salad
---
Tools
Cling wrap
parchment paper
---
Step 1/3
Cut the salmon fillets in 2, place them on a baking sheet, pour the anise-flavoured spirit and flambé the salmon fillets. Roll the salmon in Chefclub guacamole seasoning and place them at one end of cling film and wrap the salmon. Place the salmon roll in a Pyrex dish and refrigerate for 30 minutes.
Step 2/3
Cut the puff pastry into 3 strips, draw a line without going to the ends in the center of the strips and brush them with egg yolk. Sprinkle one side with Chefclub guacamole seasoning and twist the strips of puff pastry. Place them around a glass on a baking sheet lined with parchment paper to form a circle and bake for 20 minutes at 350°F.
Step 3/3
Cook the spinach with heavy cream in a pan. Place the puff pastry circles on a plate with cherry tomatoes and salad. Garnish the center with the spinach. Remove the cling film from the salmon roll and cut it in 3. Place the salmon fillet pieces vertically in the center of each puff pastry circle. Sprinkle with parsley and enjoy!