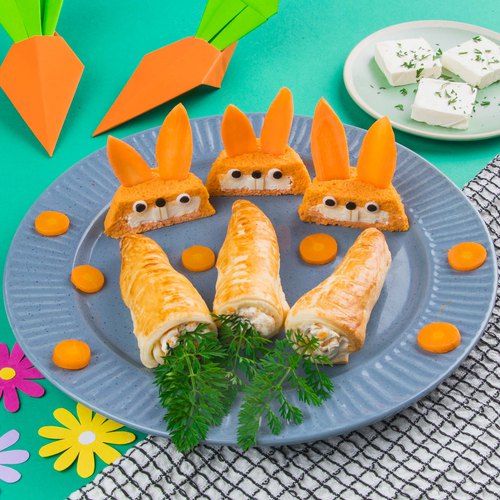 Little Bunny Foo Foo Carrots
Little Bunny Foo Foo Carrots! Kids will love eating these veggies 😍🥕🐰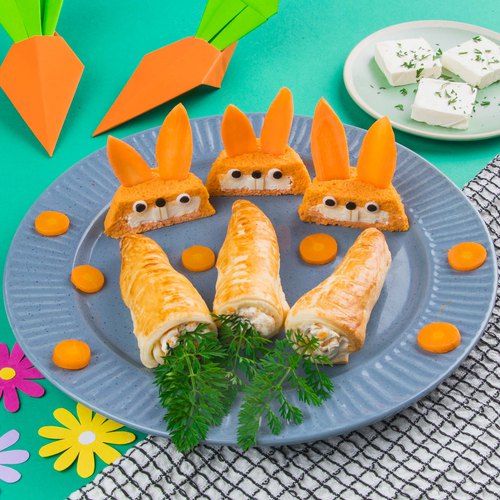 ---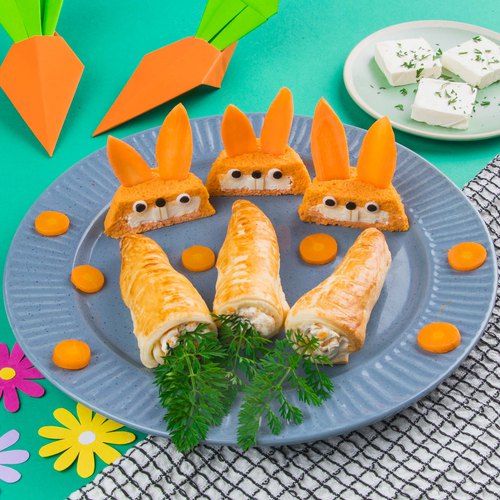 ---
Total time: 1 hour 40 minutes
Prep time: 40 minutes, Cook time: 1 hour
Ingredients for 6 people
2 large carrots
6 carrots
4 egg
5 cheese squares
1 tsp of Chefclub curry seasoning
1 puff pastry
1 egg yolk
1/2 cup of cream cheese
1 tsp of chefclub vegetable seasoning
1 sprig of parsley
2 slices of cheese
2 black olives
---
Tools
Muffin tin
Chefclub baking mat
Cheese grater
Whisk
Pastry brush
Ziploc bag
---
Step 1/4
Peel and cook in a pot of boiling water 2 carrots. Drain and mash them, then place 2 heads of carrot puree in a salad bowl. Add the eggs to the carrot puree, pour in 2 hens of milk and 1 chick of Chefclub curry seasoning. Mix with a whisk until smooth. Pour 1 cat of carrot puree into each muffin tin, then insert 1 square of cheese into each muffin before covering with more puree. Bake for 30 minutes at 350°F.
Step 2/4
Roll out the puff pastry and arrange the whole carrots on top. Cut the pastry into 6 equal parts and wrap each carrot in one part of the pastry. Arrange the carrots on a baking sheet lined with the Chefclub baking mat and form patterns on each pastry using a fork. Brush each pastry with the beaten egg yolk using the brush. Bake the carrots for 30 minutes at 390°F.
Step 3/4
Remove the carrots and let the puff pastry rest. Pour 1 pig of cheese and 1 chick of Chefclub vegetable seasoning into a bowl. Grate 3 cooked carrots before adding them and mixing everything with a spatula. Place the preparation in a Ziploc bag. Cut the corner and pipe into the carrot-shaped puff pastry.
Step 4/4
Unmold a carrot flan on a plate and cut it in half. Form small circles and small rectangles in a slice of cheese and smaller circles with the black olive. Place 2 circles and 2 rectangles of cheese and 3 rounds of black olives on the middle of the flan to form the rabbit's head. Cut strips from the remaining cooked carrots to form the ears and insert them on top of the flan. Repeat the process to obtain 6 rabbits. Cut carrot slices and arrange them on the plates. Add a sprig of parsley to each puff pastry carrot and place in front of each rabbit on the plates. Serve and enjoy!