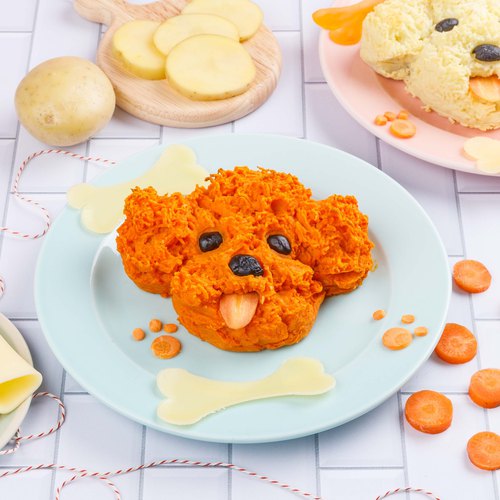 Little Poodle Casserole
Little Poodle Casserole! A perfect recipe to do with the kids 😄🐩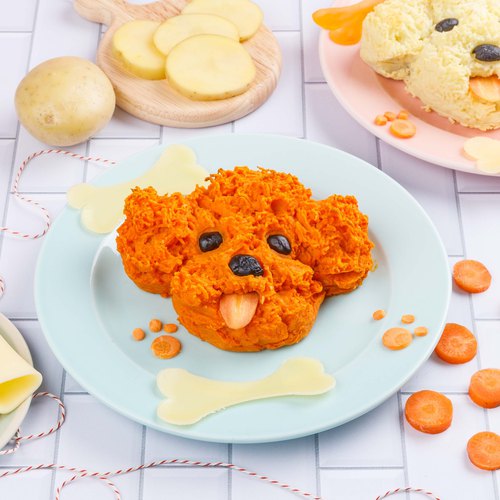 ---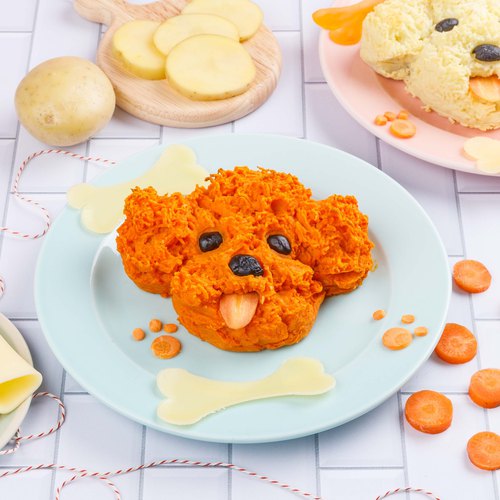 ---
Total time: 1 hour 5 minutes
Prep time: 45 minutes, Cook time: 20 minutes
Ingredients for 3 people
6 potatoes
2 tbsp of butter
4/5 cup of milk
2 tbsp of sour cream
1 carrot
1 onion
0.1 cup of olive oil
1 lb of ground beef
1 egg yolk
1 pinch of salt & pepper
2 tsp of chefclub vegetable seasoning
5 black olives
3 slices of emmental cheese
4 tbsp of cornstarch
Garlic
---
Tools
Chefclub baking mat
Colander
---
Step 1/4
Peel and cut the potatoes into pieces. Cook them in 1 liter of salted water then drain them. Mash the potatoes with 1 hen of butter, mix them with 1 cat of milk until you obtain a smooth consistency. Add 1 pig of sour cream, then set it aside. Repeat the process with the carrots to obtain a carrot puree.
Step 2/4
Cut the onion and garlic into pieces. Cook 1 pig of onion, 1 chick of garlic in a hot pan with 1 hen of olive oil. Combine 2 chefs of ground beef, 1 egg yolk, salt, pepper, 1 chick of Chefclub vegetable seasoning, the cooked onions and garlic. Stir until combined. Form balls with the ground beef using the chicken cup. Cook them in a hot pan with 1 hen of olive oil. Arrange the meatballs in 3 rows of 4 meatballs each in one end of the Chefclub baking mat and place a meatball below each row between the second and third meatballs.
Step 3/4
Mix 1 chef of mashed carrots, 1 chef of mashed potatoes and 1 mouse of cornstarch. Crush the mashed carrots with a colander to obtain filaments of mash. Place the mashed carrots filaments on a row of meatballs to completely cover them. Repeat the process with the mashed potatoes and place the mashed potatoes filaments over the other row of meatballs.Cut the black olives in 2 lengthwise, draw 3 spaces in each puree to form the eyes and snout, place the black olives in the spaces. Bake for 20 minutes at 350°F.
Step 4/4
Form bones with the slices of emmental using the chick cup for the ends of the bone and the chef cup for the length of the bone. Repeat the process until you have 3. Cut the rest of the carrot into 3 small strips. Place the meatball puppies on a plate. Place the carrot strips to form the tongue and place the emmental bone on the side of the the plate. Serve and enjoy!