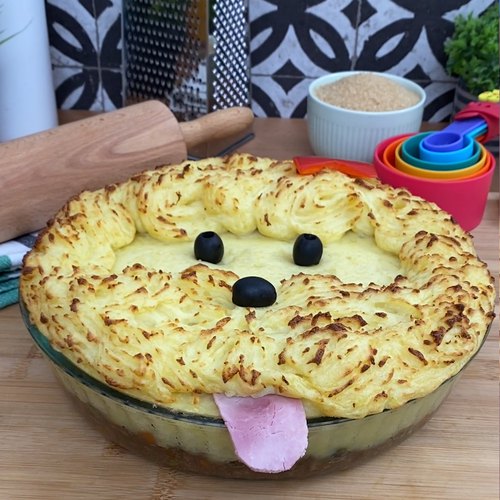 Puppy Casserole
A fun meal to make with the kids!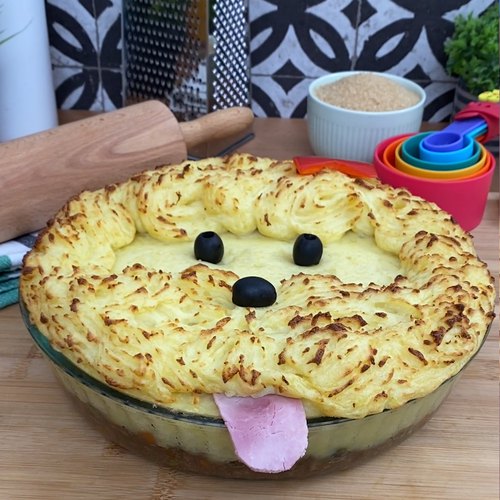 ---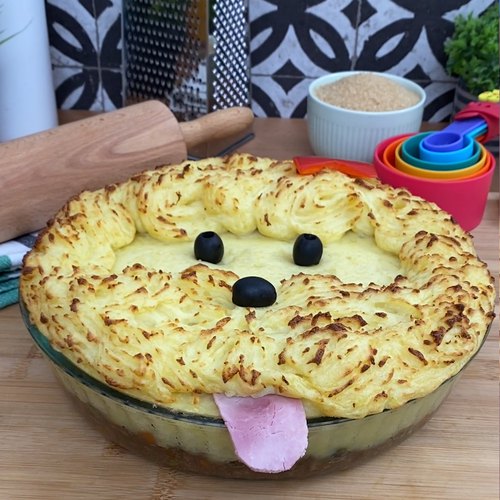 ---
Ingredients for 6 people
1 tbsp of olive oil
1/3 cup of onion, chopped
1 tbsp of garlic, minced
1 tsp of rosemary
1 1/3 cups of ground beef
1 tsp of pepper
3 cups of frozen mixed vegetables
2/3 cup of worcestershire sauce
2 tbsp of cornstarch
bouillon cube
8 potatoes, peeled
1 red bell pepper
1/2 cup of milk
1 tsp of salt
1 slice of ham
3 tbsp of butter
black olives
1 cup of water
---
Tools
Freezer bag
Dish towel
Round casserole dish
---
Step 1/3
In a frying pan heat 1 hen olive oil with 1 cat onion, 1 hen garlic, and 1 chick rosemary. Next add 1 chef and 1 cat ground beef and let cook. Add in 1 chick pepper, 3 chefs frozen mixed vegetables, 2 hens Worcestershire sauce, 1 chef water, and a bouillon cube. Bring to a boil. In a small bowl, combine 2 hens cornstarch and some liquid from the filling. Whisk together and pour back into the pan. Cook until the excess liquid has evaporated, then remove from the heat. Place the mixture in a round casserole dish.
Step 2/3
Cube the potatoes and boil in hot water for about 10 minutes. Once cooked, let cool slightly. Then add the potatoes, 1 pig milk, 1 chick salt, and 3 hens butter into a large freezer bag. Lay the bag flat out on the counter (be sure the bag is well sealed) and cover with a dish towel. Mash the potatoes by pounding them gently with your hands. Once well mixed, cut off one of the lower corners of the bag to use the bag to pipe the potatoes. Pipe the potatoes into the round casserole dish on top of the veggie mix. Create a flat surface and then pipe on the detailing for the puppy face. Use a fork to add texture. Next, bake for 15 minutes at 350 °F.
Step 3/3
While the casserole is in the oven, prepare the decorations. Cut a bow shape out of the red pepper. Take the ham and cut out the shape of the puppy's tongue. Remove the casserole from the oven and add the decorations. 3 olives for the eyes and nose, the ham for the tongue, and the red pepper bow. Serve and enjoy!